'Air Raid' slowed but Tigers find a way
Massillon records fifth straight Victory against stubborn Fitch
By CHRIS EASTERLING
Independent Sports Writer
It's not all about offense for the Massillon Tigers.
For the second straight week, the running of senior tailback Perry James and a solid performance by the "Black Swarm" defense proved to be the decisive factor as the Tigers survived their first road test ‑ and only regular‑season game on grass ‑ by defeating a very game Austintown Fitch squad 21‑9 in front of a crowd of about 7,000 at Falcon Stadium.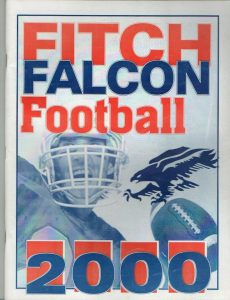 "We're not at all surprised by this game," said Massillon coach Rick Shepas, who is no stranger to Steel Valley football, having grown up in Youngstown. "We have a lot of respect for this team and the job (Fitch coach) Carl (Pelini) is doing with this program. I think they are a greatly‑improved team and they showed that tonight."
The Tigers' defense stepped up to the plate while the "Air Raid" offense struggled to get off the ground against a Fitch defense that was mixing in a nickel defense to go with its base 50 front. Massillon rolled up 317 yards – but struggled to connect on several long passes that might have opened things up a bit on the scoreboard.
"We feel great about (our defense)," Shepas said. "They're playing very solid football. Our offense didn't take advantage of a couple of opportunities. We didn't consistently move the football. They were just playing a nickel, nothing that we weren't prepared for. We worked on it all week.
"We just didn't take care of certain possessions where we ran a play‑action pass and didn't hit it and had to go 10 yards and came up short on second and third downs. We really didn't take care of the football on certain situations."
Meanwhile, James took advantage of the opportunity to show off his running skills against a team that looked to be guarding against the pass. The senior finished with 156 yards on 22 carries, including an 18‑ yard burst into the end zone with 4:01 left that iced the game.
"I'm excited about that," Shepas said. "It forces teams to prepare for both."
James, who rushed for 180 yards in the Tigers' win over Mansfield Senior in Week Four, said that Mas­sillon was just looking to take what the Fitch defense was giving it.
"We knew that they were going to play that 50 defense, and that we could beat it with the run," James said. "That really opened up the pass."
The Tigers looked to have things going on their first drive of the evening, moving down to the Fitch 37 where they had a second‑and‑six. Two incompletions later, Massillon's 54‑yard field goal attempt fell short.
Massillon's breakthrough came on its third possession of the game, which started at its own 44 with 3:09 left in the first quarter. An incompletion on first down was quickly followed when Justin Zwick ‑ who was 12‑of‑27 for 142 yards with two touchdowns, but only 7‑of‑17 for 64 yards in the first half ‑ hit Jeremiah Drobney on a crossing pattern that moved the ball to the Fitch 37.
Two James runs netted nine yards before Terrance King broke through the line on a fullback trap play and burst up the left side for 21 yards down to the Falcons' six‑yard line. King would get rewarded for his effort as Zwick, rolling to his right, found the big fullback for a seven‑yard touchdown just inside the pylon on second down with 12 seconds left in the first quarter.
David Abdul nailed the conversion kick to give the Tigers a 7‑0 advantage.
Starting at its own 30 after an offsides call against the Tigers, Fitch went to work running right at Massillon with fullback Ray Betts. With Betts carrying it eight times for 23 yards, the Falcons moved to the Tiger 29, but stopped short on a fourth-and‑one situation.
The Tigers went three‑and‑out and then were flagged for interfering with the attempt to catch the punt to give the Falcons a first down at the Tiger 44. A 19‑yard strike from Steve Burnich to Ross Watson moved it to the Massillon 25, and the Falcons got on the scoreboard with a 41‑yard field goal by Chris Castillo with 2:55 until half.
Fitch could do nothing with the opening kick of the second half. But Massillon found a way to move it.
After a short gain on first down and an incomplete pass, Zwick found James on a screen pass to the left, and he scampered 18 yards to the Tiger 40. One play later, James again broke free for 20 down to the Fitch 34.
James ran for four yards, then Zwick dropped back and found Jesse Robinson streaking toward the end zone on a post pattern. The junior lofted a perfect pass that Robinson came down with across the goal‑line for a 14‑3 Tiger lead with 8:20 left in the third after Abdul's PAT.
Both offenses stagnated for the remainder of the third quarter, but Fitch came alive on its first possession of the fourth quarter ‑ with a little help from the officials.
Using three running plays, the Falcons found themselves with a second‑and‑two at the Tiger 37. Burnich fired an incomplete pass on a deep post route, but the officials flagged the Tigers for pass interference, giving Fitch the ball at the Massillon 22.
Fitch was forced to try a 39‑yard field goal after it could only pick up one yard on three plays, but the Falcons missed wide left on the attempt. However, Massillon roughed the kicker, giving Fitch a first down at the Tiger 11.
After two running plays, Brian Sudetic burst across the goal‑line from three yards out to pull Fitch to within 14‑9 with 7:34 remaining. The two‑point try failed.
James seemed to swing momentum back to the Tigers with a 39‑yard run off right tackle on Massillon's first play after the score. Then the Tigers received a break when Fitch was flagged for pass interference to move the ball to Falcon 30.
The Tigers failed to moved the ball and settled for a 51‑yard field goal try with just over five minutes left. It sailed wide left, giving Fitch a glimmer of hope.
Three plays later, that hope faded when the Falcons coughed the ball up on a third‑and‑10 play from their 20. Senior defensive end Brian Leonard recovered and brought it back to the 18. On the Tigers' first play from scrimmage after the turnover, James broke through a gigantic hole on a draw play, going 18 yards for the final touchdown with 4:04 left.
MASSILLON 21
FITCH 9
M F
First downs rushing 8 4
First downs passing 6 4
First downs by penalty 1 3
TOTAL first downs 15 11
Net yards rushing 170 108
Net yards passing 147 50
TOTAL yards 317 158
Passes attempted 27 18
Passes completed 12 6
Passes Intercepted 0 0
Punts 5 5
Punting average 29.8 40
Fumbles/Lost 0/0 1/1
Penalties 10 3
Yards penalized 90 40
MASSILLON 7 0 7 7 21
FITCH 0 3 0 6 9
SCORING
M ‑ Zwick 7 pass to King (Abdul kick)
F ‑ Castillo 41 field goal
M ‑ Zwick 30 pass to Robinson (Abdul kick)
F ‑ Sudetic 3 run (Pass failed)
M ‑ James 18 run (Abdul kick)
INDIVIDUAL STATISTICS
Massillon rushing: James 22‑156, King 2‑21.
Fitch rushing: Betts 18‑55, Sudetic 15-40.
Massillon passing: Zwick 12‑27‑142 2 TD
Fitch passing: Burnich 6‑18‑50.
Massillon receiving: Drobney 5‑57, James 4‑37, Robinson 1‑30, Williams 1‑11, King 1‑7.
Fitch receiving: Watson 4‑43.