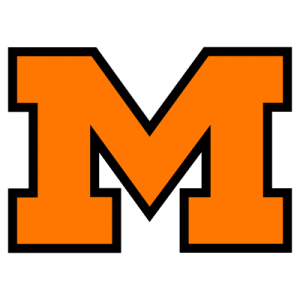 Tigers overcome injuries, Fitch
By ,JOE SHAHEEN
Independent Sports Editor
Call it a character builder.
The Massillon Tigers, severely handicapped by the loss to injury of their leading rusher and leading receiver, dug deep and came out with a 21-14 victory over an inspired Austintown Fitch crew in front of 10,922 at Paul Brown Tiger Stadium, Friday.
Massillon (4‑1 ) had to do it without Vinny Turner, who suffered a pulled hamstring in the final seconds of the first half that prevented him from going 78-yards for a touchdown, and Vaughn Mohler, who may be done for the season with a torn lateral cruciate ligament.
Clinging to a 14‑7 lead, Massillon began the second half by marching 67 yards in 15 plays. The sustained drive ate 7:17 off the game clock and was capped by George Whitfield's one‑yard quarterback sneak into the end zone. Josh Hose added the conversion kick and the Tigers had the game under control at 21‑7.
Whitfield ran the football six times on the drive for 32 yards and hit Dustin Limbach for seven yards and a first down.
Raphel Bradley (6‑2, 215­-pounds) started the second half in Turner's place and came up big for the Tigers. The junior tailback rushed six time for 22 yards on the march and icked up a pair of first downs.
"That was a critical drive there," Rose agreed. "We had to go with Raphel and he did a good job for us. He carried it well for us and blocked well.
"That drive took eight mi­nutes off the clock. You do that and you're going to be hard to beat."
Fitch head coach Jack Kenney admitted he was feeling good about his teams chances after learning Turner was through for the night.
"We said we're going to come out and we're going to stuff them right now and we didn't and they go in and score," Ken­ney said. "That was a defining moment in this ball game.
"When Turner Went down I was prepared for them to go into more of a passing game. But they just come up with somebody else. They have a lot of great athletes around here."
Fitch came right back after Massillon went up by 14 and moved the ball from its 25 to the Tiger 23, where the Falcons had first‑and‑10. But Jared Stefanko stuffed quarterback Jeff Lawrence on an option keeper for a two‑yard loss, and two plays la­ter Henry McElroy batted down a pass in the end zone to quell the visitors' threat.
The gang from Austintown wasn't through, though. After a pass interference call on Massillon, Lawrence hit David Yargo between the numbers at the Tiger 30. The ball bounced off Yargo's pads and was grabbed in midair by Fitch's Chayne Mitchell who sprinted into the end zone for an "immaculate reception" touchdown that covered 53 yards.
Chris Calcagni tacked on the PAT and it was a 21‑14 game with just under six minutes to play.
After the ensuing kickoff, the Tiger's went three‑and‑out and punted. Fitch took over at its 37 with 3:24 to play. The Falcons managed a pair of first downs and penetrated to the Massillon 40. On first down at that point, Eric Lightfoot sacked Lawr­ence for a six‑yard loss. Two plays later, with Paul Salvino pressuring Lawrence, Stefanko intercepted the Fitch quarter­back at the 30‑yard line to secure the victory.
"Jared had a great drop and read the quarterback real well," Rose said. "That was a great play at a very important time."
Whitfield had a fine all ­around game for the Tigers, rushing for 59 yards in 15 totes. He hit on 7‑of‑15 passes for another 59 yards and 1 touchdown. But it was the senior's execution of the option that left Rose smiling.
"That's going to help us down the road." Rose said. George was hitting option alley and took it right in there. He doesn't need to pitch it a lot be­cause they're going to try to take away the pitch man and make him run it. He is a big, strong back and he call take it up in there. He is a strong runner and he just needs to assert himself out there."
Kenney, too, was impressed with Whitfield's contributions.
"He gives Massillon a very, very balanced, nice attack," Kenney said. "That makes it difficult because we couldn't gang up on anything.
"Their coaches were right in tune. Whatever we'd give, they'd take. They're well prepared, as you'd expect from a class outfit like this. It was their balanced attack that kept us off guard."
Massillon opened the scoring by moving the ball 42 yards in nine plays after Fitch went three-and –out on its first possession.
Turner, who finished with 123 yards on 10 carries, had the big play with a 14‑yard burst off right guard that took the ball to the 11. Two plays later, Whitfield rolled left and found tight end Chris Martin for a nine yard TD at the 6:00 mark of the first period.
Fitch counterpunched with a textbook, 14-play, 77-yard drive, that ate up nearly seven minutes. Chris Hunter scored standing up from a yard away with just over a minute gone in the second period. Calcagni's kick made it a 7-7 contest.
After an exchange of punts, Massillon moved from its 39 to the Fitch 22 where it faced second‑and‑seven. Whitfield dropped back to pass and I threw what appeared to be a sure interception to Lawrence. But the pass went through the Falcon DB's hands and was caught by Devin Williams at the three yard line.
On the next snap, Turner went in over right guard and tackle. Hose's conversion boot made it 14-7 with 3:00 to go in the half.
"I think that was the real heartbreaker," lamented Ken­ney. "If we go in at 7-7, we'd certainly have had a lot more confidence for the second half."
Actually, Fitch dodged another bullet a couple of mi­nutes later when Turner pulled up lame on what looked to be a sure TD jaunt.
"Oh, yeah, he's gone for a touchdown," Rose said. "We have it walled off and Vinny's going down the sidelines for an 80‑yard run.
"But Raphel is going to do a good job for us. He is a strong back with great speed. he will break a tackle, get into the secondary and he will be gone."
But Rose wasn't all smiles afterward. In addition to the injuries to Turner and Mohler, he was upset with his team's inability to keep the yellow flags in the officials' pockets.
"We had six penalties tonight for 73 yards and they played error free ball evidently," Rose said. " We're got to learn to not make those mistakes. We were in a mode where we could've got another touchdown drive going.
MASSILLON 21
FITCH 14
M F
First downs rushing 10 8
First downs passing 5 4
First downs penalty 0 3
Total first downs 15 15
Net yards rushing 245 109
Net yards passing 59 108
Total yards gained 304 217
Passes attempted 15 14
Passes completed 7 5
Passes int. 1 1
Times kicked off 4 3
Kickoff average 52.0 52.7
Kickoff return yards 68 76
Punts 3 2
Punting average 37.7 25.5
Punt return yards 0 0
Fumbles 0 1
Fumbles lost 0 1
Penalties 6 0
Yards penalized 73 0
Number of plays 53 51
Time of possession 26:01 21:59
Attendance 10,922
FITCH 0 7 0 7 14
MASSILLON 7 7 7 0 21
SCORING SUMMARY
First Quarter
M ‑ Martin 9 pass from Whitfield (Hose kick)
Second Quarter
F ‑ Hunter 1 run (Calcagni kick)
M ‑ Turner 3 run (Hose kick)
Third Quarter
M ‑ Whitfield 1 run (Hose kick)
Fourth Quarter
F ‑ Mitcliell 53 pass from Lawrence (Calcagni kick)
FINAL STATISTICS
Rushing:
Massillon
Turner 10‑123, 1 TD;
Whitfield 15‑59, 1 TD;
Bradley 7‑32
Wonsick 6‑31
Fitch
Hunter 14‑54, 1 TD;
London 6‑27;
Lawrence 12‑19;
Mullennex 3‑6;
Toth 1‑3.
Passing:
Massillon
Whitfield 7‑15‑1, 59 yards 1 TD.
Fitch
Lawrence, 5‑14‑1, 108 yards 1 TD.
Receiving:
Massillon
Williams 2‑29;
Wiles 2‑9;
Martin 1‑9, 1 TD;
Limbach 1‑7;
Mohler 1‑5.
Fitch
London 2‑40;
Chine 2‑15;
Mitchell 1‑53, 1 TD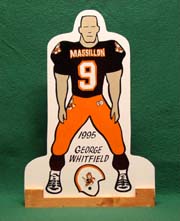 George Whitfield