Another loss in Austintown
Tigers' Twilight zone
rears its ugly head, 14-7
By STEVE DOERSCHUK
Independent Sports Editor
AUSTINTOWN ‑ The Massillon Tigers have found their Bermuda Triangle. They have located their Twilight Zone. They have landed on their Field of Dreams (nightmares are dreams, too, aren't they?). For the Tigers, its name is Fitch Stadium. They lost there 14‑7 Friday night to drop to 3‑2 in the 1990 high school football season.
The Fitch Falcons, 5‑0 this year, improved to 3‑0 against Massillon at that dastardly place. In 1986 the Tigers lost at Fitch on the last play from scrimmage. In 1988 they lost on a game‑ending field goal.
Last night they lost with a quarterback who played much of the fourth quarter with a concussion not discovered until after the game, played in a murky rain.
Counting the games in Massillon, the Tigers are 2‑4 in the all‑time series against Fitch.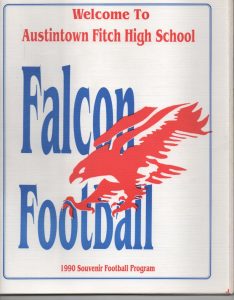 'We could make so many excuses if we wanted to. But maybe that's not what we need to be doing right now'
Lee Owens
Fitch's head coach throughout has been David Hartman.
In 1965 Hartman earned a diploma from Washington High. Maybe they should take it back. On the other hand, it's nothing personal. "You've got to do what you've got to do," Hartman said amid Fitch's post‑game celebration.
What Fitch does best is block out of the wing‑T formation on offense. Hartman ought to get an honorary masters degree in misdirection.
"We have guys going this way, that way and every which way," Hartman said. "Massillon has a lot of quick kids who really swarm to the football. If you run the same guy on the same play all of the time, they'll kill, you. With a.11.9ur misdirection, they had a difficult time ganging up on us."
Tiger head coach Lee Owens knows better than anyone two straight losses is the wrong direction.
"We were flat, there were some big penalties, the field was wet we could make so many excuses i
we wanted to. But maybe that's not what we need to be doing right now," Owens said. "There was a
point in the game when they were outplaying us. We started playing harder, but we couldn't get over the
hump.
"There's no reason for what happened tonight. I really felt coming in we were definitely the better team. Fitch played a good ball game. We didn't."
Fitch's misdirection started clicking at the end of the first half when the Falcons drove 57 yards for a touchdown. With 1:22 left in the half, 6‑4 tight end Dave Fitz‑Patrick caught an eight‑yard touchdown pass from 5‑9 quarterback Frank Senediak on third‑and‑eight.
"We thought their cornerback would be playing up and he was," Fitz‑Patrick said. "That enabled me to get pretty open."
Senediak, a carbon copy of Fitch's bootlegging wizard who was the 1988 quarterback, Derrick Fletcher, passed just enough to keep the Tigers off balance, completing six of seven for 68 yards.
Senediak also ran 16 times for 64 yards. His ball handling was the key on Fitch's opening possession of the third quarter, which ended when he hit another wide‑open receiver, running back Chris Davis, on an 18‑yard touchdown pass.
Gary Pritchard, who gave up soccer to be a placekicker, boomed the P.A.T. and it was 14‑0 with 7:54 left in the third quarter.
Facing a must‑score possession, the Tigers did just that, driving 65 yards off the ensuing kickoff for a touchdown. It wasn't easy. Following two bootleg runs by quarterback Barry Shertzer that went for losses, it was fourth‑and‑16 from the 29.
Tight end Chris Roth lined up on the right side, beat the coverage on a post pattern, and hauled in a nicely thrown bomb from Shertzer for the touchdown. Ryan John's P.A.T. kick sneaked over the crossbar and it was 14‑7 with 3:47 left in the third quarter.
It was unclear when Shertzer suffered the concussion, but it may have been on a hit during one of those bootleg runs.
Shertzer, who completed a key third‑and‑11 pass of 37 yards to split end Steve Brown, was woozy after the contest. At 1:15 a.m., he was in the emergency room at Massillon Community Hospital. It was believed he would stay overnight as a precaution.
Shertzer had thrown only one interception in four games but was picked off twice Friday. The Tigers also fumbled the ball twice.
"Their offense did a nice job, but as far as their defense I thought it was mostly a matter of us stopping ourselves," Owens said.
The Massillon (defense took control in the fourth quarter. With just under seven minutes to go, the Tigers had caught on to Fitch's misdirection and stuffed the falcons deep in their own territory. On a third down carry that went nowhere, Fitch senior running back Jim Toto made the mistake of yelling an expletive at Tiger cornerback Chad Buckland.
Fitch was penalized half the distance to the goal and had to punt from its own 14.
A 43‑yard punt still left Massillon in excellent field position, but Fitch had the ball back on a fumble on the next play.
The Tiger defense made another big stand, but a punt evaded return man Troy Burick, who pounced on the pigskin at the 7.
On the next play, Falando Ashcraft charged over the left side and nearly broke away for a touch­down. He was stopped after a 21­yard gain. Two plays later, Ashcraft bounced outside and gained 32 yards to the Fitch 42. The Tigers were in business.
Ashcraft ran two yards on a cri­tical fourth‑and‑one moments la­ter, but on first down, a Shertzer pass seemed to slip out of his hand and went directly into the arms of Toto.
"It was an automatic," Owens said. "Fitch didn't have our receiv­er covered and Barry called the au­dible."
But Fitch called the shots after that, and ran out the clock.
Nobody seemed to give Fitch much of a chance before the game, a fact not lost on the Falcons.
"Even the local paper, The Vindi­cator, said we didn't have a chance," said Senediak. "It got us fired up when we read we weren't supposed to have much talent or much size. We didn't think we were going to win. We knew we were going to win."
Fitz‑Patrick, the tight end who caught the early touchdown pass, painted the Falcons as a confident bunch.
"We think we can win the state championship," he said.
Owens had said before the game this year's Fitch team is capable of beating any state power on a given night, but may have difficulty doing it consistently.
Hartman concedes the Falcons still have some proving to do. "That remains to be seen," he said, when asked if his team is cap­able of beating Ursuline, Mooney and Boardman, three powerhouses left on the schedule.
The Tigers' next three games are against Nordonia, Indianapolis North Central and Youngstown East, all at home.
'To tell you the truth, I didn't say much to our players after the game," Owens said. "It's clear what we have to do … work our tails off and rebuild after these set­backs."
FITCH 14
MASSILLON 7
M F
First downs rushing 3 11
First downs passing 6 3
First downs by penalty 1 0
Totals first downs 10 14
Yards gained rushing 119 177
Yards lost rushing 25 14
Net yards rushing 94 163
Net yards passing 155 68
Total yards gained 249 231
Passes attempted 25 7
Passes completed 10 6
Passes int. by 2 0
Yardage on pass int 0 20
Times kicked off 2 3
Kickoff average 38.0 44.7
Kickoff return yards 32 34
Punts 3 4
Punting average 42.7 38.5
Punt return yards 14 27
Fumbles 3 2
Fumbles lost 2 1
Penalties 4 6
Yards penalized 35 46
Number of plays 50 55
Time of possession 18:11 29:49
Attendance 11,500
Individual statistics
Rushing
(M) Ashcraft 12‑89.
(F) Sene­diak 16‑70, Javit 12‑38, Davis 10‑39.
Passing
(M) Shertzer 10‑25‑2,155 yards.
(F) Senediak 6‑7‑0, 68 yards.
Massillon 0 0 7 0 7
Fitch 0 7 7 0 14
F – Fitz-Patrick 8 Pass from Senediak (Pritchard kick)
F ‑ Davis 13 pass from Senediak (Pritch­ard kick)
M ‑ Roth 29 pass from Shertzer (John kick)