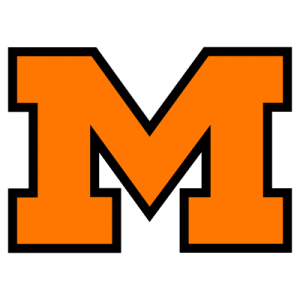 Danzy is dandy as Tigers top Fitch
By JOE SHAHEEN
Independent Sports Editor
It's beginning to look like the Massillon Tigers might be headed into a Week 10 show­down against the McKinley Bulldogs with an undefeated re­cord.
The Tigers cleared a major roadblock to a perfect regular season by handing the previous­ly undefeated Austintown Fitch Falcons a 34‑15 setback in front of 14,792 wind‑swept fans at Paul Brown Tiger Stadium Fri­day night.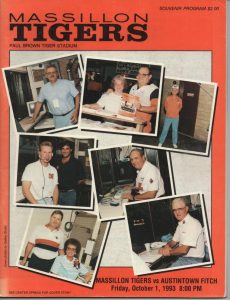 Massillon, 5‑0, did it with what is fast becoming its trademark … a big‑time second half comeback.
Fitch, using its misdirection running attack to perfection, built a 15‑7 first half advantage. The visitors did it by averaging 4.4 yards per rush and hitting on 3‑of‑4 first half aerials in the first two quarters. The Falcon defense was a big part of their success in the first 24 minutes, holding Massillon to just three first downs and 59 net yards offense.
But the second half was the Mike Danzy Show. The Tigers' 5‑foot‑8 jitterbug of a quarter­back rushed for 116 yards after intermission, decimating the Fitch defense by attacking its perimeters with option runs. When the Falcons did draw a bead on No. 17, he used a lethal combination of quickness and strength to make the big play.
Austintown head coach David Hartman left town a believer.
"Danzy's their man and rightfully so," Hartman said. "His speed and quickness is ex­ceptional. Our perimeter folks did not do a very good job tech­nique wise. But give Massillon credit. They blocked our flanks … our perimeter very well in the second half."
Tigers head coach Jack Rose revealed his quarterback was a big part of the Tigers' second half game plan.
"We wanted Mike to carry it," Rose said. "We had our tight end lock on their outside backer. We told Mike to get the corner and then pitch off the secondary support. But the secondary was so deep that Mike just ran at the guy and he didn't know who to take."
Danzy indicated play action fakes were fooling the Fitch de­fense.
"They were getting sucked up inside and we'd just bounce it outside and run a little bit," he explained. "The coaches said I could get around the defensive end, and with the help of the tail­back and fullback I was able to get outside."
Massillon jumped out 7‑0, scoring on its second possession of the evening. Taking over at the Fitch 39 after a punt, Danzy hit Greg Merchant on a deep curl for 24 yards to the Falcon 13. Four plays later, Leon Ashcraft found a gaping hole over his right tackle and went in for the touchdown at the :33 mark of the first period.
Fitch came right back and marched 76 yards in 12 plays. Quarterback Jason Senvisky, using some deft play faking to slow the Tiger pass rush, hit Mike Polder with a nine‑yard touchdown strike with just under seven minutes to play in the half. The Falcons' extra point attempt faded right and it was a 7‑6 contest.
The Tigers could not get a first down on their next posses­sion and a bad snap from center rolled out of the end zone for a Fitch safety to make it 8‑7 with 3:45 until halftime.
The Falcons weren't through. They took the ensuing free kick and set up shop at their 49. On third‑and‑14, Senvisky pulled a rabbit out of the hat. He drop­ped back to pass, nearly slipped down, then found Jayson Hill on the left sideline for a 21‑yard gain and a first down.
Five plays later, fullback Wally Hurdley bucked in from just inches away. The PAT made it Fitch 15, Massillon 7 at the half. And while the margin was just a touchdown, there was concern in the Tiger locker room. The defense had been un­able to stop the Falcons in the first two quarters.
The Tiger offense took the field to start the second half, moving from their 38 to near midfield. A motion penalty set up first‑and‑15 at the 44. Danzy ran the option around his right end and slashed for 19 yards to the Falcon 37. One play later, Danzy rolled right, found a gap and tight-roped down the side­line to the 4.
On the next play, Danzy again rolled right. When the defense came up to meet him, the senior co‑captain left fly a bullet to tight end Isaiah Jackson for the score. Nick Pribich's extra point made it a 15‑15 game with just under nine minutes left in the third period.
"The key was the second half drive," Rose related. "We felt we could get it down the field on them. We got the dive option going with Mike going out around the corner. Mike did a great job. He's an awfully quick kid."
"As an offense we felt like we had to go down and score to start the second half," Danzy said, "and we did."
The score remained dead­locked for the balance of the quarter as both offenses had trouble getting untracked. But the Tigers caught a break at the 9:43 mark of the fourth when Fitch's punter shanked one from his own 27 to give Massil­lon a first down at the Austin­town 46.
Danzy appeared to bobble the first down snap, but righted himself and found a huge cavity over his right guard for 27 yards to the Falcon 20. Mike Paul then bucked up the gut for 14 more to set up first‑and‑goal at the five. Two plays later, Ashcraft had his second TD of the evening. The conversion was botched and it was a 21‑15 Massillon lead with just over eight minutes to play.
At that point, Hartman and the Falcons were still confident.
"All we needed was one of our patented eight minute drives," he remarked. "We score a touchdown and get the extra point and they have something like nine seconds left."
Even Rose admitted there was some concern on the hosts' sideline after the extra point went awry.
"We missed the extra point and everybody's getting these negative thoughts," Rose said.
"'Oh, no, A 22‑21 game."'
Fitch took over at its 31. On first down Senvisky hit Shawn Davis for a 24‑yard pick‑up to the Tiger 45. Four plays later, Hurdley picked up another first on a fourth‑and‑inches dive play. On the next snap, Senvis­ky dropped back to throw a short hook. The pass was tipped into the air and Massillon safety Tim Menches grabbed the ball and began running. He spun. He stiff armed and he didn't stop running until he was in the end zone, some 67‑yards later.
Ironically, the Tiger coaching staff nearly yanked Menches out of the game just prior to the pick.
"That was a terrific intercep­tion," Rose said. "Tony got dinged up the play before and we were trying to figure out a way to get him off the field and he makes that interception. He got a couple of good blocks and he broke a couple of tackles."
Menches admitted he didn't recall all that much about the play.
"I saw their slot hook out," he explained. "Then I looked back to see if someone was coming out behind him. There was no one there, so I jumped the slot man. He got a hand on it and I saw the ball tipped in the air. I just caught it and ran.
"I just kept running hard, stiff arming their guys was just looking for that goal line. I was just thinking about touch­down."
"We were cooking there," Hartman said. "But we made a bad throw and their kid made a great play. He made a great play. That's what its all about. You've got to make the plays."
Willie Spencer Jr., iced the cake three plays later, stepping in front of another Senvisky ae­rial and racing 54 yards to pay dirt and a 34‑15 final.
"Massillon played a great football game," Hartman con­cluded. "We didn't play very well. What did we turn it over? Four times. You can't beat a good football team turning the ball over."
"I'm disappointed. Our kids played hard but they didn't play well. We played stupid some times. We turned the ball over and that's not us. it cost us the game.
"Offensively we made the mistakes in the second half. Their defense stopped us and we didn't sustain anything in the second half."
"I think we sent a message to Fitch that they're going to have to play well to beat us from now on," he said.
MASSILLON 34
AUST. FITCH 15
M FI
First downs rushing 9 10
First downs passing 2 4
First downs penalty 0 0
Total first downs 11 14
Net yards rushing 193 168
Net yards passing 37 87
Total yards gained 230 255
Passes attempted 9 11
Passes completed 5 6
Passes int. by 2 0
Times kicked off 6 3
Kickoff average 47.8 43.3
Kickoff return yards 41 49
Punts 1 3
Punting average 51.0 29.0
Punt return yards 8 0
Fumbles 0 2
Fumbles lost 0 2
Penalties 4 3
Yards penalized 59 20
Number of plays 44 52
Time of possession 23.04 24.56
Attendance 14,792
AUST. FITCH 00 15 00 00 15
MASSILLON 07 00 08 19 34
FIRST QUARTER
M ‑ Ashcraft 2 run (Pribich kick good)
SECOND QUARTER
A ‑ Polder 7 pass from Senvisky (kick failed)
A ‑ Safety
A ‑ Hurdley I run (Lawrence kick)
THIRD QUARTER
M ‑ Jackson 4 pass from Danzy (Danzy run)
FOURTH QUARTER
M ‑ Ashcraft 4 run (kick failed)
M ‑ Menches 67 pass interception return (pass failed)
M ‑ Spencer 54 pass interception return (Pri­bich kick good)
FINAL STATISTICS
RUSHING
Massillon
Danzy 11‑136,
Paul 8­-34,
Dixon 7‑25.
Ashcraft 6‑15 (2 TDs),
Herring 1‑3,
Heck 1‑5;
Fitch
Hurdley 15‑74,
Lawrence 2‑33,
Senvisky 5‑21,
Turner 12‑15,
Polder 2‑12.
PASSING
Massillon
Danzy 5‑9‑0, 1 TD;
Fitch
Senvisky 6‑10‑2, 1 TD;
Lawrence 0‑1‑0.
RECEIVING
Massillon
Merchant 1‑24,
Simp­son 1‑8,
Dixon 1‑5,
Jackson 1‑4 (1 TD);
Fitch
Hill 2‑37,
Davis 1‑24,
Airato 1‑15.
Polder 1‑7,
Minter 1-4.