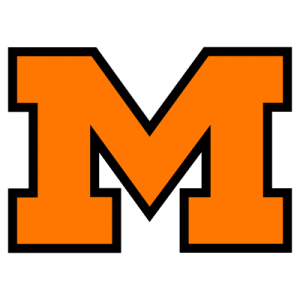 Tigers survive the trip to Fitch
By MARK LAUTZENHEISER
Independent Correspondent
So, what about that Austin­town Fitch jinx?
It figured when the Massillon Tigers defeated the Falcons 10-­7 in 1994 at Falcon Stadium, the mystique was washed away.
However, as quickly as they broke the four‑game losing streak on Fitch's home field, the Tigers nearly allowed the Falcons to rekindled the jinx. Friday night in sloppy Falcon Stadium, No. 1 ranked Massillon dodged a bullet, edging Fitch 10‑9.
The Tigers won their fifth straight game while the Falcons fell to 2‑3.
As in 1994, this game came down to one big Massillon offen­sive play and the legs of both teams' kickers.
Two years ago, then­ Massillon quarterback Willie Spencer Jr. ran 88 yards for the Tigers' lone touchdown. Nick Pribich hit a lengthy field goal that provided the margin of vic­tory.
In this year's renewal of the series that began in 1985, it was tailback Christian Morgan who came up with the big play. Kick­er Josh Hose added the big kick.
With Fitch holding a 7‑3 lead and its defense denying the Ti­gers entry into the end zone, Morgan took a deep handoff from quarterback Ben Hymes and broke off right tackle, racing untouched 74 yards for a touchdown.
Morgan's touchdown came at the 2:18 mark of the third quar­ter. Hose added what proved to be the game‑deciding extra­ point.
"It was our zone run to the split‑side," said Massillon head coach Jack Rose. "He had come close to popping a couple in the first half. He had a hard time in the first half keeping his foot­ing. He was getting frustrated.
"We found out our tailbacks are not mudders."
Morgan finished with 136 yards on 23 carries.
The Tigers had a three‑point lead, but they were far from victory. They lost their second fumble on their next possession, giving Fitch one last chance from its own 46‑yard line and 6:04 left in the fourth quarter.
"Both turnovers were critic­al," Rose said. "You lose a fum­ble and you lose field position."
Fitch, which had taken the lead on a 5‑yard run by O'Dom­mi Wellington at the 6:47 mark of third quarter, promptly drove deep into Tiger territory.
A personal foul call against Massillon aided the drive. The ball was moved to the Tiger 18­yard line.
Three plays later, the Fal­cons were eight yards away from taking their second lead of ­the game.
On first‑and‑goal, Massillon senior Bud Kraft snuffed out an option play and stuffed Fitch quarterback Russ Houser for a 2-yard loss. Massillon defensive back Dustin Limbach then broke up a pass on second down. Kraft did likewise on third down.
"The defensive line was real­ly charged up and we had great leaders out there," said Kraft. "We were worried, but we hung tough."
Fitch opted to try and tie the game. Placekicker Chris Cal­cagni, who was being touted as a Division I prospect, tried a 26-­yard field goal. He sent the ball wide right by a matter of in­ches, his third miss of the game.
"We were so sure we'd get the three I was willing to go into overtime, especially with our kicker," said Fitch head coach Jack Kenney. "Chris was 100 percent on field goals and extra points coming into the game. I feel bad for him."
Calcagni also missed a poten­tial tying field goal in the 1994 Massillon game.
The final points of the game came on an intentional safety by Massillon. Punter Eric Lightfoot ran out of the end zone with 13 seconds left to play.
"We just get drilled by the No. 6 team (Lakewood St. Edward) and then comes the No. 1 team (Massillon)," said Kenney. "Our kids came off the field upset because they know we maybe should have beaten the No. 1 team.
"Massillon has all the ingre­dients (to be worthy of its No. 1 ranking). They have great coaches, big, fast players and the Massillon program in itself is outstanding."
In an uneventful first half, the Massillon defense bent but did not break while the offense sputtered. Massillon's four pos­sessions wound up with three punts and a lost fumble.
Finally, the Tigers got un­tracked on their last possession of the first half. Hymes ignited an 11‑play, 69‑yard drive.
The senior quarterback kept the drive alive with two third­ down completions to split end Devin Williams. The second completion covered 11 yards and moved the ball to the Fitch 36.
On the ensuing play, Hymes hit senior Brian Baer deep over the middle for 27 yards, moving the ball to the Fitch 9‑yard line.
The drive stalled, but Hose salvaged it with a 23‑yard field goal with only 15 seconds remaining until intermission.
That drive accounted for all but 52 of Massillon's first half yards.
Fitch moved the football in­side the Massillon 35 on its first two series. The first drive ended when the Falcons turned the ball over on downs. The first of the three missed field goals en­ded the second march.
"It's nice to be 5‑0, but with Walsh (Jesuit) next week, we don't get a break," said Kraft.
MASSILLON 10
FITCH 9
M F
First downs rushing 7 8
First downs passing 3 2
First downs penalty 1 1
Total first downs 11 11
Net yards rushing 177 118
Net yards passing 58 33
Total yards gained 235 151
Passes attempted 11 11
Passes completed 5 4
Passes int. 0 1
Times kicked off 3 2
Kickoff average 46.0 60.0
Kickoff return yards 0 61
Punts 5 5
Punting average 29.8 37.2
Punt return yards 24 10
Fumbles 4 2
Fumbles lost 2 0
Penalties 5 2
Yards penalized 39 10
Number of plays 54 60
Time of possession 22:17 25:43
MASSILLON 0 3 7 0 10
FITCH 0 0 7 2 9
SCORING SUMMARY
Second Quarter
M ‑ Hose 23 field goal
Third Quarter
F ‑ Wellington 4 run (Calcagni kick)
M ‑ Morgan 74 run (Hose kick)
Fourth Quarter
F ‑ Safety: Massillon punter downed in end zone
FINAL STATISTICS
Rushing:
Massillon
Morgan 23‑136, 1 TD;
Stefanko 6-4;
Hymes 10‑9.
Fitch
Hunter 12-­42;
Wellington 11‑33 1 TD
Passing:
Massillon
Hymes 5‑11 ‑58, 0 TD, 0 ints.
Fitch
Houser 4‑10‑33 0 TD. 0 ints.
Receiving:
Massillon
Williams 2‑24;
Baer 1‑28.
Fitch
London 2‑20.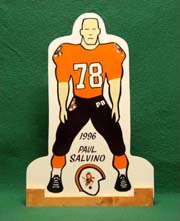 Paul Salvino