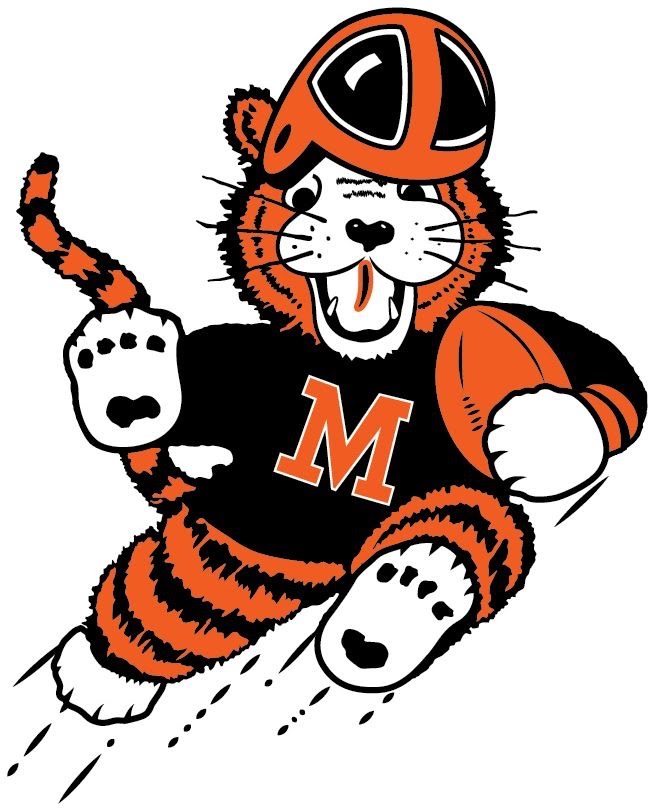 Andy Alleman – Wall of Champions
Andy Alleman played just one year for Massillon, but he must have made quite an early impression, for he was named a team captain before the season even began.  And he didn't disappoint on the field, especially from his middle linebacker position, where he was a dominating force, wreaking havoc against opposing quarterbacks.  He also played a little offense, lining up at blocking fullback.
In 2001 the Tigers finished 12-2, with both losses coming to eventual Division 1 state champion Cleveland St. Ignatius: one in the regular season and the other in the state semifinals.  Led by the 6'-4", 234 lb. Alleman and his ferocious linebacker play, the Tiger defense held opponents to an average of just 3.2 yards per carry, which is Massillon's 3rd best all-time against spread offenses.  That translated into a mere 114 yards rushing allowed per game, which is 4th best.  For his play, Alleman was named 2001 WHBC Stark County Player of the Year
After high school, Andy received a scholarship offer from the University of Pittsburgh and played on the defensive line from 2002-2004.  But in 2005 he transferred to the University of Akron, where he completed his final two years of eligibility, as a full-time starter, only this time on the offensive line.  He must have found this position to his liking, for in his second year he was named both Most Valuable Offensive Lineman and Weight Lifter of the Year.  In addition, he was part of the 2005 Zips team that captured the Mid-American Conference East championship and played for the MAC title.  Post-Akron, Andy was invited to participate in both the Hula Bowl and the East-West Shrine Game, and he was also invited to the NFL Combine.  Recently, he was inducted into the University of Akron Hall of Fame.

In 2007, the New Orleans Saints drafted Alleman in the 3rd round as the No. 88 pick overall as an offensive guard.  As such, he became the 4th highest U. Akron grad to be drafted in their long history.  But, as with many NFL players, he was a journeyman and, throughout his 3-year pro career also played for the Miami Dolphins, the Kansas City Chiefs and the Indianapolis Colts.  In all, he saw action in 24 games (15 for Miami and 9 for Kansas City) and started in seven.
After football Alleman returned to U. Akron to complete his bachelor's degree in Business and Organizational Communication and currently works in sales.
In 2016 Alleman was inducted into the Massillon Tiger Football Hall of Fame.  In 2022 he was inducted into the Wall of Champions.