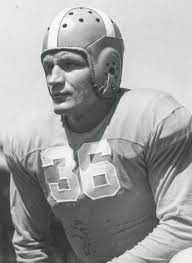 Written by Keith Jarvis
Ed Molinski wanted to be a boxer and ended up a medical doctor.  But in between, he played some pretty good football, for both Massillon and the University of Tennessee.  But that almost didn't happen, as his father had different thoughts.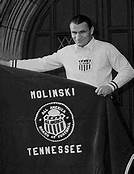 "Massillon is where it all started," said the now Doctor Edward Molinski.  Talking with the great Massillon sports writer Luther Emery, Molinski went on to say, "If you guys hadn't persuaded dad to let me play football, I probably would be walking the streets with holes in my shoes."  (The Emery Wheel, Massillon Evening Independent, ——, 1963)
After attending Longfellow Jr. High, it is believed that his father thought him to be a future champion boxer.  That turned out to be true.  To protect Ed from serious injury, Mr. Molinski forbad Ed from playing football.  On the other hand, Paul Brown saw Ed as an integral part of his Tiger football team.  Considerable negotiation ensued between father and Coach Brown and it was finally agreed that Ed could play football, but Brown would allow Ed to box in the off season.  It was indeed a good negotiated settlement.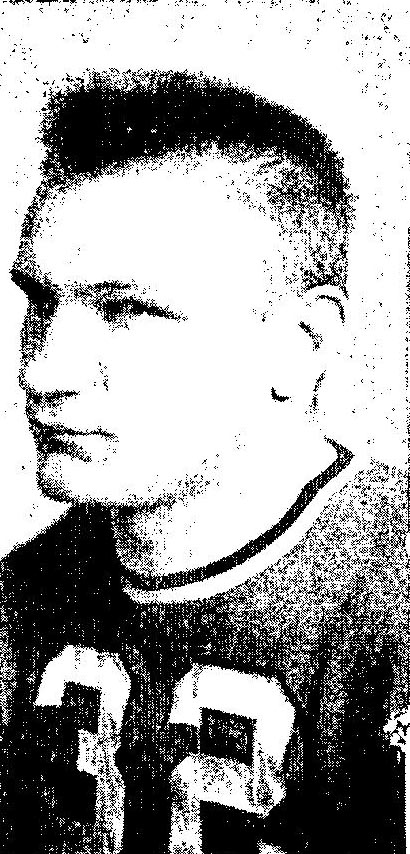 And play football he did.  Although he continued to box in the off season, he put together three years of exceptional football, from 1933 to 1935.  He stood 5'-10" and weighed 182 lbs. and he spent his first two years at guard and linebacker. In his senior year he was moved to quarterback, which at that time was the lead blocker for the running backs in Coach Brown's system. During Molinski's three years with the Tigers they were 27-3, with the 1935 team capturing both the Ohio and National championships. But he continued to box in the off-season and became the Ohio state heavyweight Golden Gloves champion.
Ed wanted to attend Notre Dame after high school as he ambitiously desired more education.  Only, he could not afford the tuition and ND Coach Leahy was unresponsive to several townspeople urging him to give him a scholarship.  But Tennessee's legendary coach Bob Neyland saw it differently and did offer that coveted award.  Ed accepted it and went on to become a beloved man in Tennessee for his many accomplishments, football being at the forefront.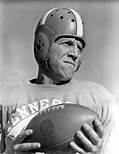 Molinski played for the Volunteers from 1938-1940 as a hard charging guard with both speed and strength.  During his time there, he teamed with Bob Suffridge, which made a lethal combination of future All-American linemen.  Molinski was steady and strong, while Suffridge played with emotion and speed.  Both also played stalwart defense.  But Ed also possessed a tough demeanor and temper, which was evident by his ejection in the 1939 Orange Bowl (Tennessee Sports Hall of Fame, University of Tennessee Athletic Dept.).
During his time at Tennessee, the Vols went 31-2 and won three Southeast Conference Championships, while being invited to play in a bowl game each year.  In 1938 they finished 11-0, with a 17-0 bowl win over Oklahoma, and were named National Champions. Meanwhile, the 1939 team was unscored upon in the regular season before losing to Southern Cal in the Rose Bowl, 14-0.  In fact, they recorded fifteen consecutive shutouts from mid-1938 through 1939.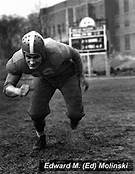 While all of this was taking place, Ed captained the university boxing team and again was a heavyweight Golden glove champion, this time in the state of Tennessee.
The combination of Molinski and Suffridge is renowned in Tennessee history and each went on to receive numerous awards.  In 1990 Molinski was inducted into the College Football Hall of Fame.  Suffridge gained that award at the same time and they were once again side by side as the great duo guards.  Molinski himself earned all of the following awards and inductions:
1st Team All-American (1939)
Grantland Rice Football HOF
The Polish Football HOF
The National Football Foundation HOF
The Tennessee Football HOF
The College Football HOF
Massillon Tiger Hall of Fame (2016)
Massillon Wall of Champions (1994)
WHS Alumni Association Distinguished Citizens Award (2010)
But Ed Molinski was more than just about football.  From Longfellow Jr. High and afterward, he had many friends in Massillon including Augie Morningstar, Ducky Schroeder and Luther Emery. Interestingly, during the 1937 football season, since freshman were not allowed to play, Ed, with Coach Neyland's approval, decided to return to Massillon as a student volunteer police officer.  He reported that a drive-by person fired a shot towards him and luckily missed.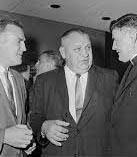 After graduation from college Ed entered the Marine Corps and served as a 2nd Lieutenant until he received a medical honorable discharge. With World War II over, he then went on to coach football and teach history at Memphis State and Mississippi State.  In 1951 he began studying medicine at Tennessee, after having already received his Master's Degree there.  After becoming a doctor of medicine, Ed maintained his attachment to sports life by serving as the team doctor for the Memphis State football team and was also the professional fight doctor for the city of Memphis. To top off this exceptional career, Ed spent 35 years as a revered general medical doctor serving underprivileged communities in Memphis.  He died in 1968 at the age of 68.
Dr. Edward Molinski is surely someone this city has much to be proud of.  To learn more about this remarkable son of Massillon, Ed's own son has a conversation on YouTube detailing much of his father's life.