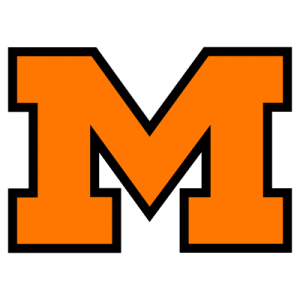 Massillon reins in speedy Chaminade
Tigers' fifth win in a row improves record to 8‑1
By JOE SHAHEEN
Independent Sports Editor
The Massillon Tigers have shown they can run the football this season, but on Friday Rick Shepas' crew sharpened up the aerial attack and racked up over 400 yards passing to torch Dayton Chaminade‑Julienne 48‑27, in front of 8,138 fans at Paul brown Tiger Stadium.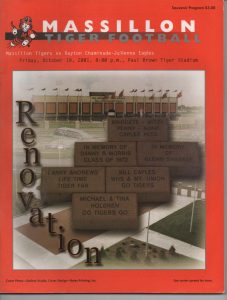 It was a record‑setting performance for two Tigers. Quarterback Justin Zwick passed for 407 yards to eclipse his own single‑game record of 403 set one year ago. Wide receiver Devon Jordan totaled 206 yards receiving to break the record of 169 yards setback in 1977 by Curtis Strawder.
"Too much Justin Zwick," said C‑J head coach Jim Place after the game. "Just too much Zwick. Plain and simple, too much Zwick."
Place wasn't exaggerating. The 6‑foot‑5, 221‑pound senior completed 24 of 39 passes for four touchdowns, and at least four other throws were dropped. He was sharper than at anytime this season and scored a touchdown on a scramble for good measure.
Jordan wasn't the only beneficiary of Zwick's marksmanship. Senior wideout Joe Jovingo had a career night, snaring six passes for 137 yards and two touchdowns.
"I'm happy with my performance but it is a team game," said Jovingo. "We could've put more points on the board. We've got some good running backs and that's the reason we get open because the defense is playing the run and that leaves fewer guys to cover us."
Shepas was pleased his quarterback spread it around.
"You never know who he's going to," Shepas said. "You know how you like to have it ‑ different receivers catching the ball each week."
Zwick had plenty of time sit in the pocket and find open receivers, thanks to an offensive line that was without starting tackle J.P. Simon and began the game without starting center Chad Hennon.
"Our guys up front did a nice Job of pass protecting," said Shepas. "A lot of it has to do not only with our offensive line getting better but also our backs checking up into protection with them."
Starting guard Doug Dickerhoof revealed the Tiger coaching staff prepared the line for C‑J's pressure.
"We gave Justin a lot of time and picked up all the blitzes," said Dickerhoof. "He got the ball to his receivers. They caught the ball and took it in."
While all is good with the Massillon offense, Chaminade's 426 yards of total offense ‑ 230 of it on the ground ‑ did not sit well with Shepas, who knows McKinley scouts were in the stands and saw his team miss a few tackles.
"I really wasn't happy with the defense," Shepas admitted. "We were just a little sloppy tonight. It just felt sloppy tonight."
Were some Tigers looking ahead?
"I don't think so," said Shepas. "I don't know what to attribute it to. Our guys have maintained a high level of intensity throughout the season. We saw a good, fast football team and we had to get adjusted to their speed. Mckinley has great speed."
David Abdul opened the scoring with a 22‑yard field goal on the Tigers second possession. Massillon advanced the ball from its 41 to the C‑J 5, thanks to a 14‑yard Zwick to Jordan completion on a curl pattern, and a 34‑yard pickup when Zwick found Jovingo running free on a post pattern.
Chaminade's Anthony Turner showed that Zwick wasn't the only talented quarterback in the house when he hit Andre Chattams with a 34‑yard laser on the Eagles ensuing possession. That throw advanced the ball to the Massillon 36.
Three plays later, Pernell Williams took an option pitch around left end and exploded past the Tiger defense and into the end zone for a 22‑yard touchdown. Bryan Fecke nailed the extra point and Chaminade owned a 7‑3 lead at 3:24 of the first quarter.
Stephon Ashcraft provided the Tigers with a shot on the arm by returning the C‑J kickoff 47 yards to the Eagles 45‑yard line.
After an incompletion on first down, Tiger junior Ricky Johnson turned a sweep that had no gain written all over it into a 45‑yard touchdown run. Johnson started around left end, changed direction and found daylight to his right. He cut back to the middle of the field at the 30 and sprinted untouched into the end zone.
Abdul's kick was true and Massillon had regained the lead at 10‑7 with 3:08 left in the opening stanza.
A dropped pass doomed Chaminade's next possession and Massillon made the visitors pay. Beginning at their own 14, the Tigers drove the length of the field, mixing the run and pass effectively. A swing pass to Robert Oliver picked up 16 yards, and Zwick later hit Jordan with a 23‑yard strike to the C‑J_ 8.
Two plays later, Zwick scrambled into the end zone from eight yards out. Abdul's conversion kick was true and Massillon's lead was 17‑7 at 8:40 of the second quarter.
Craig McConnell picked Turner off on the first play of the Eagles next possession, returning the football 26 yards to the C‑J 25.
On first down Zwick found a wide open Jovingo at the 8. The senior wideout turned, found no one within 10 yards and scooted into the end zone for the score. Abdul made it 24‑7 Massillon at 6:56 of the second quarter.
Chaminade still had some life and marched 30 yards in eight plays to get back in the ball game. Turner's 33‑yard run got things going for the Eagles. The sophomore signal caller would score from eight yards out on a broken play. Fecke's kick made it 24‑14 Massillon at 2:37 of the second.
But the Tigers regained momentum quickly, thanks to a 21‑yard kickoff return by Ashcraft that gave Massillon a first‑and‑10 at its 38. After advancing to midfield, Massillon struck. Zwick dropped back, looked right, then back left where he found Jordan running wide open at the 10. The junior snagged the football and raced into the end zone. Abdul's kick made it Massillon 31, C‑J 14 with 1:02 left before the band show.
Massillon took the second half kickoff and Zwick again went to work. He hit Jordan for 23 yards, Jovingo for 33 more, and capped off the drive with a 14‑yard pass to Jordan, who spun past a defender and turned it into a 44‑yard touchdown. Abdul's kick made it 38‑14 Massillon at 9:34 of the third period.
Craig McConnell's interception and slick 34‑yard runback set up the Tigers next tally. David Hill made a juggling catch for a 19‑yard gain to the C‑J 8, then Jovingo latched onto his second TD pass of the night from 13 yards out. The scoreboard read Massillon 45, C‑J 14 after Abdul's PAT.
MASSILLON 48
CHAMINADE 27
M C
First downs rushing 2 12
First downs passing 18 7
First downs by penalty 1 1
TOTAL first downs 21 20
Net yards rushing 75 230
Net yards passing 407 196
TOTAL yards 482 426
Passes attempted 39 24
Passes completed 24 13
Passes intercepted 0 2
Punts 2 5
Punting average 31.5 32.8
Fumbles/Lost 1/1 3/0
Penalties 9 5
Yards penalized 49 35
MASSILLON 10 21 14 3 48
CHAMINADE 7 7 0 13 27
SCORING
M ‑ Abdul 22‑yard field goal
C‑J ‑ Williams 22‑yard run (Fecke kick)
M ‑ Johnson 45‑yard run (Abdul kick)
M ‑ Zwick 8‑yard run (Abdul kick)
M ‑ Jovingo 25‑yard pass from Zwick (Abdul kick)
C‑J ‑ Turner 6‑yard run (Fecke kick)
M ‑ Jordan 46‑yard pass from Zwick (Abdul kick)
M ‑ Jordan 44‑yard pass from Zwick (Abdul kick)
M ‑ Jovingo 13‑yard pass from Zwick (Abdul kick)
C‑J ‑ Williams 1 ‑yard run (Fecke kick)
M ‑ Abdul 48‑yard field goal
C‑J ‑ Sanford 30‑yard pass from Turner (Fecke kick)
INDIVIDUAL STATISTICS
Massillon rushing: Johnson 9‑61, Oliver 5‑5, Zwick 3‑5, Hill 1‑10.
Chaminade rushing: Williams 17‑112, Turner 15‑109.
Massillon passing: Zwick 24‑39‑407 4 TDs.
Chaminade passing: Turner 13‑24‑196 TD, 2 INTs.
Massillon receiving: Jordan 9‑206, Jovingo 6‑137, Williams 5‑24.
Chaminade receiving: Chattams 6‑91, Patrick 3‑24, Sanford 2‑38.
‑ Statistics courtesy of RICHARD CUNNINGHAM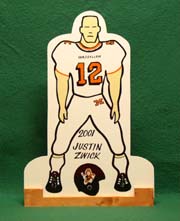 Justin Zwick