St. Ignatius too much for Tigers
By JOE SHAHEEN
Independent Sports Editor
It was a Friday the 13th horror story of Hollywood proportions for a vast majority of the 15,051 fans at Paul Brown Tiger Stadium who witnessed the Massillon Tigers 29‑21 defeat at the hands of Cleveland St. Ignatius Friday night.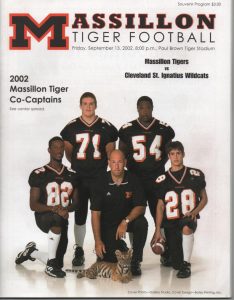 The Tigers looked like a well‑oiled machine in taking a 14‑3 halftime lead and out‑gaining the defending state champions 236‑74 in total yards in the first half.
Massillon extended its advantage to 21‑3 on Billy Relford's 81‑yard interception return for a touchdown with just over two minutes left in the third quarter.
With St. Ignatius star running back Carter Welo sitting on the bench with a left shoulder injury, it appeared the Tigers were well on their way to their first‑ever victory over the Wildcats.
Despite an 18‑point deficit, Ignatius coach Chuck Kyle stayed cool and so did his charges. "We needed to get a score," Kyle said. "It's 21‑3. Plenty of time. If we get one in here, there's plenty of time."
A facemask call on Massillon gave St. Ignatius the ball near midfield on its ensuing possession. Two plays later, Tony Gonzalez shook himself loose in the Tiger secondary and junior quarterback Brian Hoyer found him for a 37‑yard pass and run for six points. The conversion kick was good and Massillon's lead had been sliced to 21‑9 with a few seconds remaining in the third quarter.
"Tony gets that one and he has that great speed and he takes off and gets it and that's just what we needed right there because the kids got excited," Kyle said. "They got excited. "When things are going wrong, you just say something is going to hit and you put it in the hands of the guys who can get it done for you." That would be Gonzalez, who has verbally committed to play his football at Ohio State next season.
After Massillon went three‑and‑out on its next possession, St. Ignatius took over at its 31. Two Hoyer completions moved the ball to the Massillon 35. Then it was back to Gonzalez, who got behind the Tigers coverage and caught Hoyer's high‑arcing 35‑yard aerial in the end zone at 9:59 of the fourth quarter. The kick made it Massillon 17, St. Ignatius 16, and the Wildcats could smell blood.
W hat happened next was truly a nightmare for the Tigers. Beginning on their 20‑yard line, Massillon was flagged consecutively for too many players on the field, an illegal formation and a false start to set up first‑and‑25 from the 5‑yard line. One play later, Gonzalez stepped in front of a Massillon pass in the flats and zipped 15 yards to pay dirt. The conversion pass play failed but St. Ignatius was now on top 22‑21.
Massillon looked to be rallying back following the kickoff. The Tigers moved the ball to near midfield on four consecutive running plays. On the fifth, they coughed up the football and the Wildcats recovered on the Massillon 43.
A 25‑yard Hoyer pass to an uncovered Gonzalez set up Joe Palcko's two‑yard scoring burst. The point after kick made it St. Ignatius 29, Massillon 21 with 4:41 to go.
The Tigers would move the football to the Ignatius 30 in the game's waning moments but four straight incompletions ended any hope for a late comeback
Afterward, Massillon head coach Rick Shepas was composed. "I think we could have played harder in the second half but this is part of the learning process," he said. "When the momentum went, it went pretty quick."
And how do you stem the tide against a team as accomplished at coming back as St. Ignatius?
"You just have to make some plays," Shepas said. "We were in position to make some plays and we didn't. "It's another situation where we've played them four times. We had them beat three out of the four probably and we just let them have it. They're a good team and that's why they win. They have a great coaching staff. But it's all a part of the process and it's a matter of how we handle it from here."
Massillon was held to 68 total yards in the second half and Shepas praised Kyle and his staff for their halftime adjustments. "They made some good adjustments but nothing we couldn't handle," he said. "It's all a part of the process. It is a long season. It's 15 games and our guys have to learn how to play four quarters with this team."
Defending state champs continue Tigers, mastery of Massillon 29‑21 verdict
For the first two quarters, it appeared Massillon had finally gotten over the hump against its chief tormentor.
The defense set up both of the Tigers first half touchdowns by intercepting Hoyer on a pair of deep throws.
The first pickoff came on a third‑and‑11 call from the Wildcat 41‑yard line. Hoyer was looking to Gonzalez on a deep post pattern but senior free safety Craig McConnell swooped in front and intercepted the football on a dead run at the Massillon 30, returning it to the St. Ignatius 48.
On first down from there, left guard Vince Volpe and left tackle Bradley Grizzard opened up a gaping hole and Johnson tore through the cavity for 34 yards to the 14.
One play later, Johnson who rushed for 209 yards in 23 carries ‑ galloped around the left end of the Massillon line and went untouched into the end zone as senior wideout Stephon Ashcraft wiped out a St. Ignatius defensive back with a superb block. Max Shafer tacked on the extra point and Massillon led 7‑0 at 9:20 of the second quarter.
Hoyer again tested the Tiger secondary on the Wildcats ensuing possession, throwing down the left hash mark as Marquees Watkins applied the rush. Relford made a leaping interception at mid‑field and Massillon was in business once again. Three running plays ‑ two by Terrance Roddy and one by Tuffy Woods ‑ gave the Tigers a first down at the St. Ignatius 41.
Then it was time for Johnson to shine once again. The 5‑foot, 193‑pound senior took a handoff from quarterback Matt Martin and burst through a hole opened up by senior center Reggie McCullough. He was 10 yards past the line of scrimmage when he encountered Ignatius defensive back Darnell Martemus, shaking right then exploding past the stunned Wildcat and into the end zone. Shafer's conversion kick was true and Massillon led 14‑0 at 6:46 of the second quarter.
St. Ignatius avoided the first half shutout with a 387 yard field goal at 4:15 of the second quarter.
"We have some soul searching to do because at times we didn't play our best football," Shepas said.
"That's a great football team … Massillon," Kyle remarked. "This was a great battle. People got their money's worth."
That is if you're a fan of horror stories.
St. Ignatius 29
Massillon 21
M I
First downs rushing 12 6
First downs passing 2 10
First downs by penalty 0 3
TOTAL first downs 14 19
Net yards rushing 250 103
Net yards passing 54 203
TOTAL yards 304 406
Passes attempted 21 25
Passes completed 5 12
Passes intercepted 2 4
Punts 5 5
Punting average 40.6 31.4
Fumbles/Lost 3/2 2/0
Penalties 10 1
Yards penalized 88 5
Massillon 00 14 07 00 21
Ignatius 00 03 06 20 29
SCORING
M ‑ Johnson 15 run (Shafer kick)
M ‑ Johnson 41 run (Shafer kick)
I ‑ Kedzior 38 FG
M ‑ Relford 81 interception return (Shafer kick)
I ‑ Gonzalez 37 pass from Hoyer (Run failed)
I ‑ Gonzalez 35 pass from Hoyer (Kedzior kick)
I ‑ Gonzalez 15 interception return (Massey pass from Hoyer)
I ‑ Palcko 2 run (Kedzior kick) MEN
INDIVIDUAL STATISTICS
Massillon rushing: Johnson 23‑203 2 TDs, Roddy 9‑42, Woods 7‑14.
St. Ignatius rushing: Welo 16‑78, Palcko 12‑43 TD.
Massillon passing: Martin 5‑21‑54 2 INTs.
St. Ignatius passing: Hoyer 12‑25‑203 2 TDs, 4 INTs.
Massillon receiving: Jordan 3‑40, Heiscel 1‑9, Hill 1‑5.
St. Ignatius receiving: Gonzalez 4‑102 2 TDs, Kralik 5‑59, Massey 2‑31.