Role reversal
C-J's Ringer devastates Tiger defense
By JOE SHAHEEN
Joe.Shaheen @ IndeOnline.Com
The shoe was on the other foot and the Massillon Tigers didn't much like the fit.
A veteran Dayton Chaminade‑Julienne team coming off a state title and ranked No. 7 among Ohio's, Division III football teams, came into Paul Brown Tiger Stadium and put a 45‑24 thumping on the Tigers in front of 7,748 on an idyllic autumn Friday evening.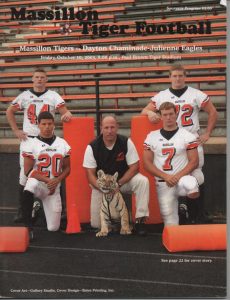 Two years ago, it was a sophomore‑laden C‑J squad that came to Massillon and left on the short end of a 48‑27 score to a Tiger team featuring Justin Zwick and Shawn Crable.
On Friday, C‑J had the Division I prospects in running back Javon Ringer ‑ who rushed for 259 yards and three touchdowns ‑ and quarterback Anthony Turner, who completed 8 of 8 passes for 172 yards and a touchdown.
Chaminade‑Julienne coach Jim Place admitted he had mixed emotions as he looked up at the scoreboard and saw his team's margin of victory, which was the same 21 points that his team lost by in 2001.
"It's a great win for me and my kids but at the same time I'm looking around and where was No. 33?" Place said. "Where was No. 16? Where was this guy? Where was that guy? Where was No. 5?
"It's a wonderful feeling. I'm thrilled but it's tempered with feeling for the other guy. No one from Massillon wants our pity. But I have some empathy for the other side. Massillon is just a young team that is beat up."
Tiger coach Rick Shepas emerged from an emotional post‑game address to his team and put the 21‑point setback in perspective.
"Jim Place came up here two years ago to get a young team ready to play for a state championship down the road," Shepas recalled. "They were a sophomore group and the situation was reversed. Now they're seniors and a talented group of guys.
"Ringer, what can you say? I love Turner and No. 1 the wideout (Ryan Patrick), he's special."
Shepas explained the Tigers are trying to prepare their youngsters the same way Place did in 2001.
"We're in the same situation this year," Shepas said. "We're playing a lot of young people. We're playing the same kind of schedule. We want to play people so that hopefully things will work out the same way. We don't want to lower the bar just so we can win football games, so we've raised the bar and we're finding out how we respond and that's the way it goes."
C‑J jumped out to an early 14‑point lead on Patrick's 82‑yard punt return at 7:10 of the first quarter and a 47‑yard Turner‑to‑Patrick pass play that began as a 10‑yard slant and ended up in the end zone.
But the Tigers clawed their way back in the game. Tuffy Woods capped off a five‑play, 59‑yard march with a one‑yard touchdown plunge at 11:11 of the second quarter. It was set up by a 25‑yard sweep by Lanale Robinson and a grinding 21‑yard run by Woods.
Billy Relford ran under the ensuing pooch kickoff and the Tigers regained possession at the 31. After a 12‑yard run by Woods, the drive stalled and Zach Smith drilled a 28‑yard field goal to pull Massillon back to within four points at 14-10.
Relford came up with another huge play on C-J's next possession, stripping Patrick after a pass completion and falling on the pigskin to give the Tigers the ball at the visitors' 43.
Again Woods ran effectively gaining 12 yards on first down. Three snaps later, though, on third‑and‑seven, the Tigers fumbled the ball back to the Eagles, who took just four plays to cover the 67 yards to the end zone.
"That's something that happened to us when we first came here." Shepas said of the key turnover. "Our resilience after a turnover. We survive one, we survive another. But when stupid things start to happen like the miscues with the bad snaps and stuff like that, those are things our guy have to learn from and get better from."
C‑J's lead was 21‑10 at 4:33 of the first half. The Eagles then forced Massillon into a three‑and‑out series, and followed with a seven‑play, 80‑yard scoring march capped by Ringer's never‑say‑die 24‑yard touchdown run that made it 28‑10 at halftime.
"The one time (Ringer) ran for a touchdown, we missed six tackles," Shepas said. "There were times when we didn't line up correctly. We had them in some third‑and‑long situations. Our guys have to line up. That's the bottom line."
Massillon finished with six fumbles, losing five. That comes on the heels of a nine turnover game a week ago against St. Edward.
In his first varsity start after being idled for more than a month with a broken wrist, sophomore quarterback Quentin Paulik struggled but passed for 119 yards and a touchdown without being intercepted.
"Here he comes in his first start after those injuries and he has to play against the fastest team we will face all year," Shepas pointed out. "That's a tough thing to do."
Massillon falls to 4‑4 and will host No. 2 ranked Warren Harding next Saturday.
Chaminade‑Julienne improves to 7‑1, locks up a playoff berth, and now has two games to secure home field advantage. But the way the Eagles played on the road Friday, being at home may not matter much.
Dayton C‑J 45
Massillon 24
Dayton C‑J 14 14 14 3 45
Massillon 0 10 0 14 24
SCORING
CJ ‑ Ryan Patrick 82 punt return (kick failed)
CJ ‑ Ryan Patrick 47 pass from Anthony Turner (Patrick run)
M ‑ Tuffy Woods 1 run (Smith kick)
M ‑ Smith 28 FG
CJ ‑ Javon Ringer 25 run (Grant kick)
CJ ‑ Javon Ringer 24 run (Grant kick)
CJ ‑ Javon Ringer 86 run (Grant kick)
CJ ‑ Turner 5 run (Grant kick)
CJ ‑ Grant 24 FG
M ‑ Billy Relford 57 pass from Quentin Paulik (Smith kick)
M ‑ Hendricks 35 pass from Weisand (Smith kick)
INDIVIDUAL STATISTICS
Massillon rushing: Woods 13‑72, 1 TD
Chaminade‑Julienne rushing: Ringer 24‑261, 3 TDs, Turner 11‑47, 1 TD
Massillon passing: Paulik 7‑22‑119, 1 TD
Chaminade‑Julienne passing: Turner 8‑8‑172, 1 TD
Massillon receiving: Relford 3‑72, 1 TD
Chaminade‑Julienne receiving: Patrick 5‑109, 1 TD


Brock Hymes