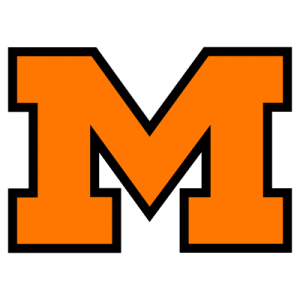 Unbeaten Tigers give Garfield the 'boot'
Massillon rules 51‑26 as Oliver tallies 3 touchdowns
By JOE SHAHEEN
Independent Sports Editor
The Massillon Tigers dug a little deeper into their voluminous offensive playbook and it paid off with a 31‑point explosion in the final two quarters, sparking them to a 51‑26 thrashing of the Akron Garfield Golden Rams in front of 13,080 fans at Paul Brown Tiger Stadium, Friday.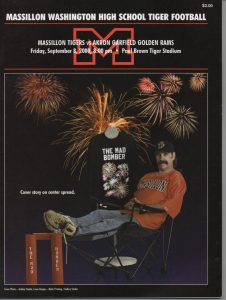 The Tigers, now 3‑0 on the campaign, held a 20‑14 halftime advantage but did not fully take advantage of four Garfield turnovers before the band show.
Massillon came out in the third quarter and put together back‑to‑back touchdown drives of 75 yards and 73 yards to take control of the game.
Justin Zwick connected on 11 straight passes during that stretch, utilizing bootlegs and rollouts to get away from the pesky Garfield pass rush.
In a game Garfield coach Bill McGee said would be decided by adjustments, the Tigers made a major one at halftime and the Rams were never able to counter.
"Justin likes to throw that boot pass and for the past couple years Orrville did a nice job of running that boot pass," said Tiger coach Rick Shepas after the game. "It's something we have in the playbook.
"Credit Coach (Dan) Murphy with some halftime adjustments.
He kept asking me, 'Have you thought about that boot pass? Have you thought about that boot pass?' Quite honestly I hadn't, so I stuck it in there and it was a good adjustment. We ended up building the offense in the second half around that."
McGee admitted his team never did come up with a stopper.
"That's something we haven't seen," McGee said of the boot pass. "It shouldn't have been as effective after the first time they did it, but we were tired. When you're tired, the brain doesn't work as well.
"They did things better in the third quarter especially, which was the difference. We were only six points behind at halftime and I thought we had a chance. I knew we had to kick off but they dominated the third quarter and a big part of it was on those roll outs."
Like Buchtel had in the opener, Garfield jumped out to a 7‑0 lead on the Tigers, taking just four plays to go 80 yards. The quick strike was a 48‑yard Brian Sutphin to John Bell touchdown pass, set up by Sutphin's textbook pump fake that froze the Massillon defensive back for a split second.
After an exchange of punts, Massillon took over at its 22. Zwick found Montale Watkins for 14 yards to the 41. Three plays later, from midfield, Zwick spotted Jesse Robinson open at the Garfield 20 and was on target with the throw. The senior co‑captain did the rest, bolting into the end zone at the 5:17 mark of the first quarter. David Abdul added the point after and it was a 7‑7 game.
The first of three Matt Shem interceptions set up Massillon's second score. Jeremiah Drobney latched onto a Zwick pass at the Garfield 3 on first down. Then Perry James swept around left end for the touchdown on the very next play. Abdul's PAT made it 14­-7 at the 6:53 mark of the second quarter.
Shem's second interception was offset by a pickoff by the Garfield secondary. An interference call on Massillon gave the Rams the ball at the Tiger 29. Four plays later Sutphin threw a fade pass in the end zone and Lawrence Cherry climbed the ladder for the touchdown grab. The kick made it a 14‑14 contest at 3:33 of the second period.
Zwick completed four straight passes on Massillon's ensuing possession but a holding penalty forced the Tigers to settle for a 27‑yard Abdul field goal with less than a minute to play in the half.
Shem picked off his third aerial of the quarter on Garfield's first play after the Massillon kickoff, leading to a 28‑yard Abdul field goal, making it 20‑14 as the half expired.
The third quarter was all Massillon as Zwick came out of the locker room on fire. The Tigers moved from their own 25 to the Garfield 9 on eight plays, three of which were bootleg passes. On first and goal from the 9, Zwick rolled left and found sophomore Devon Jordan running free along the back line of the end zone for the touchdown. Abdul's kick made it 27‑14 Massillon with 8:40 in the third period.
Tyrell McElroy got the ball right back for Massillon with a brilliant one‑handed, over‑the‑shoulder interception at the Tiger 27‑yard line.
Mixing the boot passes with the running of Terrance King and Robert Oliver, Massillon moved down the field and into scoring position. Zwick rolled to his right and completed a throw to Drobney that moved the ball to the 3. Two plays later, Oliver followed King's block into the end zone. The two‑point conversion pass failed but Massillon was in command at 33‑14 with 3:31 left in the third.
But Garfield had some fight left as Sutphin went deep and found Lawrence Cherry on the post pattern with a 44‑yard scoring bomb to make it 33‑20 at the 2:11 mark.
Tiger sophomore Jamaal Ballard made sure the momentum didn't swing away from the locals, returning Garfield's ensuing kickoff 60 yards to the Rams 36. It only took five plays for Oliver to score again, sweeping around left end and into the end zone from four yards out. Zwick and Mike Corsale meshed on the two‑point conversion pass to make it 41‑20 with just seconds left in the third.
Abdul left the paying customers gasping when he opened the fourth quarter scoring with a 56‑yard field goal with 11:09 to play.
"With the wind at his back, I said he has 50 in him tonight and his father said he has 57 in him," noted Shepas. "He ended up getting 56."
Garfield's resilience surfaced again as the Rams moved 80 yards on just three plays, with Cherry covering the final seven on a sweep around his left side to make it a 44‑26 contest.
Then Oliver capped off an eight‑play, 90‑yard march with a five‑yard touchdown run. The junior was hit twice inside the five but shook off both potential tacklers and found pay dirt with 7:30 to play, closing the scoring.
Despite surrendering 30‑plus points for the second week in a row, Shepas was not displeased with the Massillon defense.
"Five turnovers, that's how I'll look at the defense," he said. "There were a lot of outstanding plays. Shem has three picks. Ty Mac has a great interception and Justin Princehorn has an interception."
MASSILLON 51
GARFIELD 26
M G
First downs rushing 6 5
First downs passing 19 4
First downs by penalty 0 1
TOTAL first downs 25 10
Net yards rushing 119 141
Net yards passing 375 185
TOTAL yards 494 326
Passes attempted 43 21
Passes completed 29 6
Passes intercepted 5 2
Punts 2 6
Punting average 33 21.7
Fumbles/Lost 2/2 1/0
Penalties 5 3
Yards penalized 57 15
MASSILLON 7 13 21 10 51
GARFIELD 7 7 6 6 26
SCORING
G ‑ Sutphin 48 pass to Bell (Kulick kick)
M ‑ Zwick 49 pass to Robinson (Abdul kick)
M ‑ James 3 run (Abdul kick)
G ‑ Sutphin 11 pass to Cherry (Kulick kick)
M ‑ Abdul 27 field goal
M ‑ Abdul 28 field goal
M ‑ Zwick 9 pass to Jordan (Abdul kick)
M ‑ Oliver 2 run (Pass failed)
G ‑ Sutphine 56 pass to Cherry (Run failed)
M ‑ Oliver 4 run (Zwick to Corsale)
M ‑ Abdul 56 field goal
G ‑ Cherry 7 run (Pass failed)
M ‑ Oliver 5 run (Abdul kick) man
INDIVIDUAL STATISTICS
Massillon rushing: Oliver 11‑62, James 8‑41.
Garfield rushing: Klopton 4.49, Hullum 11‑38.
Massillon passing: Zwick 29‑43‑375 2 TDs, 2 INTs.
Garfield passing: Sutphin 6‑20‑185, 3 TDs, 4 INTs.
Massillon receiving: Drobney 10‑137, Robinson 4‑68, Watkins 5‑64, King 5‑63, Williams 2‑26.
Garfield receiving: Bell 2‑109.