Tigers swarm over Fremont
By JOE SHAHEEN
Independent Sports Editor
Massillon's Black Swarm defense, much maligned in back‑to‑back defeats to St. Ignatius and Perry, forced a pair of first half turnovers and pitched their first shutout of the season in the Tigers 35‑0 thrashing of the Fremont Ross Little Giants in front of 8,159 at Paul Brown Tiger Stadium on Homecoming Night, Friday.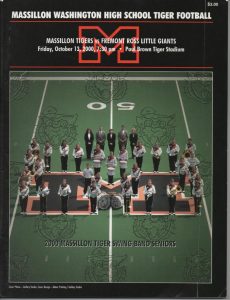 "We had a lot of frustration built up from the past two weeks and we just took it out on Fremont Ross," said Tiger strong safety Robert Oliver. "We finally put it all together and got the shutout."
The Massillon defense forced three turnovers and limited Fremont to 232 total yards in its best overall performance of the 2000 season. It was a far cry from the 36‑ and 31‑points surrendered in the previous two outings.
"The last couple games we've allowed a lot of points on the scoreboard," observed Tiger linebacker Justin Princehorn, who had a sack and an interception in the same first half series. "It helped to get the shutout tonight.
"We were a lot more fired up tonight. The defense was really pumped. We're coming together and building momentum going into the playoffs."
Tiger cornerback Tyrell McElroy, who had nine solo stops last week against Perry, followed up with another fine game, helping to stuff the potent Fremont running game.
"The defense really wanted it tonight," McElroy said. "We were hyped. We were ready to kill people."
While the Massillon defense was outstanding, it was the special teams that made the first big play of the game as sophomore James Helscel recovered a muffed punt at midfield after the Tiger offense went three‑and‑out on its initial possession of the game.
The Tigers made Fremont pay for its gaffe as quarterback Justin Zwick dropped back to pass on third‑and‑10, and found Jesse Robinson running free on a post pattern. Zwick was on target with half his high, arcing throw which Robinson hauled in at the 5 on his way to the end zone.
David Abdul boomed the conversion kick over the south bleachers and Massillon was up 7‑0 at the 10:00 mark of the first quarter.
After Massillon kicked off, the Tiger defense would get the ball right back. On first‑and‑10 from the 25, Fremont quarterback James Martin tried to execute an option keeper around right end but lost the handle.
Senior defensive tackle Walter Thompson outscrapped everyone for the ball and the Tigers had possession at the Little Giants' 32.
Two incompletions and a three‑yard running play forced Massillon to try a 46‑yard field goal. Abdul had the kick lined up but was just short as the ball hit the crossbar and fell away.
Fremont moved from its 20 to midfield on its second possession of the night before Oliver stopped Tyrus Hamilton for a one‑yard loss and McElroy sniffed out a screen play for a three‑yard loss to force a punt.
An unsportsmanlike conduct flag on Fremont helped Massillon move to the Little Giants 22 but a 39‑yard field goal attempt sailed wide left as the first quarter ended.
Again Fremont marched, moving from its 20 to the Massillon 21 on nine plays. On first‑and‑10 at that spot, Princehorn blitzed and sacked Martin for a five‑yard loss.
On the very next play Martin tried to beat the blitz with a quick pop pass over the middle. Massillon's Jared Frank tipped the ball, which went through the intended receiver's hands before Princehorn picked it out of the air for a drive‑killing interception at the Tiger 16.
After an exchange of punts, Massillon took over at it's 20 and Perry James immediately ripped off 12 yards around left end, with another 15 tacked on for a facemask penalty. The senior running back got the ball on a draw play on the next snap and found a gap that yielded another 16 yards to the Fremont 37‑yard line.
Oliver gave James a breather, gaining seven yards around left end and 16 around right end on the very next play as Massillon moved to the 14‑yard line.
"Perry was struggling a little in the first half and we stuck Robert in there and he ran it well and gave Perry a little push," said Tiger coach Rick Shepas, "We had a lot of draw and a lot of screen in the game plan tonight and it worked out for us."
One play later, Zwick hit Jeremiah Drobney along the left sideline for 16 yards to the Fremont 1. Then James went flipping into the end zone on second‑and‑goal. Abdul's kick was good and Massillon carried a 14‑0 lead into the halftime locker room.
The second half saw the Massillon offense get back into synch behind the spirited play of Zwick and the continued effective running of James.
After the defense set the table by forcing Fremont to punt after just three plays, the Tigers took over at their own 38.
Zwick completed passes to James (seven yards), Montale Watkins (six yards) and Robinson (16 yards) to move the ball to the Fremont 33. James then picked up 13 on a draw play and Zwick again got the ball to Robinson for nine more to the 11.
The Little Giants bowed their necks at that point but Zwick was able to sneak in from the 1‑yard line on fourth‑and‑goal. Abdul's PAT made it 21‑0 with 5:36 left in the third quarter.
After yet another Fremont punt, set up by Brent Dean's 7‑yard sack of Martin, Massillon regained possession at its 17‑yard line. The lousy field position was not a problem as Zwick and Robinson hooked up for 18 yards on first down. One play later, James got a seam on the draw play and scooted 60 yards to the Little Giants 1.
Robinson went in from there on an end‑around and Massillon led 28‑0 heading into the fourth quarter.
The final Tiger tally was set up by Brian Leonard and Chris Pittman, who combined to stop Fremont's Aaron Hines on fourth‑and‑one.
Zwick beat the blitz with a quick toss to Jeremiah Drobney for 22 yards on first down. The strong‑armed junior then hit Marquis Williams in the end zone from 11‑yards out. Abdul's kick closed the scoring at 10:03 of the fourth quarter.
"This was an important win for our team and our unity," remarked James, who finished with 133 yards in 15 totes. "We came together as a team tonight. We've turned this around."
"We're trying to get these kids to play for each other," Shepas said, "Trying to get them to step up and provide leadership without turning to me. It seems like as Zwick goes, we go. When he comes out and gets excited like he did in the second half, we go."
MASSILLON 35
FREMONT ROSS 0
M F
First downs rushing 7 10
First downs passing 9 6
First downs by penalty 3 0
TOTAL first downs 19 16
Net yards rushing 162 148
Net yards passing 221 84
TOTAL yards 383 232
Passes attempted 25 22
Passes completed 14 11
Passes intercepted 0 2
Punts 2 4
Punting average 28 32.8
Fumbles/Lost 3/1 4/2
Penalties 6 6
Yards penalized 57 64
MASSILLON 7 7 14 7 35
FREMONT ROSS 0 0 0 0 0
SCORING
M ‑ Robinson 48 pass from Zwick (Abdul kick)
M ‑James 1 run (Abdul kick)
M ‑ Zwick 1 run (Abdul kick)
M ‑ Robinson 1 run (Abdul kick)
M ‑ Williams 11 pass from Zwick (Abdul kick)
INDIVIDUAL STATISTICS
Massillon rushing: James 15‑133, Oliver 7‑27.
Fremont Ross rushing: Hamilton 19‑59.
Massillon passing: Zwick 13‑24‑178 2 TD, Williams 1‑1‑43.
Fremont passing: Martin 10‑21‑74 2 INT.
Massillon receiving: Robinson 6‑100, Drobney 2‑39, Watkins 2‑17.
Fremont Ross receiving: Root 6‑31.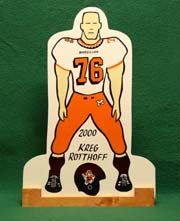 Kreg Rotthoff