Tigers go to the air for win No. 9
By Joe Shaheen
Independent Sports Editor
All you need to know about the thoroughness of the Massillon Tigers 47-7 thrashing of Akron St. Vincent-St. Mary Friday night as the Fighting Irish offense couldn't advance the football past midfield until the 3:45 mark of the third quarter.
By that point, the Tigers had already built a 35‑0 1ead and were substituting liberally as looked they looked ahead to next week's annual confrontation with the McKinley Bulldogs, who will play host to St. Thomas Aquinas this evening.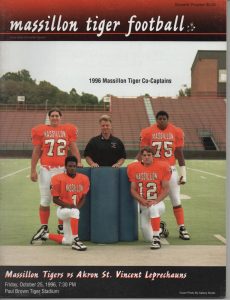 St. Vincent‑St. Mary veteran head coach John Cistone was matter-of-fact about his team's demise in front of 8,766 at Paul Brown Tiger Stadium.
"Massillon is as good a football team as I've seen," he said. "I've seen Ignatius on TV. But we scouted about three Tigers games … better … last year .. the last few years. I think. They're pretty well balance. They're real strong on the defensive and offensive lines. They pursue well. They have everything to be a great football team."
The Tigers came into the ninth week wanting to establish some consistency in their passing game to balance an attack that has leaned heavily on the ground game the past three or four weeks. They accomplished that as starting quarterback Ben Hymes connected on 9 of 12 aerials for 195 yards and two touchdowns.
Hymes, who spent a season at St. Vincent-St. Marry before transferring to Massillon, was pleased with his performance.
"We saw some open guys and we threw it to them," Hymes said with a broad smile. "Yes, I was glad to get a good game throwing the ball under by belt. We're starting to get it all together going into the Canton McKinley game. We're polishing it up."
Hymes' best throw of the evening came on the Tigers second possession. The Irish had just been flagged for pass interference on Devin Williams, giving Massillon the ball and a first down at the St. Vincent-St. Mary 38.
The Tigers offensive line gave Hymes airtight protection as he dropped back. Eric Lightfoot had a step on the St. V cornerback and Hymes hit him in perfect stride on the post pattern for the touchdown with 5:05 left in the first quarter. Josh Hose's conversion kick gave Massillon a 14-0 advantage.
It also gave Hymes and the offense an extra dose of confidence, while forcing the Irish (and McKinley next week) to honor the Tigers passing game.
"We wanted to throw the ball better," said Jack Rose. "The biggest emphasis this week was getting the passing game going again and throwing the ball where it is supposed to go and we did a good job of that.
"We needed to score some points tonight. We needed to hit some big plays. We needed for the quarterback to have some success. We needed to pass protect well. When Ben sets his feet, he's pretty good. We were a lot more balanced offensively."
The statistics bear out Rose's claim. Massillon rushed for 207 yards and passed for 242 yards.
Brian Baer was Hymes' favorite target this night, snaring four passes for 33 yards. Williams had three catches for 51 yards and a touchdown on a beautifully executed pump-and-go pattern along the left sideline that covered 19 yards with just over a minute remaining in the first half.
Massillon opened the game by marching 72 yards in 14 plays. Christian Morgan carried on seven of those snaps, crashing into the end zone from four yards out at 6:54 of the first period. Hose converted to make it a 7-0 game.
After the Irish went three-and-out, Hymes hit Lightfoot on the post pattern to make it a 14-0 game.
St. Vincent-St. Mary continued to struggle on its second possession. On second and 15 from its own 12, quarterback Rob Adamson went deep. But Lightfoot made a sensational, leaping interception at the 47. The senior safety was escorted down the left sideline by a cadre of Tiger blockers and dove into the end zone for the touch. Hose again was perfect and Massillon led 21-0 with just over four minutes remaining in the first period.
The Irish got one first down on their next possession but were force to punt from their 38. Massillon took over at its 30 and again began to drive the football. On second and 15 from the 25, Hymes hooked up with Baer for 16 yards over the middle. Two plays later it was Hymes and Williams making the connection for 27 yards to the Irish 23.
Six plays later, Elijah Blake found a hole over right guard and scored from three yards out. Hose's PAT was true and the Tigers owned a 28-0 advantage with 8:33 left in the half.
Massillon upped its cushion to 35-0 at halftime when Hymes and Williams executed the hitch and go from 19 yards out.
The Tigers scored in the third period when Hymes hit fullback Jared Stefanko with a swing pass along the right sideline. Stefanko turned on the jets and 74 yards later was pulled down at the Irish 1. Morgan slashed into the end zone from there and it was a 41-0 game.
"The number one thing we were worried about was a letdown from the week before and looking ahead to the tenth week," Rose admitted afterward. "Then you're worried about injuries from guys not playing hard. It has been very difficult this week in the building because people are talking about the Moeller game and the McKinley game. But the kids were well focused and practiced very well all week long."
As for Hymes, who admitted satisfaction at beating his old teammates, it's time to prepare for McKinley.
"My main goal is to settle down until I get to the game." he said. "If I had my choice. I'd be playing the game this Monday instead of next Saturday. This is going to be a long toward playing them for a long time now."
MASSILLON 47
ST. VINCENT 7
M V
First downs rushing 12 4
First downs passing 7 2
First downs penalty 1 0
Total first downs 20 6
Net yards rushing 207 91
Net yards passing 242 43
Total yards gained 449 144
Passes attempted 14 15
Passes completed 10 4
Passes int. 1 1
Times kicked off 8 2
Kickoff average 42.3 49.5
Kickoff return yards 32 87
Punts 2 8
Punting average 29.5 29.3
Punt return yards ‑7 ‑1
Fumbles 3 6
Fumbles lost 1 1
Penalties 2 6
Yards penalized 15 50
Number of plays 61 41
Time of possession 28:26 19:34
Attendance 8,766
ST. VINCENT 0 0 0 7 7
MASSILLON 21 14 6 6 47
SCORING SUMMARY
First Quarter
MASS – Morgan 4 run (Hose kick)
MASS – Lightfoot 38 pass from Hymes (Hose kick)
MASS – Lightfoot 47 pass int. return (Hose kick)
Second Quarter
MASS – Blake 3 run (Hose kick)
MASS – Williams 19 pass from Hymes (Hose kick)
Third Quarter
MASS – Morgan 1 run (kick failed)
ST V – K Alvarado 2 run (Tricomi kick)
MASS – Tony Danzy 47 pass for Tip Danzy (kick failed)
FINAL STATISTICS
Rushing:
Massillon
Morgan 20-98, 2 TDs;
Blake 10-42, 1 TD;
Tip Danzy 1-20;
Hodgson 4-7;
Bradley 5-6;
Childs 2-6;
Autrey 1-6;
Hymes 1-4;
Stefanko 1-3.
St. Vincent
K Alvarado 5-56 1 TD;
Morgan 8-18;
Ake 2-14;
Short 5-11.
Passing
Massillon
Hymes 9-12-195-1 2 TDs
St Vincent
Adamson 4-14-53-1;
Cook 0-1
Receiving
Massillon
Baer 1-83;
Williams 3-52, 1 TD;
Stefanko 1-73
Duffy Vance 1-47, 1 TD
St. Vincent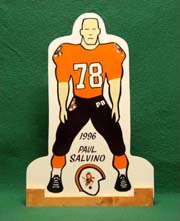 Paul Salvino