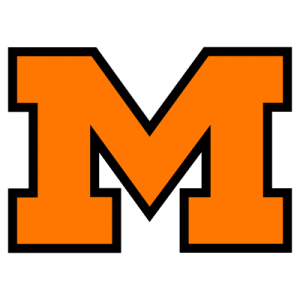 Tigers slink away with 26-21 win
By TODD PORTER
Assistant Sports Editor
Walking off the turf at Paul Brown Tiger Stadium Friday night, Youngstown Rayen coach Pete Lymber found a good luck charm.
It probably fell out of Jack Rose's pocket. The Massillon head coach had luck on his side … more than ever.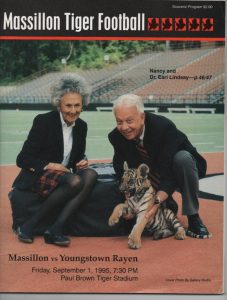 Lymber, following his team's last‑minute 26‑21 loss to the Ti­gers, picked up a dime. His team, tears streaming down their faces, walked past him.
"Hey, it's my lucky dime," Lymber said as he smiled at his shiney 10‑cent treasure. "I could have used this before the game."
Friday night, though, luck wasn't on Rayen's side. Luck sided with Massillon and the 10,307 fans who attended what was supposed to be an easy win, for the locals.
Instead, the Tigers escaped what might have been the big­gest upset in the state.
"We feel very, very fortunate to get out of here with a win," Rose said. "We told the kids be­fore we went out, 'If you let a team like that stay in the game, they're going to get more confi­dence as the game goes on."
All the confidence in the world was taken out of Rayen's sails by the time they boarded the bus to go back home. It took Massillon less than two minutes to deflate the high‑flying Divi­sion III team.
"I've been counting down the days until this game. The weight of the world is off my shoulders," Lymber said "Back home, all the papers said we were going to get killed. They didn't know why we were even playing the game. They found out tonight."
With Massillon's offense sputtering in the second quarter and most of the second half, Young­stown took a 21‑20 lead as the third quarter expired. Fullback David Morgan took a trap play 33 yards into the end zone and Dajaun Dukes' point‑after gave Rayen the lead.
Stunned silence fell over the stadium.
Massillon tailback Vinny Tur­ner, who gained 120 yards in the first half alone, was on the sideline with an ankle injury. Until the Tigers' last drive, the offense didn't register a first down and only ran 12 plays and punted four times in the second half.
"When Vinny's not in there … I'm not going to lie, the offense is different," said Massillon senior quarterback George Whitfield. "When he was out, it was like we were lethargic on offense.
"He came back in and the line seemed to block a little harder and as a group, we gained more confidence. Everyone in the backfield looks to Vinny and he came through tonight."
Turner didn't do everything by himself, though. Along with Whitfield, the two seniors mak­ing their first offensive starts pardoned everyone in the sta­dium. Until the last drive, Mas­sillon was headed to the electric chair ‑ shocked by Rayen's fourth‑quarter lead.
With three minutes left in the game, the Tigers began their final drive at their own 36‑yard line. And it started the same way much of the second half went.
Whitfield rolled left to pass and was quickly sacked for a 7-­yard loss.
On second down, Whitfield saw a wide open Brett Wiles breaking across the middle of the field. The gap closed quickly and Rayen's Demetrius Jones nearly ended Massillon's hopes. However, he dropped the sure interception.
"I wanted a second chance to prove myself and prove we could win this game," Whitfield said. "We started to believe in ourselves again."
Turner gimped off the side­lines and into Massillon's hud­dle. Rose found his good luck charm.
Whitfield hit Vaughan Mohler for a 19‑yard pass to midfield. The next play, he rifled the ball to Henry McElroy. McElroy gained 14 yards on the short hitch route.
Then he hit a wide open Mohler at the Rayen 20. Mohler caught the ball near the left sideline and cut back to the mid­dle to Youngstown's 5‑yard line.
"I was very disappointed in the fact that we didn't show any emotion on offense," Rose said. "I was pleased, though, with the poise George showed on the last drive.
"We have a kid making his first start at quarterback and we even had a sack to start the drive. He hung in there and ev­erything came together."
Fittingly, Rose called Tur­ner's number for the first time in the final drive. The 5‑foot‑10, 210‑pounder ran over Rayen's smallish defensive line and into the end zone.
"I don't know what happened to the offense tonight," Turner said. "We're capable of playing with me, or without me. I know I wanted the ball and I know we all wanted to win."
Massillon flexed its muscles on the opening kickoff and jumped out to a quick 14‑0 lead, which was probably its first mistake.
We tookour first drive of the year right down and scored," Rose said. "Before you know it, it's 14‑0 and our defense hasn't been on the field yet.
"Hell, our kids were looking at that and probably thinking 'This is going to be too easy."'
Turner carried the ball on all but two of the Tigers' 8‑play scoring drive to start the game. Out of Massillon's full house goal‑line offense, Turner fol­lowed backs Nate Wonsick and Lavell Weaver into the end zone with 7:34 left in the first quarter.
Before fans could settle into their seats and finish a gulp of popcorn, Rayen turned the ball over on the ensuing kickoff. Junior Tony Danzy knocked the ball loose from Youngstown's Squire Cross and Bill Condon recovered for Massillon at the Raven 24.
After an illegal procedure penalty on the Tigers, Whitfield attempted his first pass and completed it to Doug Steiner for a 12‑yard gain. Four plays later ­Turner tip‑toed into the end zone behind a key block by cen­ter Ed Evans. Josh Hose's second point after made it 14‑0 with 4:39 left in the first quarter.
Rayen made the game more than interesting, though '
Youngstown's Robert Johnson took Hose's kick at the Rayen 4‑yard line. He pro­ceeded to keep running – 96 yards ‑ to the end zone for Rayen's first score. Dajuan Dukes' left‑footed PAT made it 14‑7.
And then Rayen made it even more interesting.
Massillon's third possession started and ended quickly. Whitfield's second pass was a bullet intended for Steiner near the left sideline. However, out­side linebacker R'Lay Wilker­son batted the ball with his left hand and managed to hang onto it for an interception.
Rayen got away from giving the ball to Johnson, clearly the fastest player on the field. In­stead, Youngstown attempted two wobbly passes and punted.
The Tigers' offense decided to take the rest of the first quarter and half of the second quarter off. Turner went down with an ankle injury, but returned just before the end of the half.
Four plays after the mighty tailback went out, Whitfield hit Steiner with a strike near the left sideline again. However, the ball went through Steiner's hands and to Rayen defensive back Demetrius Jones.
The Massillon defense hung tough. Rayen faced a third‑and-­four from the Tigers' 31 yard line. Wilkerson, who doubles as Rayen quarterback, reversed his roll out and found Massillon outside linebacker Lavell Weaver in his face for a 15‑yard loss.
Turner returned to the offense with 5:05 left in the first half and coerced Massillon's offense back to work.
Turner carried five times for 38 yards to get Massillon inside the Rayen 10. Elijah Blake wa­tered Massillon's thirsty offense when he weaved his way to the end zone to give the Ti­gers a 20‑14 lead before half­time. Hose's PAT was blocked.
Rayen was more than content with the score and ran the final two minutes off the clock.
"I'm disappointed that we weren't emotionally into the game," Rose said. "That cost us tonight. There are a few things we can take away from here and build on.
"We found out we're not a very good team right now. That last drive is something that we can build on. We have a week to get ready and correct some mistakes to play Moeller. We better be ready to play that game."
That's right, Lymber pock­eted the dime and took it back to Youngstown.
MASSILLON 26
RAYEN 21
M R
First downs rushing 12 13
First downs passing 4 0
First downs penalty 0 0
Total first downs 16 13
Net yards rushing 190 164
Net yards passing 91 15
Total yards gained 281 179
Passes attempted 12 12
Passes completed 5 3
Passes int. 2 0
Times kicked off 5 4
Kickoff average 37.2 43.8
Kickoff return yards 64 105
Punts 4 4
Punting average 33.8 25.3
Punt return yards 0 20
Fumbles 1 1
Fumbles lost 1 1
Penalties 5 8
Yards penalized 39 36
Number of plays 50 53
Time of possession 24:41 23:19
Attendance 10,307
RAYEN 7 7 7 0 21
MASSILLON 14 6 0 6 26
SCORING SUMMARY
First Quarter
M ‑ Turner 7 run (Williams kick)
M ‑ Turner 2 run (Williams kick)
R ‑ Johnson 96 kickoff return (Dukes kick)
Second Quarter
R ‑ Morgan 1 run (Dukes kick)
M ‑ Blake 7 run (kick failed)
Third Quarter
R ‑ Morgan 33 run (Dukes kick)
Fourth Quarter
M ‑ Turner 5 run (run failed)
FINAL STATISTICS
Rushing:
Massillon
Turner 24‑145, 3 TDs;
Blake 7‑40, 1 TD;
McGuire 1‑6 Wonsick 3‑7;
Rayen
Morgan 14‑94, 2 TDs;
Johnson 17‑61;
Abrams 4‑17;
Jones 2‑15.
Passing
Massillon
Whitfield 5‑12‑2. 91 yards,
Rayen
Wilkerson 3‑12‑0. 15 yards.
Receiving:
Massillon
Mohler 2‑52,
Steiner 2-25,
McElroy 1‑14,
Rayen
Jones 2‑9,
Cross 1‑6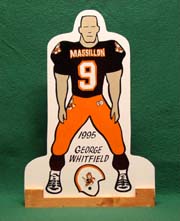 George Whitfield