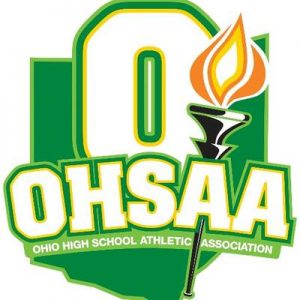 Here we go again
Tigers face Pups after edging Ross
By JOE SHAHEEN
Independent Sports Editor
The Massillon Tigers didn't exactly stop Fremont Ross star tailback Charles Woodson at Byers Field in Parma, Saturday.
In the end, however, it was the defense's motto of "Make 'em take another snap" that best explains how the Tigers survived Woodson's onslaught and secured a 35‑28 first round Division I playoff victory.
The win enables Massillon to play on, with a date Saturday against the McKinley Bulldogs in the Region 2 final at the Akron Rubber Bowl. Kickoff is scheduled for 7:30 p.m.
Woodson, 6‑foot, 1‑inch, and 190 pounds of dynamite, ex­ploded for 231 yards rushing and four touchdowns. It looked as if he'd make it five TD's after the Tigers took a seven‑point lead with just 3:02 to play in the game.
Ross drove from its 17 to the Massillon 2, but was out of time­outs with less than :10 to play. Little Giants quarterback Shane Moran rolled right and threw into a crowd, where Tigers outside linebacker Matt Robinson tipped and then inter­cepted the football to wrap up the victory.
"When they got down there close," Robinson said after­ward, "I kept thinking to myself, 'Make 'em take another snap. Something good will happen if we just make 'em take another snap.'"
That something good turned out to be Robinson's game ­saving pick.
A couple of stout defensive plays by fellow senior Steve Griffith helped set up Robin­son's drive killer. On the third snap of the Little Giants' final possession of the 1994 season. Woodson set sail for the end zone through a seam in the defense. He would've made it if not for Griffith, who ran down the speedster at the Ross 23.
Three plays later, Griffith knifed through to nail Woodson for a three‑yard loss on a third­and‑3 play.
Ross still got down to the sha­dow of the Tigers goal posts, but never did get that game‑tying touchdown.
The Tigers game‑winning drive was clutch football at its best. It began at the Massillon 21 with 10:53 to play after Ross had tied the game for the third time at 28‑28 on Woodson's 13­yard TD burst off the right side is line.
Massillon started in a hole when false start penalty set up a second‑and‑14 at the 17. But Wil­lie Spencer found Devon Wil­liams on a curl pattern to the 30 and Leon Ashcraft converted the first down on a run over left guard.
Spencer and Williams hooked up again on a rollout left and the sophomore reached the Ross 22 before he was dragged down.
The Tigers went into their ball control mode, eating up the clock by giving the ball to Ashcraft on four consecutive plays. Then, on third‑and‑six from the Ross 7, Spencer rolled right … and rolled… and rolled, waiting for a receiver to break open. Finally, junior Vaughn Mohler did just that and Spencer threw a strike for the touchdown.
Nick Pribich nailed the extra point to cap the 13‑play, 78‑yard season‑extending drive.
"That play was supposed to go to Leon, but he was co­vered," Spencer explained. "So I looked for my secondary re­ceiver and he was covered. I thought I was going to have to run out of bounds, but then I saw Vaughn and I threw it and he caught it."
Massillon broke on top after Mark Lightfoot recovered a Ross fumble at the Little Giants 30 on the third snap of the game.
After an option pitch to Mohler moved the ball 26 yards to the Ross 3, Spencer got in on a quarterback sneak. Pribich's kick made it 7‑0 at the 8:35 mark of the first quarter.
Ross, capitalizing on a muf­fed pooch kick, moved 46 yards in nine plays. Woodson went in over right tackle with 4:40 to go in the first to make it 7‑6 as the PAT was wide left.
Massillon took but six plays to move 86 yards on its next pos­session. Spencer, employing a textbook play fake, found Wil­liams wide open for 51‑yard touchdown bomb. Pribich's boot made it 14‑6 with 1:44 left in the opening stanza.
Ross matched the Tigers six-­play, 86‑yard scoring drive with one of its own. Woodson covered the final 44 yards when his ­offensive line opened a hole on the left side and he raced through to the end zone with 7:06 until halftime.
The Tigers countered with an eight‑play, 76‑yard scoring series. Ashcraft rushed for 47 of his team‑high 136 yards on the drive. Spencer cashed it in on a six‑yard bootleg around right end. He tiptoed into the end zone at the 3:46 mark of the second quarter to make it 21‑14 Tigers.
But Ross displayed its mettle by going 65 yards in eight snaps. Woodson carried on the final four plays of the scoring drive, finding the end zone on a pitch around right end from three yards out. The PAT made it 21-21 at halftime.
Massillon came out and jam­med the second half kickoff right down the Little Giants' throats. The Tigers' 83‑yard drive took 17 plays and used all but three minutes of the third period. Ryan Shanor's 12‑yard leaping catch for a first down keyed the march. Ashcraft cap­ped it from a yard out to make it a 28‑21 contest.
Woodson carried the ball on all four plays of Ross' final scor­ing drive, knotting the game at 28‑28 with 10:53 to play.
MASSILLON 35
FREMONT 28
M F
First downs rushing 13 14
First downs passing 6 1
First downs penalty 2 2
Total first downs 21 17
Net yards rushing 236 272
Net yards passing 130 36
Total yards gained 366 308
Passes attempted 11 7
Passes completed 7 4
Passes int. 0 2
Times kicked off 6 5
Kickoff average 33.5 51.6
Kickoff return yards 51 19
Punts 1 2
Punting average 27.0 26.5
Punt return yards 0 ‑3
Fumbles 1 1
Fumbles lost 1 1
Penalties 7 4
Yards penalized 41 31
3rd‑down conver 7‑11 0‑5
Average 1st‑down yds. 7.5 8.0
Number of plays 59 43
Time of possession 30:23 17:37
Attendance 13,400
FREMONT 6 15 0 7 28
MASSILLON 14 7 7 7 35
FINAL STATISTICS
Rushing:
MASSILLON
Ashcraft 28‑136, 1 TD;
Spencer 16‑66,2 TDs.
FREMONT
Wood­son 28‑231, 4 TDs.
Passing:
MASSILLON
Spencer 7‑11‑130,2 TDs.
FREMONT
Moran 4‑6‑36‑1,
Ross 0‑1‑0‑1.
Receiving:
MASSILLON
Williams 3‑89, 1 TD;
Shanor 2‑23;
Ashcraft 1 ‑11;
Mohler 1‑7, 1 TD.
FREMONT
Woodson 1‑16,
Kusmer 1‑11,
Lather 1‑9.

Leon Ashcraft