Mistakes doom Tigers' title run
Massillon ends with 10-2 slate
By JOE SHAHEEN
Independent Sports Editor
The one constant in the Mas­sillon Tigers' late‑season three ­game run of excellence was missing in their 27‑20 Division I regional championship loss to the McKinley Bulldogs before a throng of 34,208 at the Akron Rubber Bowl, Saturday night.
The Tigers simply did not play mistake‑free football against their arch‑rivals the way they did in averaging 36 points in defeating St. Vincent-­St. Mary's in Week 9, McKinley in Week 10 and Fremont Ross in the playoff opener.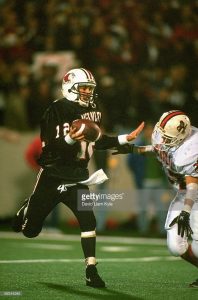 Massillon's mistakes weren't all of the glaring variety, but the Pups ‑ who meet St. Igna­tius this Saturday at the Rubber Bowl in the Division I state semifinals ‑ seemed to always capitalize. Among the more costly errors:
The Tigers fumbled away the football at midfield on their first possession and the Bull­dogs drove 52 yards for the game's first touchdown.
The Bulldogs' second score came on Adrian Brown's 71­-yard burst and included several broken or missed tackles within 10 yards of the line of scrim­mage.
McKinley's third tally appeared to be on a blown coverage assignment in the secondary which resulted in a 47‑yard Josh McDaniels‑to-­Mark Thewes TD strike.
Massillon's second‑to‑last drive included a key illegal pro­ceedure penalty. It ended in a punt with 7:47 to play.
The Tigers' final ill‑fated series reached the McKinley side of the field when an illegal shift penalty, a delay of game penalty and a dropped pass doomed their comeback.
"You can't have those kind of things, missed tackles and penalties, against a quality opponent like McKinley," Tiger mentor Jack Ross said after­ward.
"But I wish McKinley all the best. They are a very good foot­ball team and they played a great game out there tonight. They will represent the region well."
Massillon certainly did not self destruct in the 12th week of the season. The Tigers had the Pups holding their collective breaths until the final seconds, ticked off the scoreboard.
The Bulldogs scored first 26‑yard wingback reverse, ex­ecuted to perfection by Jaiyvon­ne Richards.
Massillon took the ensuing kickoff and drove 73 yards in just seven plays to knot the score at 7‑7. Willie Spencer Jr. was at his best on the drive, run­ning the option with a magi­cian's sleight of hand, all the while frustrating the McKinley defense.
On the first snap of their next possession, the Bulldogs re­gained the lead. Brown got the ball on a draw play and dashed to paydirt, leaving several Ti­gers in his wake. The conver­sion kick was wide and the Pups led 13‑7.
It was the type of play, com­ing right after Massillon scored to even the game, that could've broken a lesser team's spirit. But the Tigers came resolutely back, marching 80 yards in 17 plays. Spencer covered the final seven on an option keeper around his left end. Pribich's boot gave the locals the lead 14­-13 with 6:44 until halftime.
The Bulldogs took the second half kickoff and made a state­ment, driving 65 yards in nine plays. Kinta Mitchell's 32‑yard gallop eventually led to his one­-yard scoring burst at 7:10 of the third stanza. McKinley failed on a two‑point pass play and it was a 19‑14 game.
Spencer got the TD hat trick as the Tigers regained the lead with an 11‑play, 62‑yard drive. The senior signal caller com­pleted clutch passes to Devon Williams (18 yards), Ryan Sha­nor (10 yards), and Leon Ashcraft (5 yards), before sweeping in from the 3‑yard line for his third tally of the evening.
After a pass fell incomplete on the try for a two‑point conversion, the Tigers owned a 20‑19 lead at 1:32 of the third period.
But the Bulldogs would land the final punch on this night. It was a roundhouse right in the form of the 47‑yard McDaniels to Thewes pass play. Julius Lancaster took a pitch from McDaniels, then hit the senior QB on a throwback for the two ­point conversion that made it McKinley 27‑20 with 11:11 to play.
Massillon drove to the McKin­ley 49, where an illegal procedure penalty changed a second-­and‑five play call into second­-and‑ten. Ace Gillens sacked Spencer two plays later to force a punt.
Spencer was injured on McKinley's ensuing series when he brought down Brown on a pitch out around left end. The Bulldogs were forced to punt one play later and the Ti­gers last chance began at their 9‑yard line.
Ashcraft asserted his cham­pionship mettle by getting Mas­sillon out of the hole on a 34‑yard first down burst behind Aric Simpson and Tim Mendenhall. The 5‑foot, 7‑inch, senior tail­back finished the night with 131 yards on 21 carries.
With senior Mark Hiegl now at the controls, Jeremy Fraelich gained 11 yards up the middle to the McKinley 46. An illegal shift penalty followed, then a delay of game one play later set up second‑and‑20 at the Massillon 44. Hiegl rolled right and hit a receiver at the McKin­ley 33, but the ball fell incom­plete.
Two plays later the Bulldog pass rush forced an incomple­tion and Massillon's unlikely run had ended.
"That's the problem in the playoffs," Rose concluded, unless you go all the way, you end on a sour note.
"Unfortunately, it had to hap­pen against (McKinley). That certainly doesn't make it any easier."
MCKINLEY 27
MASSILLON 20
M MCK
First downs rushing 12 9
First downs passing 6 5
First downs penalty 0 0
Total first downs 18 14
Net yards rushing 253 226
Net yards passing 92 120
Total yards gained 345 346
Passes attempted 13 12
Passes completed 7 9
Passes int. 0 0
Kickoff return yards 89 41
Punts 2 2
Punting average 36.5 44.0
Punt return yards 0 0
Fumbles 1 0
Fumbles lost 1 0
Penalties 6 4
Yards penalized 41 35
Number of plays 55 38
Time of possession 27.52 20.08
Attendance 34,208
MASSILLON 7 7 6 0 20
MCKINLEY 13 0 6 8 27
SCORING SUMMARY
MCK ‑ Richards 26 run (McDaniels kick)
M ‑ Spencer 21 run (Pribich kick)
MCK ‑ Brown 70 run (kick failed)
M ‑ Spencer 6 run (Pribich kick)
MCK ‑ Mitchell 1 run (pass failed)
M ‑ Spencer 4 run (pass failed)
MCK ‑ Thewes 46 pass from McDaniels
(McDaniels pass from Lancaster)
FINAL STATISTICS
Rushing:
Massillon
Ashcraft 21‑131;
Spencer 15‑96,3 TDs;
Fraelich 3‑17.
McKin­ley
Brown 13‑139, 1 TD;
Mitchell 7‑63, 1 TD;
Richards 1‑26 1 TD.
Passing:
Massillon
Spencer 7‑10 92
Hiegl 0‑30.
McKinley
McDaniels 9-12 120, 1 TD.
Receiving:
Massillon
Redrick 4‑58;
Wil­liams 1‑19;
Shanor 1‑11;
Ashcraft 1‑5.
McKinley
Thewes 3‑63, 1 TD;
Brown 3­-25;
Richards 2‑21;
Mitchell 1‑11.

Leon Ashcraft