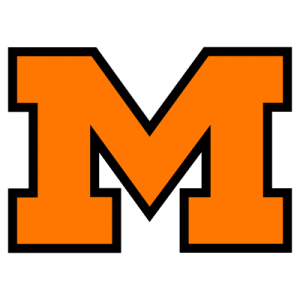 Tigers muddle through
It's rough, but Rose wins No. 1
Danzy‑to‑Simpson connection key in 17‑8 Tiger victory
By STEVE DOERSCHUK
Independent Sports Editor
Jack Rose's first Massillon football team staggered through a thorny debut but still managed to plant a 17‑8 loss on the Alliance Aviators Friday.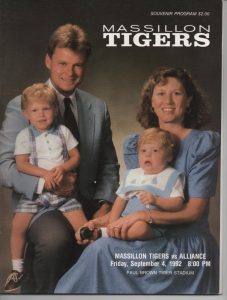 A crowd of 11,640 at Paul Brown Tiger Stadium saw Massillon gain a 316‑208 edge in net offensive yards, a reflection of the relative closeness of the fray.
It was one of those games everyone expected the Tigers to win but was tighter than many expected, leaving the winners shaking their heads and the losers shaking their hoisted helmets.
"We weren't satisfied with that performance," Rose said.
He was talking about the reaction of his players, not just the coaches.
I like the fact the players weren't satisfied," Rose said. "It's a young team. They want to improve."
Alliance's 243‑pound senior nose guard, Marlon Baker, led the Aviators' post‑game pep rally.
"We're gonna go 9 and 1," Baker shouted as the Aviators gathered in a huddle on the field. "We're gonna go 9‑1 and get another shot at 'em. We gotta work. Just a little bit more. A little bit more."
Alliance head coach Phil Dorn, like Rose a first‑year pilot at a new school who has been a head coach elsewhere, was a graduate assistant at the University of Michigan in 1991.
"I've seen a lot of football," Dorn told his team. "I've coached in the Rose Bowl. I've coached with a Big Ten champion. Let me tell you. If you play hard like that all year, you'll win the Federal League championship."
Alliance spent the night throwing half a scare into the Tigers without ever making things extra spooky.
'Tiger senior Jason Brown kicked a 20‑yard field goal on the third play of the second quarter to provide a 3‑0 lead.
Shortly after that, Massillon's Scott Brediger intercepted an upfield bullet pass from Alliance junior quarterback Joe Brady and gave the Tigers possession 28 yards from the Aviator end zone.
Two plays later, Massillon junior quarterback Mike Danzy rolled right and lofted a pass into the end zone to 6‑foot‑2 junior receiver Alonzo Simpson , who is already starting to remind fans of 1989 Tiger senior Rameir Martin.
"The defensive back (senior Tamiko Hatcher) played me tight on the line (on the TD play)," Simpson said. "I got a quick start and got behind him. It was a TD route. I can't explain it. I don't think about it. I just run it."
He was wide open for the catch. Danzy made a perfect throw. Brown kicked the extra point and it was 10‑0 with 7:54 left in the first half.
After that, a Tiger fumble and an Alliance interception set up two field goal attempts by 265‑pound placekicker Timiko Payton. Both had plenty of leg, but tries from 26 and 33 yards sailed wide.
The Tigers led 10‑0 at the half.
"I thought we started the game a little scared," said Massillon senior running back Andre Stinson, who gained 68 of his 81 rushing yards in the second half. "We were better when we came off the field at the end of the half. I thought we, were OK in the second half."
Alliance blew its first and best chance in the second half.
A 41‑yard pass from Brady to speedster Tony Townes put[ Alliance inside the 10 early in the third quarter. However, two dropped balls at the goal line preserved the Tigers' 10‑0 lead. The first drop was an incompletion. The second was a completion to Townes at the 1. Townes seemed right at the goal line when he fumbled. Tiger senior Eric Woods recovered.
"That was a turning point, Dorn said.
Massillon's offense clicked on the next two series. A 39‑yard run by Stinson was the highlight of a drive that ended on downs at the 10.
On the Tigers' next possession, a 39‑yard bomb from Danzy to tight end Todd Peters put the ball on the 17. Two plays later, guard Scott Baumgardner threw a key block and running back Dan Hackenbracht did the rest, scooting around the right side for an 11‑yard touchdown run.
Brown's P.A.T. boot made it 17‑0 with 47 seconds left in the third quarter.
Hackenbracht was a promising punt returner as a sophomore. He missed most of his junior year due to an injury. He had trouble handling punts last night, and fumbled one at midfield late in the game. Brady completed a bomb to set up a 1‑yard scoring run by junior Shawn Watson with 50 seconds left in the game.
"I wasn't pleased with our kicking game," Rose said. "Jason Brown had been punting real well in the preseason but didn't do as well tonight. He'll do much better.
"As for 'Hack,' maybe his motor was running too hard, this being the opener. He has great ability as a punt returner,"
Danzy, in his first varsity start, completed 6 of 14 passes for 155 yards, with a touchdown and an interception. He rushed 10 times for 33 yards.
Dorn, the Alliance coach, said part of his early strategy was to rattle Danzy.
"They played better defense than they had in their scrimmages," Rose said. "They brought a lot of people. Sometimes they brought up four corner people. Sometimes they brought 'em up the middle."
Observed Danzy, "I was kinda nervous before the game but I just tried to go with the flow and the nerves went away after awhile. We had some ups and downs, but we had some good moments for a first game.
Massillon's defense was strong.
Things got off to a good start when Tiger junior tackle B.J. Payne made three tackles for losses in the first six minutes of the game.
At halftime, the Aviators had rushed just 19 yards on six attempts. Brady did manage 63 first‑half passing yards, but on only 5 completions in 14 throws ‑ and there was Brediger's key interception.
Subtract Alliance's last second 49‑yard TD drive set up by the Tiger fumble and the Aviators would have finished with just 159 total yards.
"We didn't get the shutout, but I'm pleased with the defense … we ran to the ball," Rose said. "You have to remember Hack and Eric Woods are our only two regulars back on the defense from last year. And it's pretty much the same on offense. We have Brandon Jackson and Mark Miller back on the line but everybody else has a lot less experience,"
Brady wound up completing 9 passes in 23 attempts for 149 yards. Three went to Townes for 83 yards.
Simpson gave the Tigers 80 yards on three catches. A week earlier in a practice game against Lakewood, Simpson got the Tigers going with a long reception. It was the same thing against Alliance, The Tigers had to punt after their first two possessions, but Danzy threw to Simpson for 30 yards on the third possession to set up Brown's field goal.
Rose's game plan going in was to pund the ball inside on the run, considering Alliance's defensive troubles in the preseason. The Tigers had 18 first‑ or second‑down plays in the first half, and 15 of them were runs. Ten of the plays went for two yards or less.
"Give Alliance credit," Rose said. "They stepped it up."
The Tigers will play at home again next Friday against Walsh Jesuit.
"That'll be a good test," Rose said. "They'll be a lot more physical on defense than what we saw tonight. But I look for us to improve a lot."
MASSILLON 17
ALLIANCE 8
M A
First downs rushing 7 4
First downs passing 5 5
First downs by penalty 1 1
Totals first downs 13 10
Not yards rushing 161 59
Net yards passing 155 149
Total yards gained 316 208
Passes attempted 14 23
Passes completed 6 9
Passes int. by 1 1
Kickoff average 53.3 37.0
Kickoff return yards 22 67
Punts 3 7
Punting average . 26.7 41.3
Punt return yards 6 0
Fumbles 4 1
Fumbles lost 2 1
Penalties 3 7
Yards penalized 25 55
Number of plays … 55 57
Time of possession 21:21 26:39
Massillon 0 10 7 0 17
Alliance 0 0 0 8 8
M ‑ FG Brown 20
M ‑ Simpson 27 pass from Danzy (Brown kick)
M ‑ Hackenbracht 11 run (Brown kick)
A ‑ Watson 1 run (Brady run)
INDIVIDUAL STATISTICS
RUSHING
(M) Copeland 9‑36, Stinson 15‑81, Danzy 10‑33, Seimetz 3‑3, Hackenbracht 3‑8.
(A) Smith 13‑16, Adger 3‑9, Watson 9‑34, Black 2‑10.
PASSING
(M) Danzy 6‑14‑1, 155.
(A) Brady 9‑23‑1, 149.
RECEIVING
(M) Simpson 3‑80, Peters 1‑39, May 1‑19, Stinson 1‑17,
(A) Black 4‑47, Smith 1‑13, Watson 1‑8, Townes 3‑81.