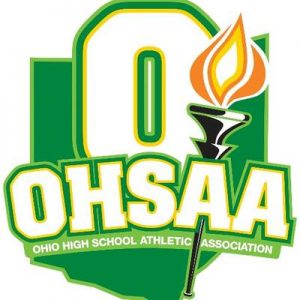 Ugh! Big Ig nips Tigers
By STEVE DOERSCHUK
Independent Sports Editor
A hungry Massillon defense spent most of Saturday night di­ving shark‑like into the bally­hooed Cleveland St. Ignatius offense.
Ignatius, however, turned the second half into a "touchdown sandwich" ‑ scoring at the start of the third quarter and end of the fourth quarter ‑ to bag a 14‑13 victory in front of 20,150 at the Rubber Bowl in the Division I high school football playoff semifinals.
Jason Woullard, who played a whopper of a game on defense, became a hero on offense with a fourth down, 42‑yard TD pass reception from quarterback Nick Mossides to break a 7‑7 tie with 4:36 left in the game.
Someone asked Massillon head coach Lee Owens if the play was ad libbed.
"We've practiced it 100 times," Owens said. "It was just a play‑action fake and pass."
The play was unusual, though, because it was Woul­lard's first varsity reception. It was reminiscent of the recent regular‑season finale against McKinley, when star lineback­er Eric Wright's first rushing attempt as a varsity player went for a touchdown.
After Woullard's TD catch, Jason Brown's extra‑point kick try hit the right crossbar and bounced away. The uprights at the Rubber Bowl, home field for the University of Akron, are the NCAA width, 5 feet. narrower than the high school width. The kick would have made it be­tween the wider uprights.
That kept the score at 13‑7.
The Tigers went for the kill on the subsequent kickoff. Brown was to attempt a pop‑up kickoff designed to travel 25 to 30 yards to an open side of the field.
"It was the same type of kick we used to gain possession right at the end of the first half," Massillon head coach Lee Owens said.
Even if the Tigers didn't re­cover, Owens said the maneuv­er seemed safer than allowing the threat of a kickoff return.
"We practice that kind of kick every day," he said.
Brown, who became Massillon's all‑time, single‑season point‑after‑touchdown record holder earlier in the game, ap­plied his foot too low on the ball, creating a very short kickoff. Ignatius took over on its own 47­-yard line, then drove 53 yards for a touchdown.
Senior running back Jack Mulloy went in from two yards out to make it 13‑13 with 1:23 left in the game. Fernando Paez boomed the P.A.T. kick into the 18th row of seats at the closed end of the Rubber Bowl. It be­came the game‑winning point.
Paez then kicked off into the end zone for a touchback that forced the Tigers to start from
their own 20. A 14‑yard Mossides‑to‑Geoff Merchant pass on first down offered hope, but the next four plays went no­‑where, returning the ball to Ignatius on downs with 51 seconds left.
Ignatius quarterback Kevin Mayer fell on the ball twice and the game was over.
"I give all the credit to our kids." said Ignatius head coach Chuck Kyle. "They never lost faith in themselves."
"They were up against a ,real team that had all the motivation in the world ‑ they'd dedicated the season to Paul Brown."
"I feel the same way about this team I've felt all season," Owens said. "I'm very proud of the way they conducted them­selves all year. This is a special group."
"It's just a shame all the work they put in had to end this way. It doesn't seem fair. But give Ignatius credit. They're an out­standing team."
The Tigers led 7‑0 at halftime, thanks to a single play that was the same length as Ignatius' de­cisive, final TD drive.
On third and seven from the Massillon 47, Tiger senior Marc Stafford beat defensive back Bill Craighead in man to man coverage, then took in a perfect­ly thrown bomb from Mossides and easily ran in for a touch­down. The 53‑yard play ended with just 39 seconds left in the first half. Brown's kick made it 7‑0.
At halftime, Ignatius had mustered just 61 yards against a Massillon defense that put a hard pass rush on the All‑Ohio candidate, Mayer.
An interception by Dan Hackenbracht snuffed out Ignatius' first possession. A crunching sack by Woullard and Wayne Gallion stopped the second one.
At the start of the second half, though, Ignatius set up at its own 48 after a squib kick and return. Having sputtered while using formations with four wide receivers, the Wildcats switch­ed to an option attack with just two wideouts.
"That's just normal for us, to switch around," Mayer said.
A 21‑yard scramble by Mayer became the key item in a nine ­play, 52‑yard touchdown drive capped by sophomore fullback Eric Haddad's six‑yard run on second‑and‑goal. The kick by Paez was good and it was 7‑7 with 7:46 left in the third quarter.
The Tigers then drove 49 yards in seven plays, featuring a 32‑yard run by Travis McGuire, who wound up with 118 rushing yards. On second and six from the 20, Falando Ashcraft plowed for four yards but lost the football. Mike McHale recovered for Ignatius at the 16.
The Massillon defense adjusted to the option attack, forc­ing Ignatius to punt.
Again, the Tigers drove, this time from their own 45 to the Ignatius 23. Again, they lost the ball on second and six. This time, it was Mossides and McGuire unable to make the connection on a handoff. Igna­tius pounced on the loose pigs­kin at the 27.
On third down, Mayer's deep pass was broken up by Hacken­bracht and Troy Burick, forcing another Ignatius punt. It had been raining for about five mi­nutes when the Tigers took over on their own 40‑yard line. On third and short, Mossides sneaked three yards to the Igna­tius 48. Moments later, it was fourth down on the 42, with less than half the fourth quarter re­maining.
Mossides made a play action fake, set up, and let loose a high­ arcing pass that floated over Ignatius linebacker Regan Fitz­patrick. Woullard caught the ball at the 32‑yard line and out­raced Fitzpatrick into the end zone to give the Tigers their momentary lead.
Ignatius came back with its decisive drive.
Massillon's defense was out­standing through most of the night.
Take away the two touch­down drives and Ignatius gained just 79 yards on eight other possessions.
"We played good defense all night," Owens said. "We couldn't ask the defense to play much harder. The two times they scored, we gave them a short field on the kickoff, and they took advantage of it."
Massillon wound up with a 293‑182 edge in total offense.
Ignatius, on the other hand, contained the Tigers' powerful ground game. Massillon finished with 155 rushing yards, ­the second lowest total of the season (lowest was 134 yards against Moeller).
Mayer completed just 10 of 27 passes for 119 yards, with one interception.
"They played some of the best pass defense I've seen," Mayer said. "They mix up their coverages and they come hard on the rush."
The Ignatius ground game produced 104 forward yards, but when quarterback sacks were factored in, there were 41 yards in losses, giving the Wild­cats a net of 63 yards on the ground.
Junior Dean Lamirand rushed 12 times for 58 yards.
Mayer and Lamirand made the key plays on Ignatius' game‑winning drive.
Mayer delivered one completion on third‑and‑six that took the ball to the Massillon 42‑yard line with 3:50 left in the game. On fourth‑and‑six, he hit Mulloy along the left sideline for a first down. Mulloy went out of bounds with 1:57 left in the game.
The Tigers were still in de­cent shape, though, until Lamirand took the ball on an op­tion pitch and bolted 22 yards up the middle to the 2. Mulloy scored on the next play.
"When we got to the 2," said Ignatius' 315‑pound offensive tackle, Juan Porter. "we pretty much knew there was no way we weren't going in."
Owens said this morning that the pain of the loss had not left him, and that he is not sure it "ever will completely."
"I'm still dying inside," the coach said. "The state title was right there. To come so close to the final game only to lose it at the end is difficult to take."
Owens stressed that the final kickoff in the game was not an onside kick attempt.
He said that even though the Tigers had recovered a short kickoff earlier in the game, Ignatius had left an open por­tion of the field around the 25­yard line again, and the kick was designed to go there.
"The reason we didn't call for a squib kick was that they have been effective at fielding and returning squibs," Owens said.
Owens said Ignatius started the game in a different run de­fense set than had been antici­pated.
"They committed more peo­ple to the run than anybody we'd played," he said,
The Tigers adjusted to how the Ignatius ends were blocking the Massillon tackles and the counter play opened up in the second half, Owens said.
Owens said the defensive staff had an excellent game plan.
"Everything Coach (Jack) Rose wanted to do, he was able to do," Owens said.
Owens said Ignatius final drive was "a matter of only being able to hold down such an outstanding offensive team for so long.
IGNATIUS 14
MASSILLON 13
M I
First downs rushing 9 4
First downs passing 1 8
First downs by penalty 0 1
Totals first downs 14 13
Yards gained rushing 186 104
Yards lost rushing 31 41
Net yards rushing 155 63
Net yards passing 138 119
Total yards gained 293 182
Passes attempted 13 27
Passes completed 7 10
Interceptions 0 1
Times kicked off 3 3
Kickoff average 26.7 53.7
Kickoff return yards 37 24
Punts 4 6
Punting average 41.8 28.3
Punt return yards 8 21
Fumbles 2 0
Fumbles lost 2 0
Penalties 3 1
Yards penalized 25 5
Number of plays 62 57
Time of possession 26:19 21:41
Attendance 20,150
Ignatius 0 0 7 7 14
Massillon 0 7 0 6 13
M ‑ Stafford 53 pass from Mossides (Brown kick)
I ‑ Haddad 6 run (Paez kick)
M ‑ Woullard 42 pass from Mossides (kick failed)
I ‑ Mulloy 2 run (Paez kick)
Individual statistics
Rushing
(Massillon) McGuire 24‑118, Ashcroft 17‑55, Wright 2‑5.
(Ignatius) Sako 1 ‑(minus)2, Lamirand 12‑56, Haddad 4‑14, Mul­loy 2‑3.
Passing
(Massillon) Mossides7‑13‑0 158.
(Ignatius) Mayer 10‑27‑1 119.
Receiving
(Massillon) McGuire3‑19, Stafford 2‑63, Woullard 1‑42, Merchant 1‑14.
It was written in the skies:
Game would be electrifying
Steve Doerschuk
Independent Sports Editor
Sometimes you can see it in there eyes.
Sometimes you can see it in the skies.
Put your mind on rewind and stop the tape at Aug. 17, in Lakewood Ohio.
Play.
The Massillon Tigers, with a tradition older than the crusty, two‑story houses that frame Lakewood High Stadium, are playing a practice game of foot­ball against Cleveland St. Igna­tius, the Goliath come lately of Ohio high school football.
Wind kicks up. Heavens ex­plode. Thunder and lightning break dance in measure so vio­lent that play is stopped.
It is a late‑summer storm of foreshadowing.
The teams would meet again. They would bring the storm to the floor of a stadium dug out of the earth in Akron.
They would play one of the classic games in the history of the high school playoffs.
In the end, the outcome would pierce like lightning through the hearts of the Massillon players, coaches, fans.
Ignatius scores a touchdown and kicks the extra point to give itself a 14‑13 lead with 83 seconds left in the state semifinal conflict.
Joe Studer, a former Massillon player, a Massillon coach, a Massillon man, is bloodied but unbowed.
"We can win it! " he yells on the sidelines. His eyes flash. He stands tall.
A cold rain is failing. There is no lightning in the sky. There is no miracle play.
The last of the thunder rolls through Massillon's majority share of the phenomenal crowd, announced at 20,150, which if true would mean there were 15,000 empty seats in the Rubber Bowl ‑ and there surely didn't seem to be.
The final score is 14‑13, Ignatius.
It had been a night of one team's thunder against the other team's lightning.
Massillon scores first on a bomb. Ignatius ties the game on a long drive. Massillon goes ahead with a fourth‑down pass that goes for a touchdown, followed by a narrowly missed extra ­point kick try. Ignatius gets the ball in a do‑or‑die and drives for 7.
If it wasn't a classic game in terms of execution ‑ fumbles, dropped passes and missed assignments were sprinkled throughout ‑ it was a blockbuster in terms of drama and hard hitting.
"Ten, 20, 30 years from now," Chuck Kyle, the Ignatius coach, said in his post‑game team speech, "people will talk about this game."
Kyle underscored his thought by repeating the words.
"They will talk about this game.
For the moment, the talk will come easily in Cleveland. The words will come hard in Massillon.
This was, probably, the most painful among a handful of similar losses absorbed by the Tigers during the Lee Owens era.
There was a 43‑yard field goal by Jeff Wilkens that gave Austintown‑Fitch a victory over the Tigers in 1988. There was a last‑ditch drive capped by a last‑second touchdown pass to Carlos Collins that gave Cincinnati Moeller a win over the Tigers in 1990.
The loss to Ignatius was more painful than even the one to Moeller mainly because the Tigers have never been closer to winning a state championship than they were this year.
Sure, the Tigers made it to the state finals in 1980, but there they met a Moeller team that put away the game early.
They made it to the championship game again in 1982, but another loaded Moeller team won going away, 35‑14.
This time, the Tigers were one key play away from making it to the championship game with a loaded team of their own, against a Centerville team that is a clear underdog against, as it turns out, Ignatius.
Amid the pain, it must be remembered 1991 was the year Massillon, which went to the playoffs just four times in the first 16 years, made a habit of playing in the tournament.
It was the Tigers' third straight playoff season.
It must also be remembered that they excelled in the 1991 tournament, winning two games by a combined 70‑27, then outgaining by a margin of 293 yards to 182 the team whose program is bucking for its third state title in‑the last four years.
Rewind your mind one more time, to the moments after Saturday night's final gun.
The defeat stings infinitely more than cold rain on the face as the Massillon players trudge to the locker room.
The team passes through a human tunnel of people dressed in orange.
"We love you," yells one of them, a man named Phil Glick. "Hold your heads up. We love you."