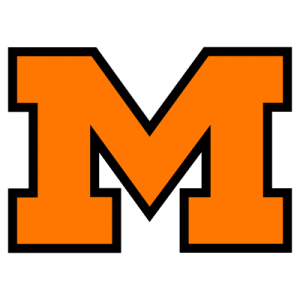 Tigers gore Rams
99-yard run adds to Tigers' fun
By STEVE DOERSCHUK
Independent Sports Editor
Even when it was 48‑6, Chaun­cey was taking no chances.
Massillon Tiger sophomore Chauncey Watson, whose longest previous run was a 65­yarder last year at Lorin Andrews Junior High, took a fantastic 99‑yard voyage for a touchdown to put an added glow on a 60‑13 high school football victory over the outmanned Akron Garfield Rams Friday night.
The Tigers improved to 3‑0 on a warm Friday night. Next up is a game one week from today at Kings Island against Cincinnati Moeller. Garfield fell to 0‑3 be­fore 10,752 at Paul Brown Tiger Stadium. Moeller improved to 2‑1 by beating Trotwood ­Madison 28‑0 Friday night.
Watson has run the 100‑meter dash in track but says he isn't very good. He runs the 40 in 4.9. He looked pretty snazzy in the 100‑yard dash, though.
Following "great blocks" by Terry Holland and Dan Seimetz, Watson broke (by his count) "five or six" tackles as he roared toward the left side­line and broke into the clear.
Seimetz was angry at himself for slipping on a kickoff return that stuck the ball inside the 1.
"It was right on the goal line," observed Watson, mean­ing he set a school record ‑ call it 99 1/2- yards ‑ that would have to be broken by inches.
Seimetz made up for his slip with the fine block and Watson did the rest.
"All I was thinking was, 'Get out of the end zone. No safety,"' he said.
Watson was promoted to the varsity this week because of in­juries to junior running backs Gene Copeland and Pat McVeen.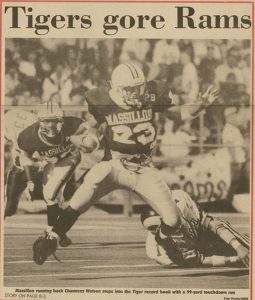 He was on the field with back­up players; in fact, the second and third teams played all but one series in the second half af­ter the Tigers had taken a 41‑0 halftime lead.
Garfield head coach Bill McGee, whose team has been the dominant force in the Akron City Series in his 17 years, and who owns four wins over Mas­sillon in the 1980s, thanked Mas­sillon head coach Lee Owens for holding down the score.
"On paper Massillon was bet­ter than us in every aspect of the game, and it was that way on the field," McGee said. "I'm just glad these first three games are over."
Garfield has lost 34‑0 to McKinley, 49‑12 to Cincinnati Elder and now 60‑13 to Mas­sillon.
"I can't imagine any teams anywhere in the state being much better than any of those three," McGee said.
McGee rated Massillon and Elder "about even" and slight­ly better than McKinley.
"I give a strong edge to Mas­sillon in the running game," McGee said "Massillon is much more of a problem because they execute so well out of so many formations."
The Tigers rushed for an amazing 458 yards. Watson led the way with 134 yards in seven carries.
The backfield starters were Travis McGuire (11 for 132) and Falando Ashcraft (10 for 66).
Backup Dan Seimetz chewed tip 85 yards in nine carries, all in the second half.
Quarterback Nick Mossides had another steady game. Playing only in the first half, Mos­sides completed five of seven passes for 100 yards.
On the Tigers' second play from scrimmage, pre‑game, talk about Garfield being susceptible to the deep pass came to the forefront.
Flanker Marc Stafford ran motion right and was trailed by Garfield defensive back Marv Campbell. After the senior tight end Greg Paul slipped away from the line he broke for the right sidelines. I was wide open when Mossides threw the ball about 35 yards a catch‑and‑run that covered yards for a TD.
"It was a boot pass and the offensive line did a great job with the protection," Paul said, "The quarterback and the running backs made some good fakes and I was wide open. Nick got me the ball."
Rating the Tigers' performance, Paul said, "We're taking the steps we need to take. I need to keep getting better."
The Tigers got on the board moments after the bomb. Middle guard Carl Hye recovered a Garfield fumble on a bad exchange at the 10. Ashcraft ran the 5 and McGuire scored on the next play.
The Tigers had run for only four plays; yet, Ashcraft's two point conversion run swelled their lead to 14‑0.
McGuire, who is turning the spin move into an art form, had a big first half with nine carries for 102 yards. He seems to be within one move of scoring a touchdown half the time he touches the ball.
He set up first‑half touchdowns with runs of 28 and xx yards. Another touchdown was the result of a Troy Burick interception that gave Massillon possession on the 10. McGuire and Ashcraft each finished the first half with a pair of TDs.
Burick took over at quarterback for one series in the third quarter and looked sharp. I ran once for 18 yards and completed both of the passes I tried for 23 yards. Ashcraft scored his third touchdown of the night early in the second half.
The second team took the field and kept making more yards.
Seimetz scored two touchdowns on runs of 21 and 1.
The game got a little bit wild. Moments after Watson scored his 99‑yard special, Garfield's Campbell raced 81 yards for a touchdown on the kickoff return.
Garfield had one other fourth quarter touchdown on which they scored on a 47‑yard drive.
The Tiger defense turned in another strong performance.
At the point in the second quarter when the Tigers took a 34‑0 lead, Garfield had run 19 plays and gained 19 yards.
"That's not bad," said Tiger defensive tackle Jonathon Jones, "but I compare what we do one week to what we did the previous week. And the pre­vious week we didn't give up any yards to Walsh (on the ground) in the first half.
"We're playing fairly well on defense. Our strongest point so far has been our run defense. But we've still got to improve on everything."
The Tigers led 243‑41 in total yard in the first half and finished with a season‑high 581 yards. The 581 yards is believed to be the largest number in a game during the four years Owens has
been head coach. Garfield finished with 111 yards.
Owens didn't know quite what to say in the end.
"One thing for sure," he joked, "we proved time of pos­session isn't that important in football."
Garfield held the ball for 27:46. Massillon had it for 20:14.
"Our goal," Owens said, "was not to get anyone hurt and have some momentum going into the Moeller game."
Owens confessed he had a hard time concentrating on Garfield this week, given the Rams' uncharacteristic strug­gles and the fact Moeller is up next.
"I told the players after the game that they showed a lot more discipline than I did in focusing on Garfield and tuning out Moeller," Owens said.
Owens spent part of the week planning the itinerary for the trip to Kings Island.
Those who have not ordered tickets can get them Monday at the Washington High ticket office, but there is a limit of two per customer. They won't last long. Galbreath Field, where the game will be played, holds only about 10,000. Some stand­ing room tickets will be sold the night of the game.
Garfield's coach, McGee, isn't used to nights like this or seasons like these.
"My worst," he said, "was 6­-5. We'll be hard pressed to get to that point now. But, believe it or not, there were some areas where I thought we improved tonight. It's just that we didn't have the players to match up. We couldn't slow them down. Nothing we tried worked."
Stafford was the Tigers' re­ceiving leader for the second straight week. He caught three passes for 58 yards.
Garfield got 68 rushing yards from sophomore Frank Idley. The Rams' senior quarterback, 6‑1, 225‑pound Barry Christ, failed to complete a pass in five tries.
Two future Tiger opponents played each other Friday, Au­stintown‑Fitch downing Young­stown East 26‑0. Both teams have 1‑2 records.
Last year's Tiger offensive coordinator Tom Stacy, is 0‑3 as head coach at Shelby after a 3‑0 setback to Ashland last night.
Defending state champion Warren Harding outlasted Akron Buchtel 19‑16. On Mon­day at 5:30 P.M., the Warren jayvees will be at Massillon to take on the Tiger jayvees.