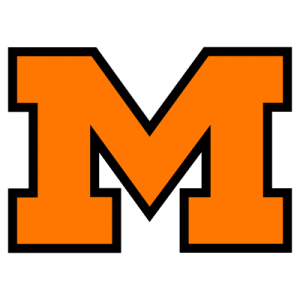 Tiger's whip Walsh
Tigers rewarded With 2nd win
By STEVE DOERSHUK
Independent Sports Editor
A night of penalties held re­wards enough for the Massillon Tigers.
The Tigers were flagged for a Warren Mollenkopf Stadium­ like 100 yards in penalties but roared for a 466‑130 edge in total offense Friday night in repell­ing the Walsh Jesuit Warriors 28‑7. A crowd of 13,273 watched on a clear night with a moody summer sunset in Paul Brown Tiger Stadium.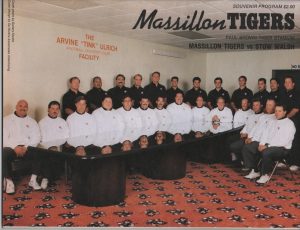 "We've got to work on that," Tiger head coach Lee Owens said of the trouble with yellow hankies.
He said it with a smile on his face. The Tigers did plenty of good things in improving their record to 2‑0 against a game Walsh team that fell to 1‑1.
The bag of goodies included:
* A Massillon record 154 receiv­ing yards (on eight catches) by senior flanker Marc Stafford.
* Triple figures from two run­ning backs: Travis McGuire (22 carries for 117 yards) and Falando Ashcraft (20 for 105, two touchdowns).
* Quarterback Nick Mossides completed 14 of 26 passes for 217 yards.
* Fabulous defense against a traditionally strong running team with an outstanding full­back, Kevin Rottinghaus. Walsh rushed for a net two yards in the first half, a net minus‑two in the second.
Even so, Walsh made it in­teresting.
The Warriors cut a Tiger lead to 14‑7 midway through the second quarter; then, a would ­be 77‑yard touchdown pass from Mossides to McGuire was called back by a blocking­-below‑the- waist penalty: Back Judge John Evans and line judge Charlie Williams, two re­spected veterans, saw the in­fraction and both threw flags. Owens said it was a fair call.
"It got to be gut check time along about then," Owens said. "We get a long one called back and then they wind up with the ball in our territory."
Turned out the Tigers had iron in their guts. They took con­trol of both lines of scrimmage the rest of the way.
With the score still 14‑7 late in the third quarter, Walsh faced fourth‑and‑eight from the Tiger 16. That field possession was set up by Stafford's only miscue of the night, a fumble on an end­around.
Walsh's junior cornerback, Matt Smith (9‑for‑23, 120 yards, 1 TD, 1 interception) threw into the corner of the end zone, where Tiger defensive backs Dana Wofford and Ron Rober­son smothered Warrior end Mike Carroll, and the ball.
From there, the Tigers drove 84 yards in 10 plays. McGuire took advantage of good trap blocking and made a number of impressive runs. Ashcraft smashed through the line for 12 yards and a touchdown. Jason Brown's kick made it 21‑7 with 11:29 left in the game.
Ashcraft scored from six yards out with 4:40 left to put the game on ice.
Walsh Jesuit head coach Ger­ry Rardin was upbeat after­ward.
"I'm convinced we'll be back," he said. "We got beat by a very fine team. They have a lot of guns they can fire on offense and they're very quick on defense."
Top gun this night was Staf­ford, one of the few high school "speed receivers" who also happens to bench press 300 pounds.
His 154 yards passed the school record of 133 set by Cur­tis Strawder against Jackson in 1978.
"Nick threw the ball ex­tremely well," Stafford said. "All I had to do was catch it. We've been working hard and it all jelled for us.
"When it was 14‑7, we just had to reach down and keep playing hard.
The Tigers were playing with­out senior captain Chris Dotta­vio, who faces a one‑year re­habilitation after successful knee surgery Wednesday. Dr., Robert Erickson said Dottavio's four‑hour operation is called "the terrible triad," but that it went well and Dottavio has a chance to try for college foot­ball if that is his wish.
Juniors Mark Miller and Brandon Jackson alternated at the tackle spot. Miller played part of the second quarter after someone stepped on starter Scott Charlton's ankle. Charl­ton returned in the second half.
"We dedicated the game to 'Dot.' We just went out and tried to play well," said senior guard Ryan Orr. "It was a little diffe­rent not playing beside 'Dot' be­cause we've been together since the ninth grade. Mark and Brandon did a good job, though.
"In the fourth quarter, we started coming off the ball better." Added McGuire, also a co-captain, "We lost one of our best linemen, and we started a little slowly. The line picked up the blocking in the second half."
"They were stunting a lot and we started picking that up bet­ter. We played pretty well, but we've got to get better."
On defense, the Tigers did get better. Tailback Andrae Martin and the fullback Rottinghaus, who had rushed for 250 yards last week against Garfield Trin­ity, combined for 14 yards in 13 attempts against the Tigers.
Walsh had to resort to a short passing game. The junior, Smith, handled the aerial effort fairly well, but he was fortunate that the Tigers' one intercep­tion wasn't more like four or five.
"I dropped two," winced Ti­ger linebacker Eric Wright, like Owens smiling when he said that. "Overall, I thought we played better than last week. The defensive line played a good game. We tackled better. We have to keep getting better every week."
Wright had a few more big hits to add to his growing high­lights reel.
"The whole defense played well," Owens said. "I thought we swarmed to the ball. I think we're starting to play the kind of defense Massillon people have been waiting a long time to see."
The Tigers didn't score until their third possession. They en­ded the lull in dramatic fashion when Stafford broke behind the defense and was wide open for a 46‑yard scoring bomb from Mossides.
Brown mis‑hit his point‑after kick attempt. It appeared the ball might have been blocked, but it was not touched, which is why a roughing‑the‑kicker penalty was allowed to stand. Ashcraft proceeded to run for the 1 1/2-yards that netted a two ­point conversion and an 8‑0 lead with 3:46 left in the first quarter.
It took the Tigers three more possessions before they scored again.
The defense held Walsh at bay, getting key plays like a sack from Joey Lococo, before the offense registered again.
Brown kicked a 22‑yard field goal with 4:43 left in the half to make it 10‑0.
It seemed a Tiger drive at the end of the half had stalled on a fourth‑down incompletion; however, a roughing‑the‑passer call kept Massillon in posses­sion of the ball and allowed Brown to boot a 29‑yard field goal on the final play of the half. That made it 14‑0.
Walsh Jesuit used the short passing game to drive 61 yards on its first possession of the second half. On second‑and-­long from the Tiger 39, Smith zipped a pass in the left flat to Carroll. Two Tiger defenders bumped into each other, giving Carroll room to wheel to the out­side and turn it into a 39‑yard touchdown play.
Pat Hyland's P.A.T. kick made it 14‑7, but the Tigers re­grouped and went on to post an impressive victory.
Their next task will be a home game next Friday against Akron Garfield.
As for the penalties, Walsh had 39 yards worth, meaning the Tigers were penalized 61 yards more than the visitors.
Any fears Walsh might have had about getting "homered" on their first regular‑season trip to Tiger Stadium were allayed. The crew was led by Chet DeStefano, who has worked many college and profession­al games.
WALSH JESUIT 7
MASSILLON 28
M W
First downs rushing 16 0
First downs passing 8 7
First downs by penalty 2 1
Totals first downs 26 8
Yards gained rushing 238 23
Yards lost rushing 15 23
Net yards rushing 223 0
Net yards passing 243 130
Total yards gained 466 130
Passes attempted 26 26
Passes completed 14 10
Passes int. by 2 1
Times kicked off 5 2
Kickoff average 43.8 41.0
Kickoff return yards 8 67
Punts 3 6
Punting average 39.3 29.0
Punt return yards 21 17
Fumbles 1 0
Fumbles lost 1 0
Penalties 10 4
Yards penalized 100 39
Number of plays 73 43
Time of possession 27:02 20:58
Attendance 13,273
WALSH JESUIT 0 0 7 0 7
MASSILLON 8 6 0 14 28
M ‑ Stafford 46 pass from Mossides (Ashcraft run)
M ‑ Brown 22 FG
M ‑ Brown 29 FG
W ‑ Carroll 39 pass from Smith (Hyland kick)
M ‑ Ashcraft 12 run (Brown kick)
M ‑ Ashcraft 6 run (Brown kick)
Individual statistics
Rushing
(Massillon) McGuire 22‑117, Ashcraft 20‑105, Mossides 1‑3, Stafford 2/‑2.
(Walsh) Martin 10‑9, Rottinghaus 3‑5, Smith 4/‑14.
Passing
(Massillon) Mossides 14‑26‑217. 1 TD, 1 int..
(Walsh) Smith 9‑23‑120, 1 TD, 1 int.; Evans 1‑3‑10, 1 int.
Receiving
(Massillon) Stafford 8‑154, Merchant 3‑25, McGuire 1-9, Hawkins 1‑15, Ashcraft 1‑14.
(Walsh) Mason 3‑32, Carroll 2­49, Martin 2‑8, Rottinghaus 1‑17. Tyla 1‑14, Maruna 1‑10