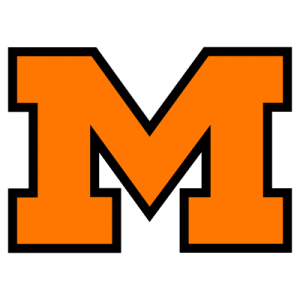 Offense has problems in 28‑ 0 victory
Defense, keys Tigers win over, Mentor
By ROLLIE DREUSSI
Independent Sports Editor
The Massillon Tigers had just defeated the Mentor Cardinals 28‑0, but Tiger coach Mike Currence was not a happy man.
The Tigers raised their record to 3‑0 before 9,571 fans in Paul Brown Tiger Stadium, Friday night, and the Massillon defense held Mentor to a total of only 94 yards ‑ including, 17 in the first half.
"If it wasn't for our defense we'd have been in a lot of trouble. They just shut us down," Currence said.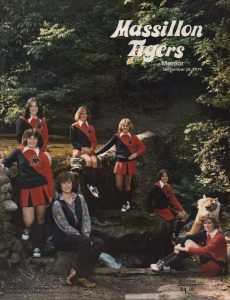 The Tiger defense recovered all four Mentor fumbles and intercepted two passes ‑ one, of which was returned 35 yards for a touchdown by safety Jamie Schlegel to give the Tigers a 21‑0 lead early in the third quarter.
"We just looked at their defense and felt we could do so many things if we could just execute," he explained.
"But the execution, the timing, wasn't there. If they hadn't made mistakes offensively, and if they would have had any kind of offense at all, it would have been a one touchdown ball game.
"We weren't throwing well and catching well," he continued. "We just weren't prepared offensively. We had some injuries this week and we weren't sharp.
"But you've got to give Mentor a lot of credit. I think they did a great job defensively against us. We're usually a second half ball club ‑ we're two platoon and they had players going both ways and they held us the second half. That's what was so disappointing," Currence said.
Another disappointing factor was an injury suffered by Schlegel. The senior safety dislocated his shoulder.
"He'll be out for quite a while," Currence said. "It's a big blow, but we hope we can get him back before the season's over." Junior Mike Spicer will replace Schlegel.
The Tiger offense rolled up five first downs in the opening quarter but failed to put any points on the board. Their initial drive penetrated to the Mentor 19, but Steve Trivisonno intercepted a Bill Scott pass to end the threat.
The Tigers drove to the Cardinals 26 and 18 in the first quarter, but lost the ball on downs both times.
They finally drove 74 yards in 10 plays, with Scott hitting Greg Evans on a 39‑yard touchdown pass, with 9:25 to go in the half.
Evans caught the ball at the Mentor 16, broke a tackle and scampered into the end zone. The drive was kept alive when Mike Jones took a pass in the right flat on third‑and‑six from the Cardinal 46, broke a tackle and gained seven yards for the first down.
Mentor took the kickoff and got a first down on a roughing the kicker penalty ‑ the Tigers were penalized a total of nine times for 122 yards ‑ but Jim Ockington fumbled a pitch from quarterback Shawn Palmer on the next play. Tiger tackle Dave Geschwind knocked Ockington away from the, ball and defensive back Dan DiLoreto recovered at the Cardinal 29.
On third‑and‑six at the Mentor 25, Scott hit Evans on a curl pattern for 17 yards and first down at the Mentor eight.
Scott then passed to Marty Guzzetta on the right sideline with the senior wide receiver getting knocked out of bounds at the one yard line. Junior fullback Bob James took it in from there. Jeff Fry's second straight conversion gave Massillon a 14‑0 lead.
The Tigers drove to the Mentor 26 later in the quarter, but once again lost the ball on downs.
Mentor took the kickoff to open the second half and on second‑and‑eight from the Tiger 23, Palmer's pass was intercepted by Schlegel at the Cardinal 35. He headed for the left sideline, turned in some fine broken field running and made it into the end zone just 1:14 into the third period. Fry's boot made it 21‑0.
The Tigers had trouble moving the ball until Ed Newman pounced on a fumble by Mentor's Tim Garrett at the Cardinal 38 yard line with 4:30 to go in the game. Five plays later, substitute quarterback Dave Eberhart hit Jones with a 24‑yard touchdown pass. Eberhart added the conversion kick himself to round out the scoring.
Mentor coach Tom, Frazier was pleased with his team's defensive effort, but, like Currence, was not happy with his offense.
"We came out offensively, and it was quite evident again that we couldn't move the ball on the ground. When they know you're going to throw the ball and they start blitzing, it's hard to move it against a good team."
The Cardinals' first pass was intercepted by linebacker Kevin McClelland at the line of scrimmage. Palmer threw six straight incompletions before Schlegel intercepted his eighth attempt and turned it into a touchdown. Palmer finished with 2 of 18 for the night, and the Cardinals managed just 2 for 20 overall.
Frazier said his team failed to stop Massillon's passing attack, and he took part of the blame for that.
"We didn't have a defensive letdown, we just didn't react to the ball well and cover their pass patterns. Maybe there was a better way of covering it, and I'll take the blame for that.
"They used basically the same patterns to the right side and the left side. We tried to make adjustments, but we just didn't do a good job. But our kids never quit hitting," he added.
"A lot of positive things can come out of this game if our kids go back to the practice field and keep working. But this wasn't the turning point for us. Our team needs to experience some success, and the turning point will be the next two weeks. We have to win our next two games (Brush and Maple Heights)," Frazier said.
Overall, the Tigers outgained the Cardinals 256 yards to 94, but led in first downs only 11‑8.
Scott finished the game unofficially with 9 of 19 for 128 yards, one touchdown and one interception. Dave Eberhart was 2 of 3 for 28 yards and one touchdown.
Sam McDew led the Tiger ground game ‑ which netted only 93 total yards – with 42 yards in 9 carries.
Greg Evans topped the Tiger receivers with three catches for 77 yards and one touchdown. Mike Jones had three for 35 yards and one TD, Bill Burkett had two for 19 and Marty Guzzetta had two for 17.
It was the second shutout in three games for the Tiger defense, which has surrendered just six points in the Tigers' three wins. Mentor now has a 1‑1‑1 record.
The Tigers will entertain Niles McKinley ‑ now tutored by former Tiger assistant coach Frank Thomas ‑ Friday night at 8 p.m. in Paul Brown Tiger Stadium.
MASSILLON 28
MENTOR 0
FINAL STATISTICS
MASS OPP.
First downs – rushing 5 5
First downs ‑ passing 6 0
First downs – penalties 0 0
Total first downs 11 8
Yards gained rushing 107 111
Yards lost rushing 14 41
Net yds. gained rushing 98 70
Net yds. gained passing 163 24
Total yards gained 256 94
Passes attempted 23 20
Passes completed 11 2
Passes intercepted by 2 1
Ydg. on passes intercepted 35 3
Times kicked off 5 1
Kickoff average (yds.) 44.4 48.0
Kickoff returns (yds.) 24 65
Times punted 4 5
Punt average (yds.) 41.3 35.2
Punt returns (yds.) 6 0
Had punts blocked 0 0
Fumbles 1 4
Lost fumbled ball 0 4
Penalties 9 6
Yards penalized 122 58
Touchdowns rushing 1 0
Touchdowns passing 2 0
Touchdowns by interception 1 0
Miscellaneous touchdowns 0 0
Total number of plays 55 59
Total time of possession 24.36 23.34
Attendance 9,521
MENTOR 0 0 0 0 0
MASSILLON 0 14 7 7 28
M ‑ Greg Evans 39 pass from Bill Scott (Jeff Fry kick);
M – Bob James I run (Fry kick);
M ‑ Jamie Schlegel 35 pass interception return (Fry kick);
M ‑Mike Jones 24 pass from Dave Eberhart (Dave Eberhart kick).