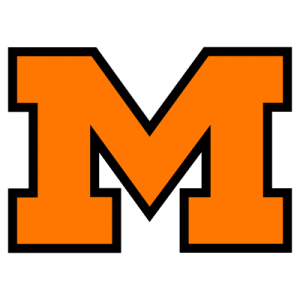 Defense shines as Tigers whip Tarblooders
By ROLAND A. DREUSSI
Independent Sports Writer
The Massillon Tigers held Cleveland Glenville to a net total of 12 yards in the first half and coasted to an easy 31-6 victory over the outmanned and confused Tarblooders.
"When you can't move the ball you're beat," Tiger head coach Mike Currence said simply, referring to Glenville's first-half offensive ineptitude.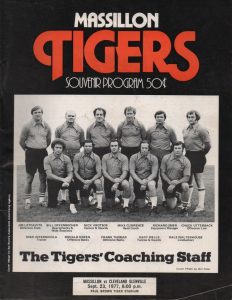 THE TIGERS, meanwhile, rang up 24 points in the first half, added seven more on their first possession of the third quarter and then sat back as the subs finished out the game.
The Tigers scoring was evenly spread as Richard Cleveland, Brent Offenbecher, Mark Pringle and Mike Grove all scored touchdowns.
"I thought our game plan held up," Currence said in the Tiger lockerroom after the game. "We stopped them defensively. Their wide splits (offensive formations) bothered us a little, but I thought we gave them problems most of the game. If they could have the offensively it would have been a different game," he added.
"We moved people to their strength defensively. We were taking some chances, especially in the secondary, but they were confused. I don't think they were looking for us to move things around," Currence explained.
"Our defense worked hard this week and they deserve credit."
GLENVILLE'S only scare came against the Tiger reserves in the fourth quarter on a 22-yard delayed keeper up the middle by Tarblooder quarterback David Wynne.
Massillon scored the first time it had the ball after taking over at its own 29 following a Glenville punt.
Greg Carpenter and Mike Grove each carried for two yards and Offenbecher hit Grove in the right flat with a seven-yard pass for a first down.
Following an illegal procedure penalty against the Tarblooders, Offenbecher hit Curtis Strawder with a 10-yard pass on the left side for a first down at Glenville's 45 yard line.
Grove gained four yards off left tackle and Offenbecher came back to him the next play with a 14-yard pass and a first down at Glenville's 27.
CLEVELAND gained seven yards up the middle with a good second effort and Carpenter gained five yards on a double reverse. A personal foul against Glenville after the play moved the ball to the eight yard line.
Cleveland then ran it into the end zone on a trap play up the middle with 6:16 to go in the quarter. He ran in the extra points off left tackle.
Glenville took the kickoff and on third and 10 Darron Longshore intercepted a Wynne pass at the Glanville 48. Wynne hurled the hall in desperation because of a strong pass rush by the Tigers.
Massillon drove to the five yard line – with the big play being a 21 yard run by Cleveland – where a fourth down pass from Offenbecher to Grove was ruled incomplete in the end zone after Grove tried to make a diving catch.
On third and 13 from the two, Glenville's Wynne tried to roll right but Massillon's Carl Dorsey tackled him in the end zpne for a safety and a 10-0 Massillon lead.
Massillon took the ensuing punt at its own 39 and marched 61 yards in six plays with Offenbecher bootlegging it 11 yards around the left end on the first play of the second quarter for the TD. Mark Westover's conversion kick split the uprights and the Tigers led 17-0.
Later in the quarter, Mark Longshore intercepted a Glenville pass at his own 39 yard line and returned it to the 43.
The Tigers then drove 67 yards in four plays with Offenbecher hitting Mark Pringle in the right corner of the end zone with an 11-yard pass.
The touchdown was set up when Cleveland took a screen pass on a 3rd and 20 play and ran 56 yards down the left sideline to the Glenville 11.
Westover kicked the point after and Massillon took a 24-0 lead into the lockerroom at halftime.
THE TIGERS received the second-half kickoff and drove 63 yards in five plays for their final score of the evening.
After a five-yard penalty against the Tarblooders on first down, Cleveland ran for 15 yards, Carpenter made a good grab of an Offenbecher pass for a six-yard gain and Cleveland ran four yards for the first down to the Glenville 31.
Grove then ran through a big hole up the middle on a trap play, made a nice cut to the left at the 10 yard line and crossed the goal line with 10:20 left in the third quarter.
Westover's kick was good again and Massillon led 31-0.
The Tigers's Mark Longshore stopped the next Glenville drive with his second interception of the night, this one in the end zone.
THE TIGERS gave the ball on downs a couple of times before Glenville drove 48 yards in nine plays with Wynne taking it the last 22 yards himself.
The Tigers fumbled the ensuing kickoff, but Terry Whitlock intercepted Wynne's first pass to kill the Tarblooders' final threat.
"I thought Cleveland ran well tonight," Currence said of the junior fullback's efforts. He gained 77 yards in seven carries.
Grove gained 44 yards in five carries and reserve fullback John Wilkerson had 31 yards in five carries.
Currence was happy to see Mark Pringle in at the wide receive, position. Pringle missed the Tigers' first two games because of a shoulder bruise. He caught two passes for 18 yards, including the 11-yard TD loss from Offenbecher.
"HE STOOD the test," Currence commented.
Grove caught two passes for 21 yards and Strawder had one reception for 10 yards. Cleveland had one catch for 56 yards.
Currence had praise for both of his quarterbacks.
"Brent had a real good percentage," he said Offenbecher connected on seven of 10 aerials (70 percent) for 114 yards.
"And I thought Ronnie (Wright) did real well. He didn't have the blocking, though, and I thought we dropped a couple of his passes." Currence pointed out.
"WE HAVE two excellent quarterbacks and in our offense we've got to have two good ones."
Wright finished the night hitting three of eight posses for 25 yards.
"Westover also had a good kicking night, even though we never punted," Currence said. Westover was three for three on conversion kicks and boomed some long kickoffs (49.8 average).
The Tigers will open the defense of their All-American Conference crown Friday night when Niles McKinley invades Paul Brown Tiger Stadium for an 8 p.m. an. game. Glenville plays Cleveland East.
GRIDSTICK
M G
First downs rushing 10 5
First downs passing 5 1
First downs penalties 2 1
Total first downs 17 7
Yards gained rushing 198 88
Yards lost rushing 32 30
Net yards gained rushing 166 44
Net yards gained passing 139 37
Total yards gained 305 81
Passes attempted 18 16
Passes completed 10 5
Passes intercepted by 4 0
Yardage on passes intercepted 4 0
Times kicked off 5 3
Kickoff average (yards) 49.8 42.0
Kickoff returns (yards) 58 60
Times punted 1 4
Punt average (yards) 32.0 33.5
Punt returns (yards) 7 0
Had punts blocked 0 0
Fumbles 3 0
Lost fumbled ball 2 0
Penalties 6 10
Yards penalized 50 87
Touchdowns rushing 3 1
Touchdowns passing 1 0
Touchdowns by interception 0 0
Miscellaneous touchdowns 0 0
Total number of plays 51 50
Total time of possession 22:24 25:36
Glenville 0 0 0 6 6
Massillon 10 14 7 0 31
M – Richard Cleveland 8 run (Cleveland run);
M – safety, Carl Dorsey tackled quarterback David Wynne in end zone;
M – Brent Offenbecher 11 run (Mark Westover kick);
M – Mark Pringle 11 pass from Offenbecher (Westover kick);
M – Mike Grove 31 run (Westover kick);
G – David Wynn 22 run (run failed)
Attendance: 9,021.