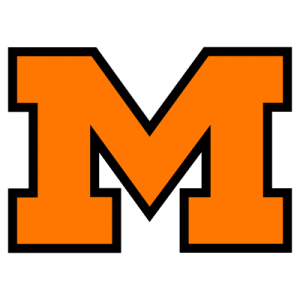 Currence not taking Pups lightly
By CHUCK HESS, JR.
Independent Sports Editor
"McKinley has five starters back from its defensive team of last year," Mike Currence said. "The Bulldogs beat the Tigers 21-15."
So Currence isn't taking the Bulldogs lightly despite their 4-5 record compared to the Orange and Black's 7-2 and seven straight wins. The two Stark County teams will clash in the 81st renewal rivalry Saturday at 2 p.m. at Paul Brown Tiger Stadium.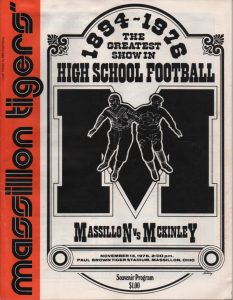 CURRENCE discussed the upcoming game Monday at noon at the Tiger Touchdown Club's weekly luncheon which was held at the Massillon Club. During the session TD club members named Jay Harper Hardnose of the Week for his play in last Friday's contest at Warren.
"McKinley shut out Warren, a good offensive club 6-0 last Friday," Currence said. "They scored 15 points against us."
The five McKinley defensive returnees are middle guard Gerald Jackson, monster back Cliff Frazier, halfbacks Melvin Weatherspoon and Ray Ellis and linebacker Mike Beadle.
An injury will probably prevent Beadle from playing, however. Jackson is a two-way player, having replaced the injured Ken Hall at fullback.
Currence will have to deal with two McKinley quarterbacks who will give the Bulldogs different looks, depending on who is playing.
"MIKE BROWN is a real scrambler," Currence said. "Kent McClellend started at Lehman last year. Brown seems to have taken over."
Currence said Hall could cause trouble and that McKinley head Coach John Brideweser likes to get the ball to Weatherspoon or Ellis offensively, even designing an end around play where Weatherspoon passes to Ellis.
"These guys are the type who could play four quarter and come back and play in another game," Currence said.
Currence thinks the outcome of the game will be decided on breaks and if the Tigers get the right one, they'll win.
"We have to get a hold mentally," Currence said. "That's something we didn't do last week."
CLUB PRESIDENT Gene Boerner presented Currence with a "Beat McKinley" tie from his sophomore players. Marilyn Wright painted the design.
"The people of Massillon are glad we have Mike Currence as our head coach," Boerner said. "We will see you next week when we're 8-0 (eight wins after losses in the opening games)."
Boerner introduced the 1977 club president, John Muhlbach, Jr., saying, "He did a fantastic job. He's been one of the best we've had."
John introduced Dennis Gibson, the booster's vice-president and next year's boss.
The club will present its Hardnose Award for the season at its luncheon next Monday noon.
CURRENCE CONCLUDED by saying he had picked up a $5 bill from the ground outside the stadium after the defeat to Gahanna Lincoln. "I told my coaches then we're going all the way."
Booster club rally gets spirit rolling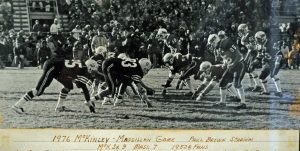 "Beat the Bulldogs" mania got under way Monday night in the Washington High School auditorium as the Tiger Booster Club had its weekly session three days early.
Not only was the booster session ahead of time this week but the combined rally and meeting got under way 10 minutes early. One reporter had to jump onto a table and sit there to keep from being trampled by the Tiger Swing Pep Band charging down the school's front corridor and into the auditorium.
THE BAND, led by head majorette Paula Bender and four fellow majorettes, mounted the stage to "Tiger Rag" and "Carry on" and serenaded the estimated 250 people present with several numbers. The majorettes twirled and danced.
Then came the Tiger cheerleaders, led by Captain Christy Frederick and Co-Captain Kathy Walterhouse, some drills to the band music and some cheers. But the real fun didn't start until Captain Currence appeared on the scene and led the fans in some split cheers such as "Orange and Black" and "Tig-ers."
(Currence was "Pokey" Converse, dressed in orange hat, black mask, Captain Currence Fan Club T-Shirt and orange cape. Booster officials are afraid he may meet his match in Friday's "Beat McKinley" rally slated for 2 p.m. in the high school auditorium when he meets "The Fonze.")
Tiger Booster Club President John Muhlbach, Jr., introduced Tiger skipper Mike Currence and the fans came from their seats as if shot from catapult to cheer him.
"The pep band and cheerleaders did a nice job," Currence said. "I hope we can carry this on through the week. We've been waiting all season for this."
THEN THE TIGER crew of Wilbur Arnold, Dave James and Don McFarren brought in Obie VII, the live mascot and Currence asked Obie what he plans to do with the Bulldog come Saturday afternoon. There was a slight growl and then the band struck up the fight songs again and marched out of the auditorium.
Currence showed films of last week's 14-0 win over Alliance, hurrying over the first half films as quickly as possible. All the scoring came in the third quarter.
He reported fullback Jerry Shafrath practiced today (Monday) for the first time after being stricken last week with a kidney infection. Randy Laase is also expected to be ready for fulltime duty, coming back from a pancreas bruise.
Currence reported All-American Conference Commissioned Gaylord 'Hap" Lillick, former Tiger grid aide, has ruled the Obiemen must wear white uniforms this week. They have worn black togs since starting their seven-game win streak.
Conference rules stipulate the home team must wear white unless the visiting team agrees otherwise.
Captain Currence wasn't the only one Monday night wearing one of his fan club's T-shirts. Muhlbach had one on and his two daughters wore special Tiger skin outfits made by their mother Bobbie.
The Booster Club has made arrangements with ex-president Junir Studer to put Beat McKinley letters on white or orange T-shirts for fans. The shirts should be taken to his sign shop at 323 3rd Street N.W. tonight. A small fee will be charged.
CHUCK
'n'
SPORTS
McKinley game
can be different this time
By CHUCK HESS, JR.
Independent Sports Editor
A dejected figure slumped against the brick wall leading to the visitor's dressing room at Canton Fawcett Stadium.
"Scoop," Mike Ramsey said quietly to this reporter who was hurrying to a post-game interview with Chuck Shuff, "It's going to be different next year."
THE TIGERS had just lost to Canton McKinley 21-15 in 1975 and Ramsey, now a Washington High School senior grid co-captain, along with many others, was not in a happy mood.
The season had ended 6-3-1 after most folks had figured the Tigers would be better than that because they had a host of returnees. I've know Mike since his Little League days when he was a pitcher and I was an umpire. He's not the effervescent type of player but the quiet, determined type. When Mike sets his mind to something, it gets done.
This year Mike and his fellow co-captains – Anthony Grizzard, John Hauser and Mike Lauber – have guided their team to seven straight wins after two opening losses. Thus far is has been difference under Mike Currence than it was in 1975.
Saturday is the time the Tigers can cap everything with a victory over Canton McKinley. But they must not take the Bulldogs lightly. They have had problems putting things together in this year of consolidation, but their offense has been tough, allowing 87 points (fifth best in the All-American Conference). The Tigers have given up 48 points (second to Steubenville's 38).
WHAT THE Obiemen have to fear is that the McKinley offense will come together Saturday. The Bulldogs have rolled for 136 points, (third best in the league), while the Tigers have collected 114 (fifth best). The WHS team must get on the board
early – something it has not done often this year.
Would you believe that if the Tigers win they'll make the Canton Repository's preseason prediction almost perfect? Bob Stewart's staff called the Tigers an 8-2 team. They were figuring one of those losses to Canton McKinley, whose record was 10-0.
Massillon still has an outside chance to win the Class AAA Region 3 computer poll and make the playoffs. To do this the Tigers must win and hope certain other teams win and other teams lose. A Jackson Memorial victory over North Canton Hoover would help.
If the Tigers win the 81st renewal Saturday at Paul Brown Tiger Stadium, it will be No. 44 in the series. McKinley has won 32 times. Five games have ended in ties. The Tigers have scored 1,016 points and the Bulldogs 849.
There have been other times when the Tigers have come into the McKinley game, riding a win streak – but not an unblemished record – and have won. The list is as fellows: 7-6 win in 1917 to complete four-game streak for 7-2 record; 21-0 win in 1919 to complete four-game streak for 8-1 record; 9-0 win 1923 to complete six-game streak for 8-2 record; 6-0 win in 1924 to complete six-game streak for 8-1 record; 19-6 win in 1937 to complete three-game streak for 8-1-1 record; 32-0 win in 1941 to complete four-game streak for 9-0-1 record; 21-12 win in 1948 to complete five-game streak for 9-1 record; 40-0 win in 1951 to complete three-game streak for 9-1 record; 26-6 win 1954 to complete seven-game streak for 9-1 record; 25-7 win in 1957 to complete four-game streak for 8-1 record; 38-16 win in 1958 to complete three-game streak for 8-1-1 record; 22-6 win in 1963 to complete eight-game streak for 9-1 record; 20-13 win in 1967 to complete three-game streak for 9-1 record.
Weather,
Defense
Desire
are keys
By CHUCK HESS, JR.
Independent Sports Editor
Weather, defense and desire will be deciding factors in Saturday's 81st renewal of the Massillon-Canton football series, according to Massillon head Coach Mike Currence.
The Tigers and Canton McKinley Bulldogs will lock horns Saturday at 2 p.m. at Paul Brown Tiger Stadium. The Orange and Black have won the All-American Conference title with a 4-0 mark and one to go. McKinley needs to up its 1-3 mark and hope for a Warren Harding (1-3) loss Friday night at Warren against Niles McKinley (2-1) in order to get out of the cellar.
ALLIANCE (1-3) will be at Steubenville (2-1) Friday night. The Big Red needs a victory and a Niles loss to claim second place.
"Weather and defense always concerns us," Currence said. "The weather can affect the offensive play. We hope it's nice and dry so we can utilize our quickness. They're quick too but when you get on a bad field, both teams will probably equalize their speed."
Massillon uses the run and shoot offense, while McKinley utilized the wing-T. Both teams use angle-5 defenses which have been extremely stingy.
"I don't' think it will be that wet," Currence said. "We might get a little snow and that shouldn't hinder our offense too much. If we have to tighten down a little bit, we can do it and probably run as good as they have out of the "T".
The Tigers have run the "robust T" successfully and won last week's game at Alliance 14-0 with it, utilizing the running of left halfback Jay Harper.
"WE DROVE down the field twice and scored and McKinley was unable to do that," Currence said.
One of the concerns for the Tiger skipper this week has been the condition of fullback Jerry Shafrath. He missed last Friday's game with a kidney infection but has practiced
this week and will be used when needed in the straight-T.
"He has looked good and has really been enthused," Currence said.
Currence said all the Tigers should be in good shape physically and mentally.
"We have had the best practices we have had this season," Currence, who, together with the Tiger Booster Club, has reminded the Obiemen about their 21-15 loss to the Pups at Fawcett Stadium in Canton in 1975.
"THE KIDS told me we didn't have real good practices after losing to Alliance last year," Currence reported. "We have cut down practices this week because the weather was cold early in the week and we have wanted them to get the boys off the field by dark
(5:30 p.m.)."
Currence said that the Tiger and Bulldog defenses are about equal on personnel.
"McKinley probably has one of the best secondary's in the league," Currence stated. "We'll outweigh them on the line. Both teams are quick in the secondary, but with Ray Ellis and Mel Weatherspoon back there they are bigger in that department."
The Tiger boss thinks the Bulldog secondary has been the key to their success.
"If you look at the team, it's the guys in the secondary who come up and stick you," Currence said. "They don't blitz but they react so well that the secondary is on a ball
carrier if he breaks through the line."
CURRENCE also thinks the McKinley "force unit" (down linemen and linebackers) are very agile.
Talking about the Bulldog offense, Currence said, "They like to use the power pitch inside and outside end. They will probably try to get us to split out so they can open up the middle."
Because the Bulldogs have had some injuries this season, Currence is not sure who will be the starting fullback. Ken Hall was sidelined for the season, Mike Beadle came on and was hurt and then head Coach John Brideweser used Mark Stevenson and the Bulldogs shifted more to a passing game.
Gerald Jackson is sure to hit the middle because he is a strong runner. Ellis and Stevenson will have the outside assignments.
"Their end-around play is a good one but they also like the screens, draws, delays and boot passes," Currence explained. "They like to lead with their guards."
CURRENCE figures Mike Brown will be the starting quarterback rather than Kent McClelland. Both are juniors and Brown has come on strong of late.
"McClelland made an excellent run against Steubenville on which his best two or three guys and Steubenville has a good secondary," Currence said. "Weatherspoon started at quarterback but is now the Bulldogs' split end and runs the end-around play. McClelland would be in there if Bridey decides on a passing series."
How big a part will spirit and desire play in the game? "That will be the whole game," Currence said. "It's our turn to win. Bridey's not supposed to win in even years.
20,000 expected
at game today
By CHUCK HESS, JR.
Independent Sports Editor
Spirit was at a height not seen here for several years as the Tigers met the Bulldogs this afternoon in the 81st renewal of the high school grid classic.
Some 20,000 were expected at Paul Brown Tiger Stadium.
AN AFTERNOON rally at Washington High School Friday, the annual parade through downtown Massillon and the bonfire rally at Agathon Field helped to rev up the spirit.
Onlookers said the spirit among fans and team members reminded them of that before the 1970 game, also played here, which the Tigers won 28-0 at the stadium.
With Jackson Memorial's 20-16 win Friday night over previously unbeaten North Canton Hoover, ranked No. 1 in the Ohio High School Class AAA computer ratings, to undergrid their optimism, the Tiger faithful were expected to cheer ever louder at today's 2 p.m. kickoff.
If the Tigers get their eighth straight victory it is still possible for them to win a place in the playoffs which will start next Friday in Dayton against defending champion Cincinnati Moeller. But for that to happen, Youngstown Chaney has to beat or tie unbeaten Youngstown Cardinal Mooney in a game this afternoon in Youngstown.
Friday's festivities started with the rally in the Washington High School gymnasium. There was no organized cheering, but that was the beauty of the thing. The cheering came spontaneously.
THE TIGER Swing Band was there and the cheerleaders and the Tiger Booster Club put on a skit in which Captain Currence ("Pokey Converse") met "The Fonze" (Mike Mauger).
Confetti and bathroom tissue rained down on the gymnasium floor. There was so much confetti flying that Tiger football players standing along the gym's brick wall looked as if they were prematurely gray.
Pep signs urging the Tigers to victory were everywhere.
Those at the rally received the words to a Tiger Booster Club parody of "Happy Days Are Here Again" and sang the song, making the rally sound like the 1932 Democratic National Convention.
Aerial bombs, ordinarily set off on the morning of the Massillon-McKinley game, began to shatter the silence Friday afternoon.
THE TIGER Sideliners hosted the team Friday for dinner at the Massillon Holiday Inn. That meal is ordinarily the final one of the season but, should the team make the playoffs, there will be two more.
The parade Friday night featured about 100 motorized units, including floats, decorated cars, trucks and dune buggies. A color guard from VFW Post 3124 and American Legion Post 221 headed the entourage.
Then came the Tiger Swing Band followed by cars containing Mayor Mark Ross,
Safety-Service Director Blasé Sparma, Washington High School Homecoming Queen Chris Zurcher and her court, Tiger cheerleaders, reserve cheerleaders, coaches, players, trainers and managers.
A special entrant was the Tiger Kazoo Band led by Drum Major Phil Bucci and "majorettes" Dick and Terry Snyder, Richard Reichel, Steve Studer, Joe Matie, Mauger and LeRoy Schumacher.
The parade proceeded to Agathon Field with plenty of fans trailing along behind. There the band and cheerleaders held forth and the team and coaches were placed on a flatbed trailer for all to see.
HEAD COACH Mike Currence said, "I can see now the agony you have been in since losing to McKinley last year. I think Saturday will be our time to win."
Co-Captains Mike Ramsey, Anthony Grizzard, Mark Lauber and John Hauser assured fans of the same thing.
Second half difference
in Tigers' 7-3 win
By CHUCK HESS, JR.
Independent Sports Editor
Second half . . .
. . . A pair of words which will remain forever entrenched in the memories of the Tiger faithful who followed the 1976 Washington High School football team.
FIVE TIMES during the season, which was completed last Saturday afternoon, the Massillon gridders came from behind or from a tie at halftime to win. Three of those times came in the final games of the season as the Orange and Black kept alive a win streak which ran to eight games.
The Obiemen's latest turn-around palpitator came last Saturday before 19,528 fans at Paul Brown Tiger Stadium and brought the Tigers a 7-3 All-American Conference victory over arch-rival Canton McKinley.
In a twist of irony, the Bulldogs' defeat was aided by a misfire on a play which had garnered them a lot of yardage during the afternoon. Tiger tackle Tony Matie recovered a fumble off a pitchout intended to start a sweep. The Orange and Black took control on the McKinley 15 and scored four plays later.
On second down from the three, Mike Grove took a pitchout from quarterback Bret Traylor and raced into the end zone unmolested as fullback Jerry Shafrath faked through the middle. The play had been sent to head Coach Mike Currence by the men in the rooftop scout box.
While the Tigers had the ball they survived a delay penalty and picked up a pass interference call on McKinley safety Melvin Weatherspoon on the two when he banged into end Bob Grizzard. The call so infuriated Bulldog head Coach John Brideweser and an assistant that both were flagged for unsportsmanlike conduct and the ball ended on the four from where Jerry Shafrath took it to the three to set up the score.
THE BULLDOGS came right back on the kickoff and drove to the Massillon 30 where the Tiger defense held McKinley three yards short on a fourth down run. The Obiemen were penalized for a personal four after the ball had been blown dead. Then Traylor fell on the ball on the next two plays.
Traylor brought to an end a contest which saw a quicker, stronger Bulldog team control all the statistics but kickoff averages, kickoff returns and punt averages. The Pups kept the Tigers bottled up in their own territory all afternoon.
Only in the third period did the Tigers move the ball onto McKinley grounds. On that occasion halfback Jay Harper fumbled at the McKinley 37 and linebacker Ken Bailey recovered.
Also in that period Weatherspoon intercepted a Tiger aerial at the Bulldog 20 and halfback Ray Ellis picked off another at the 25. A 15-yard holding penalty also helped to stall Massillon.
But defense had been the Tigers' suit all season. They had shutouts in three of their previous four games. They had allowed two touchdowns only against Warren and last Saturday they bared their Tiger claw again.
FOUR TIMES in the first half the Bulldogs knocked on the door. Three times they were repulsed. The only other drive came after the Tigers' fourth period touchdown.
McKinley's second drive began after a bad fourth down snap. Tiger guard John Hauser picked up the ball and ran to the 25 where he was tackled and the Bulldogs got the ball.
What might have been a late second period drive into Massillon territory was stalled on fourth and one at the Bulldogs' 46 when the Pups were called for delay and had to punt instead of being able to call timeout and set up strategy to get a first down. Brideweser stormed onto the field at this point, too.
On two of the first half drives the Obiemen got some temporary help from holding penalties but tackle Jesse Toles and linebacker Kurt Walterhouse stopped one invasion at the Massillon four, Walterhouse and tackle Bob Dennison put the brakes to another at the 38 and halfback Bill Henderson intercepted a pass at the 20 to stop the final drive.
The Tigers thought they had stopped earlier the drive on which Henderson intercepted the pass but Walterhouse's fumble recovery was nullified because the ball had been blown dead.
THE BULLDOGS' lone score came on a 27-yard field goal by Kelly Darnley with 9:44 left in the first quarter. The tally came off a 21-yard runback of the opening kickoff by Mark Stevenson and a 52-yard run on a pitchout by Ellis off an unbalanced line and the wingback set to the right, which completely surprised the WHSers.
Tiger linebacker Anthony Grizzard knocked Ellis out of bounds at the Massillon 17 to save a touchdown. On McKinley's next drive Mike Brown ran the kickoff back 50 yards before Van Jones brought him down at the Massillon 25.
"There's no doubt they outplayed us but they were sitting on three points and hoping it would last," Tiger head Coach Mike Currence said, "but I knew it wouldn't."
Currence paid tribute to the McKinley secondary of Ellis, Weatherspoon and Cliff Frazier as the best he's seen.
"We didn't win it impressively, but I don't really care," said Currence. "The only thing I do care about is that these seniors proved they were a bunch of winners when everybody said they were a bunch of losers."
CURRENCE PAID tribute to punter Mark Westover who got off a key 59-yard kick which was downed at the McKinley 10 in the fourth period. The skipper also lauded the work of his coaching staff.
He thought the Tigers' emotions were too high.
"They were making mistakes where McKinley wasn't," Currence said. "McKinley came to play. Our kids came to win."
Bulldog Coach John Brideweser was bitterly disappointed.
"With no disrespect to the Massillon football team or to Mike Currence, that's one victory you don't deserve," Brideweser said. "I've been coaching for 20 years and I've never complained. We did get handled. That's the first time I've said that and I'm ashamed. We got handled in more ways than one."
MASSILLON FINISHED the season undefeated in the All-American Conference at 5-0 with the league title and 8-2 overall. McKinley ended 1-4 in the league and 4-6 overall.
Niles McKinley and Steubenville ended tied for second with 3-1-1 records. Alliance, Warren Harding and Canton McKinley followed with 1-4 records.
McKINLEY – 3
Ends – Weatherspoon, K. Jackson, Latimer, Albright.
Tackles – Adams, Williams, Cole, Hogsett, Hill, Beadle.
Guards – Randazzo, Huntsman.
Center – Mullane, Schoeneman.
Quarterback – Brown.
Halfbacks – Johnson, Ellis, Asberry, Stevenson, Andrews, Brown Truitt.
Fullback – Bowers.
Middle Guard – G. Jackson.
Linebackers – Ramos, Bailey, Latimer, Gaines.
Defensive Halfbacks – Webb, Frazier, Basham.
Kicker – Darnley.
Punter – Zern.
MASSILLON – 7
Ends – Pringle, Chovan, Sweterlitsch, Engler, Clendening, Furnas, B. Grizzard, A. Longshore.
Tackles – Tournay, Daniels, Dennison, Toles, Matie, Stuck, Kovacsiss, Laase.
Guards – Hauser, Lauber, Berquist, Baus.
Centers – Ramsey, Lutz.
Quarterback – Traylor.
Halfbacks – Harper, Grove.
Fullbacks – Cleveland, Shafrath.
Middle Guard – Dorsey.
Linebackers – Walterhouse, Dottavio, Border, Sowards.
Defensive Halfbacks – A. Grizzards, M. Longshore, Jones, Lash, Henderson, Letcavits, Nagle.
Kicker – Hardwick.
Punter – Westover.
McKinley 3 0 0 0 3
Massillon 0 0 0 7 7
SCORING SUMMARY
McK – Kelly Darnley, 27 field goal;
M – Mike Grove, 3 run (Hardwick kick).
OFFICIALS
Referee – Chuck Lorenz.
Umpire – Brenton Kirk.
Linesman – Jack Prettyman.
Field Judge – Nick Costello.
Back Judge – Wilson Murray.
ATTENDANCE – 19,528.
GRIDSTICK
Mass. McK.
First downs rushing 4 8
First downs passing 0 2
First downs penalties 1 0
Total first downs 5 10
Yards gained rushing 102 212
Yards lost rushing 21 16
Net yards gained rushing 81 196
Net yards gained passing 23 34
Total yards gained 104 230
Passes completed 3-9 5-12
Passes intercepted by 1 2
Yardage on passes intercepted 0 3
Kickoff average (yards) 2-52 2-51
Kickoff returns (yards) 61 39
Punt average (yards) 5-37 5-30
Punt returns (yards) 2 67
Had punts blocked 0 0
Lost fumbled ball 1-1 2-3
Yards penalized 5-55 7-66
Touchdowns rushing 1 0
Total number of plays 45 62
Total time of possession 20:23 27:37
INDIVIDUAL SUMMARYS
McKinley
Ellis 4 58 0 58
Massillon
Cleveland 11 42 0 42
Tonight is last
Booster session
The final session of the Tiger Booster Club for this season will be held tonight at 8 in the Washington High School auditorium. Films of last Saturday's 7-3 win over Canton McKinley will be shown.
Tonight will be the final chance for fans to take pictures of Obie VII, the live Tiger cub, for the mascot will depart for other quarters Tuesday, according to Booster President John Muhlbach, Jr. Pictures may be taken on the auditorium stage either before or after the meeting.