Playoff‑bound Tigers pound Pups 24‑0
Defense awesome in 4th straight win over McKinley
By ROLLIE DREUSSI
Independent Sports Editor
There used to be a sign in the Massillon weight room that read: "Offense wins games, defense wins championships."
On the strength of an overpowering performance in their 24‑0 win over Canton McKinley Saturday afternoon, the Massillon Tiger football team will get its first chance to prove that theory since 1972.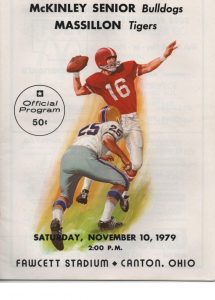 For the team and their "Tiger Bag" waving fans are headed for the Class AAA computer playoffs. They will play Parma Padua Saturday at 7:30 p.m. in a semifinal game in the Akron Rubber Bowl.
The Tiger defense' was awesome against the Bulldogs, registering nine sacks for 78 yards in losses. Six of the sacks came in the first half as the Tigers shocked the Pups by rolling up three touchdowns for a 21‑0 halftime lead.
Quarterback Bill Scott accounted for the first two scores, throwing nine yards to Marty Guzzetta for the first touchdown, then hooking up with Greg Evans oil a 54‑yard bomb.
Evans' score, which came on a third‑and‑six play, dazed the Bulldogs, but it was linebacker Tim Reese's interception on the Pups' next possession that broke their backs.
On a second‑and‑10 from his own 46, Bulldog quarterback Dave Seaman threw over the middle for Ron Rankin, but Reese stepped in and picked the pass off at his own 43 and returned it 30 yards to the Bulldog 27.
After an incomplete pass, fullback Sam McDew gained 26 yards in three rushes and halfback Bill Beitel scored from a yard out on the next play.
Jeff Fry's third straight extra point kick made it. 21‑0 with 1:30 left in the half. The only other scoring was a 26‑yard field goal by Fry in the fourth quarter.
"It was a great, great victory to a great great year," Tiger coach Mike Currence said afterwards. We hope we can just keep on going ‑ and win two more."
Two more wins, of course, would bring the Ohio prep football championship back to Massillon for the first time since 1970 ‑ and it would be the first for the Tigers since the computer playoff system was installed.
The Tigers are now 10‑0 – their first perfect season since 1972 ‑ and have claim to the final All‑American Conference football championship (the league is now disbanded).
The Tigers have now either won outright or shared the AAC title four straight years ‑ all under Currence, who has now beaten the Bulldogs four straight.
And the key to this one, he said, was the defense.
"The defense gave us the field position," he said, referring to the nine sacks and three interceptions (Jamie Schlegel and Len Robinson also picked off passes).
Currence said the sacks were a combination of a fierce pass rush and great coverage by the Tiger secondary.
Seaman tried to pass 11 times in the first half,, and six times the Tiger "Sack Cats" threw him for losses.
Currence also credited his offense, of course.
"That was a great catch by Guzzetta and a great pass by Scott," Currence said of the Tigers' first touchdown. "And Evans catch was a big play, it really hurt them.
"But it was the interception by Reese that broke their backs."
Currence said he was still nervous with a 21‑0 lead especially when Phil Giavasis blocked a Mike Hodgson punt. late in the third quarter and Mitchell Kelly recovered the ball at the Massillon 11 yard line.
However, tackle Dave Geschwind threw Brantly Kelly for a one‑yard loss on the first play, and two plays later Geschwind Tom Mummertz and Bryant Lemon sacked Rick Worstell for a 12‑yard loss. An incomplete pass in the end zone on fourth down gave the Tigers the ball at their own 19.
When the Pups got the ball back, Jamie Schlegel intercepted a Worstell pass at the Bulldog 27 and returned it to the two yard line. Four plays later, at 7:52 of the fourth quarter, Fry booted his 26‑yard field goal.
"After the field goal I relaxed," Currence said.
"The difference was the big play," he explained. "When you get the big play, you've got them. The kids were looking for them, and they made them.
"This game will be like a springboard for us," he added, referring to the playoffs. "We have momentum now."
The Tigers' first score came on their second possession. Massillon took over at the Bulldog 35 following a 17‑yard McKinley punt.
Seven plays later, Scott lofted the ball over the middle and over an unaware Sid Lewis to Guzzetta who made a diving catch in the end zone. Fry's kick made it 7‑0 with 1:45 left in the first quarter.
The Tigers took over at 6:55 of the second quarter at their own 42 following a Bulldog punt.
On third‑and‑six from the 46, Scott threw long for Evans. A Bulldog defender leaped in an attempt to make an interception, but he missed the ball and Evans caught it at the 18 yard line. He scampered the rest of the way for the score with 5:17 left in the half.
Reese's interception then set up Beitel's one‑yard touchdown run just. before the half, and Schlegel's interception set up the field goal by Fry in the fourth quarter which capped the scoring.
Now it's on to the Rubber Bowl and, hopefully, a state championship. BEAT PADUA!
FINAL STATISTICS
MASS OPNT
First downs:
Rushing 7 1
Passing 5 2
Penalty 0 0
Total 12 3
Yds gain rush 155 53
Yds lost rush 28 82
Net yds rush 127 29
Net yds pass 143 58
Total yds gain 270 29
Pass attempted 15 10
Pass completed 7 3
Pass int by 3 2
Pass int yds 63 2
Kickoffs 5 1
Kickoff ave 48.8 48.0
Kickoff ret yds 20 96
Punts 3 6
Punt ave 38.7 35.2
Punt ret yds 21 22
Punts blocked 1 0
Fumbles 1 1
Fumbles lost 1 0
Penalties 3 3
Yds penalized 3.5 20
TDs rushing 1 0
TDs passing 2 0
TDs by int 0 0
Other TDs 0 0
No. of plays 56 38
Time of poss 26: 27 21:33
Attendance 21,000
MASSILLON 7 14 0 3 24
McKINLEY 0 0 0 0 0
Mass ‑ Marty Guzzetta 9 pass from Bill Scott (Jeff Fry kick)
Mass ‑ Greg Evans 54 pass, from Scott (Fry kick)
Mass ‑ Bill Beitel 1 run (Fry kick)
Mass ‑ Fry 26 FG
Tiger, Bulldog lineups
MASSILLON
Offense
Quarterback: 10 ‑ Bill Scott (Sr., 6‑1, 170); 15 Dave DeLong (Sr., 5‑10, 169);
Fullback: 49 ‑ Sam McDew (Sr., 5‑7, 167);
Halfbacks: 31 ‑ Bill Burkett (Sr., 5‑11, 162), 22 ‑ Bill Beitel (Sr., 5‑7, 162):
Ends: 25 ‑ Marty Guzzetta (Sr., 5‑11, 165), 87 ‑ Greg Evans (Sr., 5‑10, 168);
Tackles: 76 Mark Kircher (Sr 6‑2 218), 74 ‑ Gerald Wesley (Sr., 6‑0, 233);
Guards: 66 ‑ Wally Neff (Sr., 5‑9, 175), 65 ‑ Larry Massie (Sr., 5‑7, 206);
Center: 51 Andy Weber (Sr., 6‑0, 190), 53 ‑ Doug Eberhart (Jr., 5‑10, 191)
Defense
Ends: 86 ‑ Mike Hodgson (Sr., 6‑6, 208), 80 ‑ Tom Mummertz (6‑5, 190);
Tackles: 77 ‑ Dave Geschwind (Sr., 6‑0, 200), 44 ‑ Bryant Lemon (Sr., 5‑11, 215);
Middle Guard: 55 ‑ Bob Simpson (Sr., 6‑0, 205), 99 ‑ Ed Newman (Jr., 6‑0, 192):
Linebackers; 59 ‑ Tim Reese (Sr., 5‑9, 175), 58 Kevin McClelland (Sr., 6‑3, 195), 30 ‑ John Mayles (Jr., 5‑9, 181);
Monster Back: 23 ‑ Jim Blogna (Sr., 5‑10, 176); Safety: 21 ‑ Jamie Schlegel (Sr., 6‑0, 170);
Halfbacks: 24 ‑ Dan DiLoreto (Sr., 5‑9, 162), 27 ‑ Len Robinson (Sr., 5‑10,153).
Kickers: 20 ‑ Jeff Fry (Sr., 6‑0, 180), placements, kickoffs; 86 ‑ Hodgson, punter
BULLDOGS
Offense
Quarterback: 12 Dave Seaman (Sr., 175);
Fullback: 20 ‑ Dwayne Randle (Jr., 175), 32 John Lewis (Sr., 181);
Halfbacks: 40 ‑ Brantly Kelly (Sr., 175), 23 Brian Jenkins (Jr., 164), 35 ‑ Bert Lynch (Sr., 180), 42 ‑Michael Simms (Jr., 185), 24 ‑ Sidney Lewis (So., 175);
Ends: 87 ‑ Terry Draper (Jr., 155), 84 ‑ Ron Rankin (Sr., 189(, 88 ‑ John Grimsley (Sr., 200) ;
Tackles: 75 ‑ Tony Floyd (Sr., 220), 77 ‑ Eric Torrence (Sr., 185);
Guards: 62 ‑‑ Ed Grimsley (Jr., 1,75), 60 ‑‑ Sam. Elfaye (Jr., 175) ;
Center: 51 – Robert Nau (Jr., 180).
Defense Ends: 80 – Mitchell Kelly (Sr., 185), 81 ‑ Phil Giavasis (Sr., 185), 83 ‑Scott Dixon (Jr., 185);
Tackles: 75 ‑ Floyd, 79 Troy Sanders (Jr., 210);
Linebackers: 62 ‑ E. Grimsley, 31 ‑ David, Faur (Jr., 185);
Monster Back: 88 ‑ J. Grimsley;
Safety: to ‑ Robert Davies (Jr., 175);
Halfbacks: 24 ‑ S. Lewis, 43 ‑Bob Harsh (Jr., 1 65), 82 ‑ Craig Massey (Sr., 175).
Series: 84th meeting, Massillon holds 46‑32‑5 edge.
Last meeting: 1978, Massillon 13, McKinley 10.
Records: Massillon 9‑0, McKinley 7‑1‑1.
Points scored by: Massillon 278, McKinley 174.
Points scored against: Massillon 24, McKinley 67.
The Tigers did it all
The 82nd victory in the football coaching career of the Massillon Tigers' Michael L. Currence had to be one of his sweetest, for it carried him and his 1979 Tigers to a record, an All‑American Conference title and a shot at the state championship.
Saturday's foe was Canton McKinley, who went into the game with a good 7‑1‑1 record and were primed for another of the upsets that have marked 84‑year Tiger‑Bulldog rivalry. Coach John Brideweser of McKinley had lost all three of his previous ‑meetings with Currence's Tigers.
But the Tigers, too, were ready. Currence had polled them on stage at a bonfire rally Friday night, asking each what he plann­ed to do to the Bulldogs Saturday afternoon. And they did it all.
Now, for the second time since computers got into the act, the, Tigers have a crack at a state ti­tle. They will play Parma Padua (9‑1) in the Akron Rubber Bowl
Saturday at 7:30 p.m., and the winner will advance to the state finals the following Saturday at the Rubber Bowl.
I
Tiger quarterback Bill Scott, speaking of Padua and Cincinnati Moeller, the team he expects to face in the championship, said: "I think we can do it. We've got a whole town behind us."
That the Tigers have. Let's show them this week how much we are behind them. BEAT PADUA!
Massillon Does It Again!
…And so another Massillon-McKinley rival match is in the record books, and Massillon continues to dominate the action.
The Tigers' 24‑0 whitewashing of the Bulldogs last weekend made it four straight over the Pups. Over the past three years, Massillon has outscored McKinley, 58‑10, including two shutouts in the last three years, both at Fawcett Stadium. Their latest triumph upped the overall series mark to a commanding 47‑32‑5 lead.
Is the rivalry becoming too one sided'?
"No way," said Massillon Coach Mike Currence. "Massillon and Canton will always play this game. They've been playing it now for 84 years, and they're going to continue playing it long after John and I (McKinley Coach John Brideweser) are gone."
I don't think anyone would question that. I can't imagine November without a Massillon‑McKinley game, but there's no question that the Tigers are becoming a more dominant force in this classic.
There are several theories as to why that's the case. The first one is that the entire town is behind Massillon, whereas Canton doesn't totally back McKinley.
A second theory is that the Tigers are just getting better material out of their feeder schools than the Bulldogs are, and the third theory states that many of Massillon's players have played together longer than McKinley's have because most of them attended the same grade schools and junior highs. Massillon is less diversified than Canton, and this might be a possible explanation contributing to Massillon's dominance.
Personally, I support the 'town theory.' The fact that Massillon has its entire town behind the Tigers is a mighty big boost in a game of this magnitude.
Sure, the Tigers were gunning for the playoffs and trying to keep a perfect mark intact, but they also defeated McKinley the last three years when they weren't headed for the playoffs.
McKinley will always have a great challenge lying ahead of them in this game, because let's face it: Not everyone who lives in Canton is a 'live or die' McKinley Bulldog fan.'