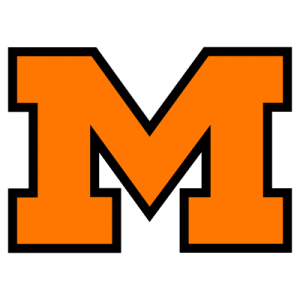 'Breaks, 'Magics' ball control stop Tigers
Barberton wins opener 9-7
By ROLAND A. DREUSSI
Independent Sports Editor
"I think we have as good a ball club as they do, but I just don't think we got the breaks."
That statement by Massillon Tiger head coach Mike Currence pretty well summed up his team's 9‑7 loss to the Barberton Magics in the Akron Rubber Bowl Saturday night before an estimated crowd of 18,000.
THE MAGICS used a ball control offense and a stiff defense to avenge a 21-0 defeat to the Tigers last season.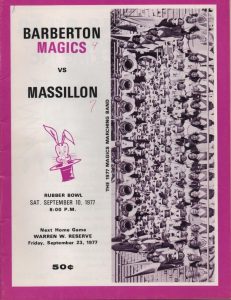 The Tigers suffered a couple of letdowns in their kicking game and fumbled the ball away, though one fumble was a very questionable call on the officials' part that stopped the Tigers' deepest drive of the second half.
Currence said he thought it was a bad call because the pass, to Curtis Strawder at Barberton's 25 yard line, "touched his hands twice," meaning he didn't have possession.
Strawder was hit and the ball bounced away, with Barberton's Stinker Webb recovering at the Magics' 28 yard line.
"That was our best penetration of the second half," Currence said. The play occurred with just over five 'minutes left in the game.
"THE BREAKS weren't with us tonight," Currence said after the game. "We had the chances. We missed a field goal, we fumbled when we weren't supposed to.You've got to give Barberton credit though, they hit us and hit us and hit us again. I didn't think they could control the ball on us but they did. I was surprised," Currence said.
The Magics had the ball for 18 of 24 minutes in the first half when they took a 9-7 lead. Final times of possession were 29:58 for Barberton and 18:02 for Massillon.
"We don't think plays win football games, players do," Barberton head coach Rudy Sharkey said when asked about the Magics' offensive performance.
Referring to the Magics' ball control offense, Sharkey said that hadn't been his game plan.
"We have a slogan in our lockeroom that says 'Whatever It Take,' We were prepared to do what we had to, pass or run. But that defense of Massillon's was tough," Sharkey said.
"I FELT very good tonight about our running and passing balance," he added. The Magics gained 146 yards rushing – 94 by Larry Ricks – and 65 yards passing. Most of the Magics' passing yards came in key situations, and Barberton's only score of the night came on a pass to wingback Terry Cameron.
The Tigers scored first in the game, getting the ball for the first time at Barberton's 38 yard line after a 21-yard punt.
Following an incomplete pass, Richard Cleveland gained nine yards through a big hole up the middle Mike Grove swept left end for 24 yards and a first down at Barberton's five yard line.
Cleveland carried over left guard to the three and Greg Carpenter went up the middle to the one yard line. Quarterback Brent Offenbecher then scored on a sneak.
Mark Westover booted the extra point and Massillon led 7-0 with 7:35 to go in the first quarter. The six‑play drive took only 1:50.
"I THINK we got a false sense of security," Currence said, referring to the drive. "We scored so easily, the kids might have thought it was going to be an easy night. It wasn't."
Following an exchange of punts, Barberton took over at its 20 yard line with 2:55 to go in the first quarter.
They then drove 80 yards in 16 plays, using up 8:26 on the clock, as Cameron took a pass from quarterback Jeff Finley that was good for 16 yards and the score. Dennis Sellers was wide with the extra point and Massillon led 7-6 with 6:29 to go in the half.
During the drive, the Magics converted first downs three times on third down and once on fourth down.
Following a touchdown on the kickoff, Massillon. took over on their own 20. Offenbecher lost five yards attempting to pass and Cleveland lost a yard.
ON THIRD down and 16. Cleveland gained two yards on a draw but the Magics were called for a late hit and were assessed a 15‑yard penalty.
However, despite the fact that it was a dead ball foul and the Tigers' did not get the down over, the officials stepped off the penalty from the line of scrimmage and did not count the two yards gained by Cleveland.
This proved crucial because it because it put the ball on the Massillon 29 and made it fourth and one. Had the Tigers been given credit for the two‑yard gain, it would have been a first down.
The Tigers elected to punt, and Westover kicked the ball off the side of his foot out of bounds for a net three‑yard punt.
Barberton took over at Massillon's 32 and drove to the 23. On a fourth and one play, the Magics were called for offsides and they faced a fourth and six from the Massillon 28.
FINLEY THEN bit Dave Peters with a 12‑yard sideline pass to give the Magics a first down at the Massillon 16. Three plays later. Barberton called time out with 50 seconds left in the half. They faced a fourth and three situation at the nine yard line.
Sellers entered the game and split the uprights with a field goal from 27 yards out to give Barberton a 9 7 lead with :46 showing on the clock.
Following an 18-yard kickoff return by Tom Gehring the Tigers took over on their own 40.
Offenbecher hit Strawder with a 14-yard pass on second down to give Massillon a first down at Barberton's 46 with :28 left. After a pair of incomplete passes, Offenbecher found Bob Grizzard at the Barberton five yard line and the Tigers called time out with three seconds to go in the half.
Westover attempted a field goal from the 12 yard line, but the kick was blocked.
BARBERTON'S ball-control offense and hard hitting defense made the 9-7 lead stand for thr rest of the game.
The Tigers did play the game without the services of Mark Pringle, their top receiver.
BREAKS…
"But we should be able to have depth enough to fill in," Currence said.
"It was just a damn good ball club we played, You can't expect to run over a team like Barberton." he added.
Statistically. Barberton only outgained the Tigers 211-202 in total yardage and the Tigers had 12 first downs to 11 for the Magics.
HOWEVER, Barberton controlled the ball and made no turnovers, while Massillon lost two fumble, and one interception.
Ricks carried the ball 22 times for the Magics for a net total of 94 yards to take game rushing honors. That was 34 yards more than the entire Massillon team gained.
The Tigers will open their home season Friday night against Gahanna Lincoln at Paul Brown Tiger Stadium.
M B
First downs rushing 5 8
First downs passing 7 3
First downs penalties 0 0
Total first downs 12 11
Yard, gained rushing 96 155
Yards lost rusting 38 9
Net yards gained rushing 60 146
Net Yards gained passing 142 65
Total yards gained 202 211
Passes attempted 16 9
Passes completed 10 5
Passes intercepted by 1 0
Yardage on passes intercepted 0 0
Times kicked off 2 3
Kickoff average (yards) 45.5 42.3
Kickoff returns (yards) 26 0
Times punted 4 4
Punt average (yards) 36.5 25.8
Punt return (yards) 0 0
Had punts blocked 0 0
Fumbles 5 2
Lost fumbled ball 2 0
Penalties 4 9
Yards penalized 38 73
Touchdowns rushing 1 0
Touchdowns passing 0 1
Touchdowns by interception 0 0
Miscellaneous touchdowns 0 0
Total number of plays 42 55
Total time of possession 18:02 29:58
Bengals stumble 9-7
By FRED GERLICH
Repository Sports Writer
AKRON – "We got a slogan up in our locker room," Barberton head football coach Rudy Sharkey said Saturday night.
"It just says, 'Whatever it takes.'"
All it took against Massillon was a ball-control drive and a 27 yard field goal as the Magics pulled a 9-7 win out of their hats before 20,000 Rubber Bowl onlookers.
Asked what his team had in its arsenal to offensively combat Massillon's "run and shoot" attack, Sharkey said, "We don't think plays win games, players do and the players won tonight."
Barberton controlled the ball for 29:56 of the contest, including 18 minutes in the first half when all 16 tallies were put on the scoreboard.
The Magics did it with a little bit of everything, outgaining the heralded .Tigers 146-60 and adding 65 more yards passing for a 211-202 total offense advantage.
Tailback Larry Ricks led all ground gainers with 94 yards in 22 carries, while Massillon's Mike Grove gained 47 yards in six trips.
"I didn't think Barberton could control the ball on us, I really didn't," Massillon Coach Mike Currence said.
"I was surprised."
"We did so well in our scrimmages that it probably hurt us," Currence added. "We got a false sense of security in our abilities."
Poor punting accentuated first half play. Barberton received the opening kickoff and was stopped on downs by the Tigers. The Magics Ken Bates then lofted a 21-yard punt which Massillon's John Letcavits caught at the Barberton 38.
After an uncompleted pass, Richard Cleveland bolted for nine yards and Mike Grove raced 24 yards to the Barberton five. Three plays later Brent Offenbecher vaulted in from one yard out for the initial score. Mark Westovers' conversion kick made it 7-0.
The Magics showed great ball control in a 16 play, 80-yard drive that consumed 8:26 with qua, rterback Jeff Finley passing to Terry Cameron 16 yards to cut the margin to 7-6 as Dennis Sellers' point after try was wide to the left.
Bengals
Sellers redeemed himself only after Westover shanked a three-yard punt off the side of his foot, landing out of bound on the Massillon 32. Seven plays later, Sellers booted a 27-yarder through the uprights for a 9-7 lead with 46 seconds left in the half.
But Offenbecher, who completed only one of 11 passes in part time duty as a sophomore last season, bettered his 1976 totals with a pair of passes for 55 yards that took the Tigers to the Barberton five with three seconds remaining.
But Westover's 22-yard three point attempt was blocked and things remained as status quo.
In the second half, the Tigers advanced as far as the Barberton 38-yard line with 5:10 left when Offenbecher hit Curtis Strawder with a 10-yard pass reception. Hit hard, Strawder caughed up the football and it was covered by Booker Webb at the 38.
Massillon got a final opportunity with 2:35 remaining starting at its own 14.
Three completions by Offenbecher moved the ball to the Tigers' 47. But on the third completion Grove fumbled and Karl Niehaus fell on the pigskin to douse the Tigers' hopes of avoiding a second straight season-opening loss.
"The breaks weren't with us tonight," Currence remarked. "We had a call go against us on the pass to Strawder.
"It touched big hands twice, but the officials called it a fumble."
Currence noted that the failure of the Tigers' kicking game and pointed out the pregame loss of Mark Pringle affected the Tigers, "Although we should have had enough depth to fill in."
"You have to give Barberton credit-they hit us and hit us again." Currence stated. "We just got the jitters out there."
Did the Tigers sustain any other injuries that would affect next week's home game against Granaha Lincoln?
"Yes, our feelings are hurt," Currence said solemnly. "We'll have trouble trouble coming back next week,"
Tigers, Magics lineups
TIGERS
Offense
Quarterback: 14 Brent Offenbecher (Jr, 6 0, 167);
fullback: 28 Richard Cleveland (Jr., 5 11, 185);
halfbacks: 44 Mike Grove (Sr., 5 9, 175), 33 Greg Carpenter (Sr., 6 0, 208), 45 Jeff Beitel (Jr., 5 7, 150);
ends: 20 Mark Pringle (Sr., 6 1, 182 ), 86 Bob Grizzard (Sr., 5 5, 150), 80 Curtis Strawder (Jr., 5 10, 147), 87 Eric Clendening (Sr., 5 10, 174);
tackles: 75 Tim Daniels (Sr., 6 8, 260), 78 Mark Namany (Sr., 6 4, 210), 73 Bob Kovacsiss (Sr., 5 11, 246);
guards: 65 Bob Berquist (Sr., 5 10, 195), 61 Toby Leonard (Sr., 5 8, 183);
center 50 Dick Lutz (Sr., 6 1, 212).
Defense
Ends: 85 David Engler (Sr., 5 9, 190), 52 Frank Sweterlitsch (Sr., 6 1, 193);
Tackles: 68 Tony Matie (Sr., 6 1, 218), 39 Jerry Shafrath (Sr., 6 1, 214);
Middle guard: 59 Carl Dorsey (Sr., 5 10, 192);
Linebackers: 62 Kurt Walterhouse (Sr., 5 11, 187), 47 Steve Dottavio (Sr., 5 9, 212);
monster back: 27 John Letcavits (Sr., 6 1, 172);
safety: 21 Marc Longshore (Sr., 6 1, 182);
halfbacks: 22 Mike Hickey (Sr., 5 10, 171), 11 Darren Longshore (Jr., 6 0, 165)
Kicker; 15 Mark Westover (Sr., 6 1, 218).
MAGICS
Offense
Quarterbacks: 7 Jeff Finley (Jr., 5 10, 168);
fullback: 42 Ron Gable (Jr., 5 10, 198);
Wingback: 48 Terry Cameron (Sr., 6 2, 167);
Tailback: 47 Larry Ricks (Jr., 5 10, 190);
Ends: 25 Dave Peters (Jr., 5 11, 158), 1 Booker Webb (Jr., 5 8, 144), 84 Brian Sutton (Jr., 6 0, 178);
tackles: 51 Tim Phillips (Sr., 6 2, 210), 74 Chuck Rowland (Sr., 6 6, 260);
guards: 69 Gary Bradford (Jr., 5 10, 172), 68 Joel Campbell (Sr., 6 1, 178), 67 Mark Friedman (Jr., 5 10, 185);
center: 50 Dan Ozbolt (Jr., 5 11, 182).
Defense
Ends: 44 Dave Wood (Sr., 5 11, 174), 80 Bob Genet (Jr., 5 11, 174);
tackles: 72 Mike Jones (Jr., 6 0, 205), 71 Bob Hill (Sr., 6 2, 197);
middle guard: 96 Robert Delaney (Sr., 5 8, 156);
linebackers: 61 Dan Baker (Jr., 5 11, 174) 43 Karl Niehaus (Sr., 6 2, 195);
free safety: 1 Webb;
strong safety: 48 Cameron;
defensive halfbacks: 37 Marcus McKinnie (Sr., 6 2, 182), 22 Tim Scott (Sr., 5 10, 158).
Kickers: 88 Dennis Sellers (Sr., 6 2, 195), 47 Ricks, 89 Ken Bates (Sr., 6 2, 182).
Series
33rd meeting, Massillon holds series edge with 26-5-1 record.