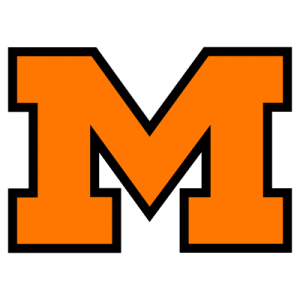 Tigers clinch AAC title with 14-0 victory
By CHUCK HESS, JR.
Independent Sports Editor
"The Jaybird" flew, the "Tiger Claw Defense" growled and Washington High School got its seventh straight victory and clinched the All-American Conference title Friday night at Mt. Union Stadium in Alliance.
But the Tigers 14-0 win was like all the other ones this year for head Coach Mike Currence – as hard to come by as a Republican winner in Massachusetts.
AN ESTIMATED 10,500 fans, largest turnout this year at Alliance, viewed the game.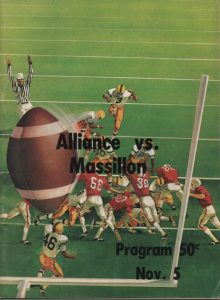 The Orange and Black broke a scoreless deadlock in the third period via two touchdowns by halfback Jay Harper, running out of the "robust T", and a pair of conversions by Mike Hardwick.
Harper gained 104 yards in that period on seven carries, losing only four yards. His other attempt was a two-yarder in the first quarter.
The Aviators didn't help the situation, throwing a very stingy defense at the Tigers. Andre Royster receiver a lower leg injury early in the second quarter. This not only deprived Alliance head Coach Julius Tonges of an excellent linebacker but also of a flanker – a key factor.
Alliance had a 63-46 edge in number of plays run and almost had the ball seven minutes longer than Massillon, but the "Tiger Claw Defense" was equal to the task. The furthest penetration by the Aviators was to the Massillon five-yard line on a 29-yard drive in the first quarter after Don Johnson had recovered Mike Grove's fumble on the Massillon 34. Alliance lost the ball on downs when a pass was overthrown out of the end zone.
THE AVIATORS penetrated Massillon territory four times in the first half and two times after the intermission. Randy Lash intercepted an Alliance pass on the Massillon 15 in the second period to abort Aviator scoring plans.
The Aviators kept throwing halfback Rich Scott (23 carries, 72 yards, 9 lost) at the Tigers via dive plays. That gets mighty hard to halt. If a team keeps banging away long enough, it's going to find a hole in the seam.
Massillon got into Alliance territory one time in the first half and three times in the second half.
An illegal receiver downfield cost the Tigers 15 yards from the Alliance 29 in the second period. The Orange and Black moved from the Aviators' 45 in the goodbye canto, after halting an Alliance drive on fourth down, to the Aviators' four but time ran out.
Reserve fullback Ken Nagle, filling in for the ailing Jerry Shafrath, in the "robust T", got off runs of 10 and 21 yards on the drive. But other than on those occasions Massillon got nowhere because defensive ends Steve Clunk and Phil Grove crashed in so well the Aviators shut off the Tigers' run and shoot offense and forced Currence to make the switch to the "robust T' in the third quarter.
THE TIGERS had gotten only four first downs – the same as Alliance – 42 yards rushing and nine passing in the first half. The Aviators chalked up 51 rushing and none passing.
Besides Harper, one other Tiger ate up a lot of real estate. Fullback Rich Cleveland carried seven times, picking up 54 yards with no losses.
But it was Harper who did it all defensively. The Tigers got the ball following a third period Alliance punt at the Aviators' 44. On second down "The Jaybird" took a pitch from quarterback Bret Traylor and raced 30 yards before being knocked out of bounds on the 14.
Grove picked up two yards on third down for a first down and Harper went the remaining four yards over guard with 2:30 left.
Alliance had one series, punted and Harper went off tackle for 61 yards for the second Tiger touchdown with 33 seconds remaining.
HARPER CAUSED some concern at one point when he got leg cramps and had to leave the game.
"We played another great second half," Currence said. "The defense did it again. The offense made the mistakes again. We have to get ourselves together for that big one against Canton McKinley next week. I've waited nine games for that one."
Currrence was more than impressed with the Alliance defense.
"I didn't think they would just shove us right back into the end zone," said Currence. "If the fans weren't back there, we would have gone through the stands. I went in during a timeout and said, 'Fellows there's a fence here. They can't shove us any further.'"
Currence also took a timeout in the second quarter on fourth down when Mark Westover, who missed practice all week due to flu, was forced to punt from the end zone.
"ALLIANCE HAS blocked four punts for touchdowns this year," Currence said. "I went in and told them (Massillon), 'this is the most crucial play of the game. If you don't get this punt off it could mean the ball game.'"
Tonges explained that Royster, a flanker, was missed offensively and also when adjustments were made to try to stop the Tigers (when Massillon switched offenses in the third quarter). But "Juice" was happy that his defense took away the "bread and butter stuff from a fine team."
Alliance was forced to go to its passing game when it got behind 14-0 and Tonges agreed that's not the Aviator's strong suit.
"I'm not ashamed of our kids, we battled and I think they hit as hard as any football team around," Tonges said.
Massillon advanced to 7-2 and Alliance dropped to 5-4.
Alliance – 0
Ends – S. Clunk, Grove, Jae, Kemp, Debee, Zelasko, Blair.
Tackles – D. Clunk, Schenk, Johnson, Oesch.
Guards – Baker, Felger, Hamilton, Betz, Evans.
Centers – Mick, Dailey.
Quarterback – Andreani.
Halfbacks – Scott, Love, McCray, Royster, Gailey, Mulholland, Gemberling.
Kicker – Hancock.
Punter – Minger.
Massillon – 14
Ends – Engler, Sweterlitsch, Chovan, Pringle, B. Grizzard, Clendening, Furnas.
Tackles – Toles, Matie, Daniels, Tournay, Dennison, DeOrio, Namanny, Stuck, Kovacsiss.
Guards – Lauber, Hauser, Berquist, Baus, Jones.
Centers – Ramsey, Lutz.
Quarterbacks – Traylor, Offenbecher.
Halfbacks – Harper, Grove, Carpenter, Popovich.
Fullbacks – Cleveland, Nagle.
Middle guard – Dorsey.
Linebackers – Walterhouse, Dottavio, Border.
Defensive halfbacks – Henderson, Jones, A .Grizzard, Lash, M. Longshore, Whitlock, Letcavits, Wilkerson, Gowins.
Kickers – Hardwick, Laase.
Punter – Westover.
GRIDSTICK
M A
First downs rushing 8 4
First downs passing 1 3
First downs penalties 2 1
Total first downs 11 8
Yards gained rushing 247 100
Yards lost rushing 67 11
Net yards gained rushing 180 89
Net yards gained passing 9 50
Total yards gained 189 139
Passes completed 1-8 14-19
Passes intercepted by 1 0
Yardage on passes intercepted 18 0
Kickoff average (yards) 3-48.7 1-39.0
Kickoff returns (yards) 18 40
Punt average (yards) 7-28.7 8-23.3
Punt returns (yards) 35 21
Had punts blocked 0 0
Fumbles 2-1 0
Yards penalized 5-50 7-75
Touchdowns rushing 2 0
Total number of plays 46 63
Total time of possession 20:49 27:11