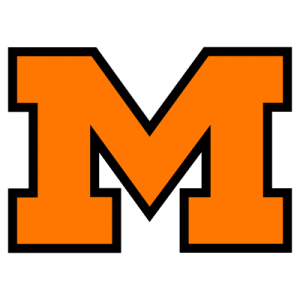 Tigers 'not there yet' despite 21-0 victory
By CHUCK HESS, JR.
Independent Sports Editor
"We aren't championship caliber yet," said Mike Currence.
"We played sloppy football," said Rudy Sharkey.
THOSE STATEMENTS by the head coaches of the Massillon Tigers and Barberton Magics summed up Friday's Parents' Night game at Paul Brown Tiger Stadium in which the Tigers shut out the Magics 21-0 in a non-league game.
A crowd of 10,234 watched the Orange and Black roll to their fifth straight victory after losing their first two games. They also saw the Obiemen hang up their second straight shutout.
Barberton dropped to 3-4.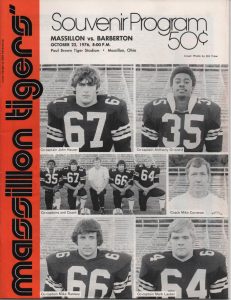 Currence had said earlier this week that his defenders had to get the ball for the offense. They picked off four of Barberton's eight fumbles, setting up there touchdowns. Junior linebacker Steve Dottavio, substituting for senior Gary Border who is out with a broken arm, grabbed off two bobbles. Senior defensive end Bob Furnas got the other.
Junior monster back Kevin Gowins, with the reserve in late in the fourth quarter, picked up the final Barberton fumble at the Tigers' 31-yard line to stave off Barberton's last threat. So good was the Massillon defense that the Magics did get past their 45-yard line in the first half and were stopped at the Tigers' 30 and 43 in the second half by pass interceptions by halfbacks Randy Lash, a senior and Mike Hickey, a junior.
Barberton also had the misfortune to be stymied by 70 yards in penalties and some unfortunate punting by junior Tom Thomas, subbing for senior Rick Donnelly who received a leg injury against Akron Hoban last week.
THE TIGER offense went back to its old tricks, getting into Barberton territory 10 times, but scoring only three times. Barberton senior halfback Bill Rackley intercepted a third quarter pass at his own 10 and a fourth quarter pass at his own 15.
Senior tackle Bob Hill picked up a Tiger first quarter fumble at the Barberton 12.
Mike Hardwick was wide left with a 22-yard field goal attempt in the second quarter after the Tigers had a fourth and one on the Barberton nine but were called for encroachment.
"We still don't have the ability to put somebody down and put them down quick," Currence said. "You have to have great poise to do that. When we got ahead and let up, they were good enough to come back on us."
Currence thought his defensive ends, juniors Frank Sweterlitsch, Dave Engler and Furnas, who filled in for Engler after he re-injured his ankle in the third quarter, did great.
"BARBERTON RUNS the outside option well and those three boys did a great job," Currence said.
Currence said Barberton completely surprised him. The Magics used a 4-4 defense instead of their 5-2. Barberton used the "I" and split backs more than the "Y" or inverted wishbone.
"Rudy Sharkey gave us fits," Currence said. "You just don't beat a coach like that by an awesome score. Barberton has a good young club. We'll meet them in the opener next year at the Rubber Bowl."
The Tigers' first touchdown came after Dottavio's recovery at the Barberton 47 in the second quarter. Senior quarterback Bret Traylor ran for 15, 12 and five yards – the last, the scoring jaunt, coming after a 15-yard defensive pass interference call.
Hardwick kicked the conversion with 49 seconds showing on the clock.
DOTTAVIO GOT his second fumble recovery in the third quarter at the Barberton 25. Traylor was thrown for a 12-yard loss on the next play and injured. Sophomore quarterback Brent Offenbecher then came in and hit junior end Mark Pringle with a
37-yard pass for the score.
Hardwick kicked the conversion with 10:52 showing on the clock.
Furnas recovered a fumble on the Magics' 19 in the fourth quarter. Five plays later sophomore fullback Rich Cleveland bulled over from the one.
Hardwick kicked the conversion with 7:04 showing on the clock.
In reviewing the game, Sharkey said his team has been inconsistent this year.
"There have been nights when we played super football but tonight wasn't one of them," he said. "A lot of our problems started when we lost our punter last week. Our substitute kicker Thomas kicked 55-yard and 38-yard punts last week. He came into the game tonight and there was one time he didn't make the stick. That was the beginning of the end."
SHARKEY WAS concerned that his offense put his defense into the hole time after time and pointed out you can only do that so often.
"Defensively our kids played well," he said.
He explained his changes in offense and defense as put in to try to get something going for his team.
One bright light for the Magics was junior tailback Terry Cameron who netted 102 yards in 18 tries, losing only one yard. Cleveland netted 67, losing five, in 12 carries for Massillon.
BARBERTON – 0
Ends – Bates, Smith, Gamier, Peters, Sharkey, Bizach, Niehaus.
Tackles – Coher, Garren, Roland, Jones, Bob Hill, Hutchison, Watkins.
Guards – DeAngelis, Campbell, Bill Hill.
Center – Canale.
Quarterbacks – Finley, Karalic.
Halfbacks – Huffman, L. Ricks, Rackley, Gable, Hymes, F. Tivkd, McKinnie, White, Chastain, Bowman, Henderson, Robertson, Hepfl.
Tailback – Cameron.
Punter – Thomas.
MASSILLON – 21
Ends – Engler, Sweterlitsch, Furnas, Pringle, Chovan, Clendening, Grizzard.
Tackles – Tournay, Namanny, Stuck, Daniels, Toles, Kovacsiss, Dennison, Matie, Brown, DeOrio.
Guards – Lauber, Hauser, Baus, Berquist, Jones, Keller, Edel.
Centers – Ramsey, Lutz, Englehardt.
Quarterbacks – Traylor, Offenbecher.
Halfbacks – Harper, Grove, Carpenter.
Fullbacks – Cleveland, Shafrath, Nagle.
Middle guards – Dorsey, Holman.
Linebackers – Walterhouse, Dottavio, Sweterlitsch, Wilson, Sowards.
Defensive halfbacks – Grizzard, Hickey, Letcavits, Lash, Jones, Henderson, Phillips, Gowins.
Punter – Westover.
Kicker – Hardwick.
Barberton 0 0 0 0 0
Massillon 0 7 7 7 21
SCORING SUMMARY
M – Bret Traylor, 5 run (Hardwick kick);
M – Mark Pringle, 37 pass from Brent Offenbecher (Hardwick kick);
M – Rich Cleveland, 1 run (Hardwick kick).
OFFICIALS
Referee – Chuck Hinkle.
Umpire – Jim McNally.
Head Linesman – Bill Kulich.
Field Judge – Ken Newton.
Back Judge – Ron Bennington.
ATTENDANCE – 10,234.
GRIDSTICK
M B
First downs rushing 10 7
First downs passing 3 1
First downs penalties 1 1
Total first downs 14 9
Yards gained rushing 212 159
Yards lost rushing 57 30
Net yards gained rushing 155 129
Net yards gained passing 85 33
Total yards gained 240 162
Passes completed 3-15 2-10
Passes intercepted by 2 3
Yardage on passes intercepted 9 42
Kickoff average (yards) 4-39.3 1-32.0
Kickoff returns (yards) 12 25
Punt average (yards) 3-26.3 5-25.0
Punt returns (yards) 0 0
Had punts blocked 0 0
Fumbles 3-1 8-4
Yards penalized 4-30 7-70
Touchdowns rushing 2 1
Touchdowns passing 1 0
Total number of plays 61 51
Total time of possession 24:37 13:23