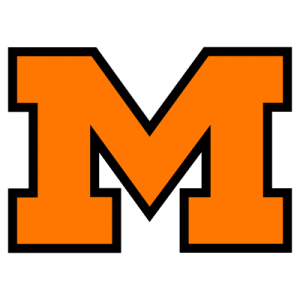 Currence warns: beware of Big Red
By CHUCK HESS, JR.
Independent Sports Editor
Mike Currence gave Tigertown a warning.
"The best Steubenville team in many years will be coming here tonight," Washington High School's popular football skipper said.
A crowd of about 10,000 is expected to watch the Big Red (4-1, 1-0) and the Tigers
(3-2, 1-0) battled in an All-American Conference game at Paul Brown Tiger Stadium. Plenty of good tickets are still available, according to WHS ticket officials. Windows at the stadium will open at 6:30.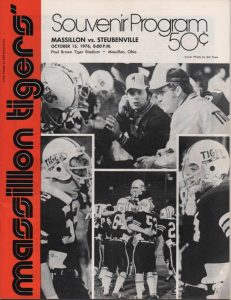 ALSO IN action tonight will be Alliance (4-1, 1-0), tied with the Tigers and Big Red for first, hosting Warren (3-2, 0-1). Canton McKinley (2-3, 0-1) will be at Niles McKinley
(4-1, 0-1) on Saturday night.
When told that the Steubers haven't scored on the Tigers in seven of the last eight games, Currence replied, "That's very unusual. I think this Steubenville team is going to be a different kind of a ball club."
The last time the Big Red came here 4-1 was in 1974. Last year they were 3-2. Both times Massillon won.
The 1972 team came in 5-0 but the Tigers won 12-0.
"Steubenville was seventh ranked this week in the Associated Press Poll," Currence said. "This is another in a series of high ranked teams coming in – the fourth in six weeks.
The Big Red was not ranked in the Top Ten in the Ohio High School Athletic Association's Region 3 computer poll released Thursday. Massillon was in the 10th spot.
"THE STRENGTH of the Big Red is their defense," Currence said. "They have eight players returning. In one film I watched their defense get a touchdown. They literally took the ball away and scored."
"Bill Bohren has put a lot of his good kids on defense and plays three kid both ways. We're hitting a year when everybody has a lot of players back."
Currence picked middle guard Darrell Soloman (5-9, 205), linebacker Dave Medich
(6-2, 225), tackle Mark Fahey (6-1, 230) and end Tony Zatta (6-0, 190), all seniors, as the toughies.
The key to stopping the offense appears to be halting junior fullback Bob Rush (5-11, 175), the AAC's leading ground gainer.
"He is very quick in hitting the holes and he does well on the quick pitch," Currence said. "I watched him on film tear Youngstown North apart. He's like Cleveland Benedictine's Bob Conwell."
CONWELL AVERAGED 2.4 yards, picking up 77. Rush has averaged 5.2 yards, picking up 516.
"Steubenville has not thrown much – only 19 times – Currence expects the Big Red to put the ball into the sky only if they are forced to. Power control is their game.
"They have some good play action passes and the quarterback (Sam Baldwin) puts the ball right on receivers' chests," Currence said. "They have dropped some good passes."
But the Tigers have worked hard on pass defense this week because of misreading tendencies that have shown up. The skipper doesn't want to get beat by one pass thrown at the right time.
The specialty teams have come in for some hard work too.
"I WAS disappointed with those units last week," he said. "They weren't real sharp and ready to field the ball."
One change will be made in the Tigers' starting defensive alignment. Junior Tony Matie (6-0, 210) will get his chance because of an outstanding performance against Cleveland Benedictine last week.
At stake in this game is the Mayor's Bucket Trophy. If the Tigers win, the prize will stay here because the Orange and Black will have won it three straight times.
Tigers beat Big Red 10-0
for first shutout
By CHUCK HESS, JR.
Independent Sports Editor
To borrow a trick of the old TV show, "The Wild, Wild, West," it was "The Night of the Pass" Friday at Paul Brown Tiger Stadium.
Before 13,891 fans, the largest crowd to see the Tigers play this season, the Tigers combined their best passing performance with a sixth straight week of outstanding defense and downed the Steubenville Big Red 10-0.
THE WIN gave the Tigers undisputed possession of first place in the All-American Conference with a 2-0 mark. Alliance's loss to Warren Harding Friday night gave the Aviators, Black Panthers and Steubenville 1-1 marks. Canton McKinley and Niles McKinley, both with 0-1 slates, play at Niles tonight.
Friday's win was the fourth straight for Washington High School after the Orange and Black lost its first two games. Steubenville dropped to 4-2, had a two-game win streak scissored and was shut out for the first time this season.
Tiger quarterback Bret Traylor, improving with every game, completed nine of 16 passes – his best effort – for 117 yards. One went for an 11-yard first quarter touchdown to end Bob Grizzard.
The Tigers rushed for 100 yards against a huge Steubenville defense.
The "Tiger Claw Defense" meanwhile held the Big Red to 76 yards on the ground and 54 in the air. Steubenville quarterback Sam Baldwin was able to complete only two of eight attempts as the Big Red lost their seventh straight game to the Tigers and their 12th in the last 13 years.
The 1969 contest, played at Steubenville, ended in a scoreless deadlock.
BY WINNING Friday night, the Tigers retired the Mayor's Bucket Trophy with three wins.
Even though the Orange and Black's passing game was a key to winning, Coach Mike Currence was not ecstatic about it. He was, however, very pleased again with the "Tiger Claw Defense."
"It was the best passing we've done, but we dropped some we should have caught," Currence said. "When Bret (Traylor) gets the ball to them, the least they ought to do is catch it. And then when we caught it we fell down with it. The kids could have walked into the end zone a couple of times."
Because Steubenville was giving the Tigers the perimeter game and preventing them from running there, Currrence felt the game would have been a lot closer had the passing side of it not gone as well as it did.
About the defense, Currence enthused, "It was great! It was the best we've played! I thought they put some pressure on us from the ends."
CURRENCE WAS unhappy that the Tigers had drives stopped at the Steubenville 30, 32 and nine-yard lines.
"I don't know whether they tightened up or we didn't execute," Currence said. "We'll have to analyze it and see what happened."
On a second quarter drive which was cut short, Steubenville linebacker John Adams batted down a fourth down pass intended for halfback Mike Grove, thus negating a 44-yard pass-run from Traylor to end Mark Pringle.
On an aborted third quarter drive 12 and 16-yard Traylor to Grove pass-run went out the window. And then Traylor was tossed for a one-yard loss on fourth and one.
In the fourth quarter a 35-yard Traylor to Grove pass-run went down the drain when Traylor was thrown for a five-yard loss on fourth and eight. The first drive followed a touchback from a punt, the second, a Steubenville fourth down try which was short by inches, and the third a punt.
THE TIGERS' only touchdown came with 4:26 left in the first quarter and was their first welcome canto score of the season. Steubenville was called for roughing Westover on his third down punt from the end zone. The Tigers rolled for 82 yards after the 15-yard penalty for the score and Mike Hardwick booted the conversion.
A 27-yard Traylor to Grove pass-run, with Grove running 19 yards and a 25-yard Traylor to Jay Harper pass-run, with "The Jaybird" flying 23 of those yards, were keys in the drive as was Rich Cleveland's 11-yard run.
"My player told me we had a piece of that punted ball," said Steubenville Coach Bill Bohren. "Therefore, it's not roughing."
The Tigers got what Currence called a big break on the drive which resulted in a field goal. Steubenville punter Steve Michalak kicked from his end zone, Tiger halfback Anthony Grizzard muffed the ball and the Big Red's Bernard Stevenson recovered it on his 39.
But back judge Bill Kalapodis inadvertently blew his whistle. By a rule change this year the ball had to go back to the previous spot for a re-kick.
"I KNEW he had blown the whistle and he wasn't going to call it but the other guy heard it," Currence said.
Bohren said, "It took the ball away from us and gave it to Massillon on our 30."
On the second punt Grizzard made a fair catch and seven plays later Hardwick kicked his 20-yard field goal from an angle to the right with 10:10 left. Cleveland's eight-yard run and Grove's 13-yarder helped set the boot up.
Steubenville threatened twice in the second stanza, the first time going 52 yards following Randy Laase's kickoff. Tweetie Brown ran back 15 yards and quarterback Sam Baldwin and end Dan Constantini added a 44-yard pass-run to the effort.
Dave Medich tried a 41-yard field goal kick. It fell short.
Defensive end Tony Zatta blocked Westover's punt from the Massillon 31 later in the period. Bohren wanted to try a field goal with time running out but Medich broke a shoe lace, the Big Red was out of time outs and Baldwin was unable to throw the ball out of bounds off a sprint to stop the clock.
THE BIG Red got to the Tigers' 32 in the third quarter but tailback Billy Ware failed, by inches, to make three yards on fourth down.
"He tried an option and got ahead of the stick but they brought the ball back," Bohren said. "He got knocked down parallel to the line of scrimmage."
Currrence said, "I thought he hit and bounced ahead."
After a punt late in the fourth quarter Steubenville started a drive which was aborted when Randy Lash intercepted a pass and ran back 29 yards to the Massillon 49. The Tigers got to the Big Red 31 before the clock ran out.
Bohren thought his Steubenville team played well enough on defense to win but did not play well enough offensively.
Steubenville fullback Bob Rush, the leading ball carrier in the All-American Conference, was held to 67 yards in 16 carries, his third lowest total of the season. Massillon's Rich Cleveland, the No. 2 man, was held to 42 yards in 15 carries, his lowest total.
STEUBENVILLE – 0
Ends – Kline, Edwards, Sweeney, James, Constantini, Lockett, Andresen, Hays.
Tackles – Medich, Michalak, Fahey.
Guards – Adams, Becker, Zada.
Center – Barrett.
Quarterback – Baldwin.
Halfbacks – Ware, L. Brown, T. Brown, Thorn, Stevenson.
Fullback – Rush.
Middle guard – Solomon.
Defensive halfbacks – McKinney, Talamine, Hicks, Mavromatis, DeFrank, Sierawaski.
Kick holder – Bryan.
MASSILLON – 10
Ends – Clendening, B. Grizzard, Pringle, Chovan, Engler, Sweterlitsch.
Tackles – Laase, Toles, Matie, Dennison, Kovacsiss, Baughman, Namanny, Tournay, Daniels.
Guards – Hauser, Lauber, Berquist, Baus.
Center – Ramsey, Lutz.
Quarterbacs – Traylor, Offenbecher.
Halfbacks – Grove, Harper, Carpenter.
Fullbacks – Cleveland, Nagle.
Middle guard – Dorsey.
Linebackers – Border, Walterhouse.
Defensive halfbacks – Grizzard, Jones, Lash, Letcavits, Henderson, Nagle.
Kicker – Hardwick.
Punter – Westover.
Steubenville 0 0 0 0 0
Massillon 7 3 0 0 10
SCORING SUMMARY
M – Bob Grizzard, 11 pass from Bret Traylor (Mike Hardwick kick);
M – Hardwick, 20 field goal.
OFFICIALS
Referee – Al Francesconi.
Umpire – Nick Frascella.
Head Linesman – Milo Lukity.
Field Judge – Frank Wahl.
Back Judge – Bill Kalapodis.
ATTENDANCE – 13,891.
GRIDSTICK
M S
First downs rushing 5 6
First downs passing 7 1
First downs penalties 1 2
Total first downs 13 9
Yards gained rushing 128 121
Yards lost rushing 28 45
Net yards gained rushing 100 76
Net yards gained passing 177 54
Total yards gained 277 130
Passes completed 9-16 2-8
Passes intercepted by 1 0
Yards on passes Intercepted 31 0
Kickoff average (yards) 3-42.3 1-40.0
Kickoff returns (yards) 0 49
Punt average (yards) 2-39.0 4-31.0
Punt returns (yards) 1 0
Had punts blocked 1 0
Fumbles 2-5 5-1
Yards penalized 4-47 6-43
Touchdowns passing 1 0
Total number of plays 52 56
Total time of possession 20:27 27:33