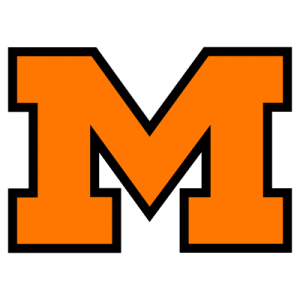 Second half key as Tigers win 18-3
By CHUCK HESS, JR.
Independent Sports Editor
If maestro Mike Currence can get the Tiger offense to stop throwing in those discords, the Orange and Black's victory song will sound much sweeter.
On Friday for the third time in five weeks, the Washington High School team was behind at half time. The Tigers came roaring back on the ground and in the air at Paul Brown Tiger Stadium to claim an 18-3 victory over traditionally tough Cleveland Benedictine before 9,800 homecoming fans.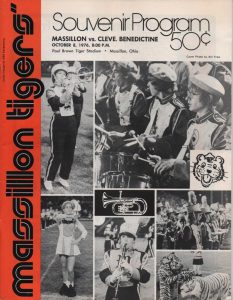 IT WAS the third straight win for the 3-2 Tigers. Benedictine dropped to 2-2-1.
The Tigers squandered away two scoring opportunities in the first half while the Massillon and Benedictine defenses hammered away at each other. As a result, both teams were bottled up in their own territory. Massillon punted six times, Benedictine five.
But quarterback Bret Traylor scored twice and fullback Rich Cleveland once in the second half to assure a Tiger victory. For the second consecutive week Traylor did some fine passing and running to aid the Orange and Black's offensive cause.
Cleveland gained 71 yards without a loss in 11 carries, but for the first time in three weeks failed to pass the century mark. The tenacious Benedictine defense was the reason.
Traylor and fullback Jerry Shafrath didn't get together on a second period handoff at the Benedictine 27-yard line. Guard Steve Tanner recovered on the 32 and Traylor's 16-yard run and Cleveland's 15-yard effort went down the drain.
Halfback Mike Grove caught a Traylor pass on the Benedictine 20 in the first quarter and scored but a clipping penalty crossed it off the book and two plays later the Obiemen were forced to punt.
Halfback Jay Harper and Traylor had combined for a 33-yard pass-run effort on the aborted drive. Harper almost went the distance but was knocked out of bounds by halfback John DiPaola on the Benedictine 25.
TRAYLOR HAD some more trouble in the third period when halfback Ron Manning intercepted his pass at the Benedictine nine but the Bennies, still suffering from poor field position because of great Tiger defensive work, were forced to punt from their 16.
The Tigers took over on the Benedictine 43, Traylor hit Grove with a 14-yarder and the Orange and Black were off on their first touchdown jaunt. Harper and Traylor combined on a 26-yard pass-run and Traylor charged in from the one with 4:56 left. Mike Hardwick's conversion kick went under the crossbar.
Anthony Grizzard came up with another of his great punt runbacks (21 yards) at the start of the fourth quarter and in five plays the Currencemen had scored again. Rich Chovan grabbed a Traylor pass for 15 yards, Harper ran for 15 and Traylor skirted end for a 38-yard TD with 9:15 left.
But Chovan couldn't hang on to Traylor's conversion pass.
THE TIGERS drove from their 27 in five plays after a punt for their final score. End Mark Pringle and Traylor combined talents for a 46-yarder, Grove caught an eight-yarder and Cleveland, the sophomore running sensation, went the remaining distance (seven yards) with 4:58 left.
Grove's conversion run was short.
Benedictine's 25-yard field goal by junior Fran Szocs came after a second quarter punt. Terry Modzelewski returned for 10 yards to the Massillon 46, halfback Bob Conwell, who netted 77 yards in 17 carries, picked up 32 yards in two carries on the scoring drive and Szocs kicked on fourth down with 8:28 left.
"We decided at halftime that we would have to throw to beat Benedictine," said Currence. "They're just too big and strong. Their pursuit was great. That's Augie and that 6-1 defense. That middle linebacker, Richard Saunders, was tough."
Currence said that it was also determined at halftime that the Tiger defense would have to turn things around aggressively if they were going to win.
"IT TAKES a little bit of success offensively for our boys to get rolling," Currence said. "It's taken Traylor a little longer to read the opponent's defense. There's so many options off of our defense."
Currence saluted Frank Thomas, Jim Letcavits, Gary Wells and Dale Walterhouse for a terrific job of coaching the defense this year. Besides the usual work of linebacker Kurt Walterhouse, tackle Jesse Toles, middle guard Carl Dorsey, monster back Grizzard, and junior tackle Tony Matie did an outstanding job as Currence gave more players a chance to participate.
"Benedictine blockers let us go the way they wanted us to go and then the back went the opposite way," Currence said. "Their tackles are so big we couldn't see. Steve Tanner is very tough. The Bennies hurt us on their quick drive."
Currence said for a Class AA school, Benedictine is one of the toughest teams the Tigers have played.
"It was hard because we had poor field position," said Benedictine chief Augie Bossu. "At times we moved the ball good but we had the good play to make and maybe were afraid to go for the big one. We also had to play catch-up ball after awhile."
Augie thought the right side of his offensive line did a great job of blocking for Conwell. "We had a good defensive effort," Bossu said. "It's hard covering the run and shoot sideline to sideline."
BOSSU POINTED out that when Grizzard was brought to the middle of the defense the Benedictine backs didn't pick him up.
"We went up against an excellent ball club tonight," Bossu said.
MASSILLON – 18
Ends – Pringle, Chovan, Clendening, Sweterlitsch, A. Longshore, Engler.
Tackles – Tournay, Daniels, Laase, Toles, Namanny, Baughman, Kovacsiss, Dennison, Matie.
Guards – Hauser; Lauber, Berquist.
Center – Mike Ramsey.
Quarterback – Traylor, Offenbecher.
Halfbacks – Harper, Grove, Carpenter, Hickey, Popovich.
Fullbacks – Cleveland, Shafrath, Nagle.
Middle guard – Dorsey.
Linebackers – Border, Walterhouse.
Defensive halfbacks – Grizzard, Lash, Henderson, Jones, Letcavits.
Punter – Westover.
Place kicker – Hardwick.
BENEDICTINE – 3
Ends – Washington, Kovogsek, Few, Germano, Peterson, Kniola.
Tackles – Tomba, Tanner, Tomba, Huedash, Dieninger.
Guards – C. St. John, DiPetro, Dillard, Medovic, O'Neil, Armelli.
Center – Martinez.
Quarterback – Georgenson.
Halfbacks – Conwell, Clayton, Marino, Manning, DiPaola.
Flankers – Modzelewski, Germano.
Middle linebacker – Saunders.
Kicker – Szocs.
Benedictine 0 3 0 0 3
Massillon 0 0 6 12 18
SCORING SUMMARY
B – Frank Szocs, 25 field goal;
M – John Traylor, 1 run (kick failed);
M – Traylor, 38 run (pass failed);
M – Rich Cleveland, 7 run (run failed).
OFFICIALS
Referee – Steve Nagy.
Umpire – Chuck Hinkle.
Head Linesman – Tom Cleman.
Field Judge – Bob Hipple.
Back Judge – Don Fowler.
ATTENDANCE – 9,800.
GRIDSTICK
M B
First downs rushing 5 4
First downs passing 6 6
First downs penalties 0 0
Total first downs 11 10
Yards gained rushing 203 106
Yards lost rushing 34 50
Net yards gained rushing 169 56
Net yards gained passing 145 105
Total yards gained 314 161
Passes completed 6-17 9-23
Passes intercepted by 1 2
Yards on passes Intercepted 30 17
Kickoff average (yards) 4-47 2-45
Kickoff returns (yards) 34 24
Punt average (yards) 3-34 9-39
Punt returns (yards) 48 7
Had punts blocked 0 0
Fumbles 2-1 4-2
Yards penalized 5-43 5-35
Touchdowns rushing 3 0
Total number of plays 60 66
Total time of possession 26:30 21:30