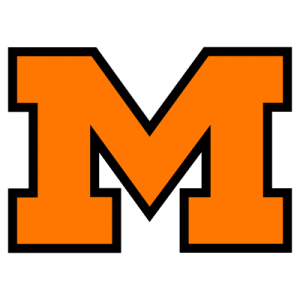 Tigers beat stubborn LaSalle 14-6
By CHUCK HESS, JR.
Independent Sports Editor
Our Tigers would prefer it like zipping along in a schooner in front of a brisk breeze instead of like walking through a freshly plowed field in gum boots, but it seems like the Washington high team's victories are meant to come the hard way.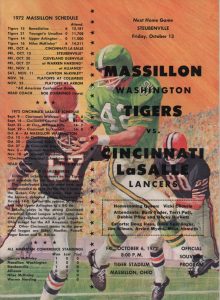 THE OBIEMEN battled a very hard-hitting Cincinnati LaSalle team before a Homecoming crowd of 10,675 Friday night at rainy Tiger stadium for a 14-6 Homecoming victory. It was their fifth win of the season without defeat while Cincinnati LaSalle lost its first in five outings.
The problem is that the Tigers can't get their passing attack going to give the ground game some relief. Senior halfback Tom Hannon missed 100 yards for the first time this season but netted 98 in 17 carries.
The offense netted 211 yards with fine backup support from senior fullback Alex Wood and senior right half Terry Edwards. The defense held LaSalle to minus two yards on the ground to continue its sensational pace, but Tiger receivers just couldn't hang onto the ball.
Senior Quarterback Kevin Westover completed six of 13, but several more should have been held onto.
"We threw on first down, second down and third down," said a dejected Coach Bob Commings, "but we just aren't catching the ball. We'll just go back to work Monday and try to put it all together."
Westover was given the chance to end with a good night.
"When we thought we had the game iced in the fourth quarter, we threw because we thought Kevin deserved this," Commings said. "I thought he was sensational."
* * *
JUNIOR split end Larry McCauley, senior tight end Dari Edwards, twin brother Terry and Wood caught tosses which took the Tigers to the LaSalle 15 but four yards short on fourth down.
It was then that passes of another nature got the Orange and Black into trouble as LaSalle senior quarterback Tim Rueve, senior end Don Hasselbeck (6-8, 220) and junior end Bob Jennings (6-3,188) combined their talents to help the Lancers score their only TD.
Five consecutive passes, including a 38-yard pass-run to Jennings, put the ball on the 15. Rueve hit Hasselback on a flag cut on the one on the next play for the TD with 1:06 left. But sophomore middle guard Greg Wood and junior tackle Erlo Lee hauled down Rueve to prevent a conversion.
LaSalle coach Steve Rasso had wanted to pass earlier in the game but could not because of being deep in his own territory throughout the first half.
"I didn't want to open up too soon and get a bad pass," he said. "We got confidence as we went along. We seemed a little shaky coming up on the flight and it was our first time up here. The Tigers stopped our running game. They were too quick."
HANNON SCORED both touchdowns for the Tigers, almost had two more and his second TD jaunt was as fine a second effort has been seen in the "House of Champions" in a long time.
"Tombo's" first TD came with 1:36 left in the second quarter – the Tiger have scored in the first only once this season. Hannon took off around right end from the eight with a pitch and then took one the other way – after a good cutback – to tally two more points.
The Orange and Black had taken over after a punt to the LaSalle 36 and Hannon's 12-yard return and scored in three plays with the help of an 18-yard pass down the center to Wood.
The Tigers' Dari Edwards had picked up a LaSalle fumble on the Lancer's 47 in the first quarter, but the Obiemen were stopped at the 14 when Terry Edwards dropped a pass on the five.
The WHSers had driven up field from their 25 in the second quarter only to have Hannon fumble and Tom Scheid recover at the LaSalle 16. Hannon had run the punt back 37 yards to the Lancers' 39 only to slip on the wet turf while apparently heading for a TD. A clipping penalty nullified his great effort.
Hannon's second joyous journey came with 15 seconds gone in the fourth quarter.
"Tombo" started around the left end with a pitchout, got hemmed in, reversed his field and came back to the near side of the field and outraced the out-of position defenders for a 33 yarder. He fumbled the ball on the conversion try.
It was on this drive that Hannon had a third quarter 36-yarder off right tackle called back on a holding penalty after Wood had decoyed through the middle on several plays.
The Tigers got into scoring position one more time after junior safety Charlie Swann intercepted on the LaSalle 42 and ran back to the 33, but J.J. McGuire fumbled and Scheid recovered on the 21 to start the Lancers' only TD drive.
"Massillon is the first team to really run on us from the 30 to the 30," Rasso said. "We knew we had to stop Hannon. On his second touchdown run our trailman wasn't on him."
Commings felt, "the only thing which disappointed me was the touchdown they scored. Other than that I thought we played a good game. That end (Hasselbeck) of theirs is an outstanding player.
LaSALLE – 6
Ends – Hasselbeck, Jennings, T. Scheid, Hemberger, O'Connell.
Tackles – LaFary, Schirmann, Flowers.
Guards – Albrink, S. Scheid, Poettker.
Center – Sander.
Quarterbacs – Rueve, McCarthy.
Halfbacks – J. Hess, Massa, Ware, Schroeck.
Fullback – Talkers.
Middle guards – Donohue.
Linebackers – Hock, Kern.
Defensive backs – Hamad, Arand, B. Hess, Baker, Grove.
MASSILLON – 14
Ends – McCauley, Bodiford, Sullivan, Rolland, D. Edwards, Bash.
Tackles – Geiser, Green, Csonka, Lee, Hauschulz.
Guards – Mayles, Guiffre, Keller, Graber.
Centers – Cocklin, Studer.
Quarterbacks – Westover, Muhlbach.
Halfbacks – Hannon, T. Edwards, Columbus Danzy, Dennis Gutshall, Jackson, Henderson.
Fullbacks – A. Wood, McGuire.
Middle guards – Balizet, G. Wood.
Linebackers — Ahlstrom, Bozzacco, T. Gutshall.
Defensive backs – Jackson, Muhlbach, Dan Gutshall, DiLoreto, Mayor, Christie, Swann, Charles Danzy.
LaSALLE 0 0 0 6 6
MASSILLON 0 8 0 6 14
SCORING SUMMARY
M – Hannon, 8 run (Hannon run);
M – Hannon, 33 run (run failed).
L – Hasselbeck, 15 pass-run from Rueve (run failed).
OFFICIALS
Referee – Fred Vicarel.
Umpire – Mario D'Alessandro.
Head Linesman – Henry Mastriann.
Field Judge – Art Cirelli.
Back Judge – Jack Werkowitz.
THE GRIDSTICK
M L
First downs, rushing 13 0
First downs, passing 4 6
Total first downs 17 6
Yards gained rushing 230 21
Yards lost rushing 19 23
Net yards gained, rushing 211 -2
Net yards gained, passing 82 131
Total yards gained 293 129
Passes completed 6-13 7-14
Passes intercepted by 1 0
Kickoff average (yards) 3-45.0 2-30.5
Kickoff returns (yards) 19 30
Punt average (yds.) 5-28.7 4-38.0
Punt returns (yuds.) 32 4
Fumbles (lost) 3(2) 2(1)
Yards penalized 5-60 4-22
Touchdowns rushing 2 0
Touchdowns passing 0 1
Total number of plays 65 42