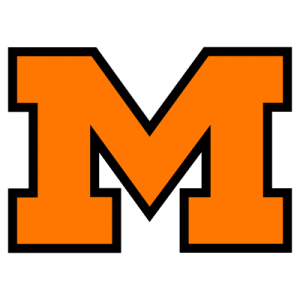 Mighty effort nets Tigers 14-0 win
By CHUCK HESS, JR.
Independent Sports Editor
The pop was warm and the chicken cold on the team buses after the game.
But who cared?!!!
* * *
STUDENT MANAGER Randy Russell was a little premature with his "State Champs" tie and so were the Tiger Swing bandsmen with their impromptu dance and shouts of "We're No. 1!" on the gridiron after the game.
But who cared?!!!
Tiger Booster club officials took Obie III with them. They still couldn't get the 100-pound live Tiger mascot into Arlington stadium.
But who cared?!!!
The team bus on which this reporter returned home was filled with songs and laughter so that you couldn't sleep.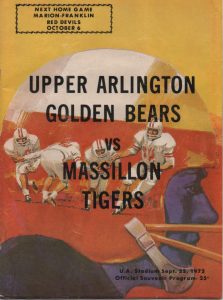 But who cared?!!!
* * *
THE MIGHTY Massillon Tigers (3-0) reached back and got that something extra that Tiger tradition has given to Washington high gridders and roared to a 14-0 win over host Upper Arlington (1-1-1) Friday night before over 11,000 standing-room-only fans.
Their first-ever invasion of central Ohio netted the Tigers a victory their fans had waited five long years for. Arlington had left Tiger stadium in 1967 with successive-year victories the third straight week.
He did not score a touchdown for the first time, but senior right halfback Terry Edwards took care of that chore, getting both TDs.
But Hannon – for the third consecutive week carried over 20 times. Friday night he lugged the pigskin 24 times for 212 yards without a loss.
In three games he has carried for 466 yards in 73 attempts or a 6.4 average. He has scored three touchdowns and two conversions with his great second effort running in getting by tacklers. Edwards has scored three six-pointers.
* * *
HANNON DARNED near had a fourth TD Friday night at the end of the third quarter after a 17-yard pass-run from senior quarterback Kevin Westover to Terry Edwards' twin wingback brother Dari, which gave the Orange and Black first down on their 42.
Hannon took off around left end on one of his many sweeps off handoffs and pitches
and – behind a great block by fellow tri-captain Larry Mayles – raced to the Arlington 29, started to cut in and had his leg buckle under him.
"I had a cramp again," Tombo said. "Give those linemen credit for blocking very well for me. It felt real great to win!"
His coach Bob Commings exaulted, "Tom had a great night!"
"He didn't get anywhere in the second half, but he ran wild in the second," Arlington Coach Pete Corey said. "I don't know what the breakdown was in the second half. The men upstairs saw no difference. When a fellow can run like he can and get by the line like he can, that's the difference."
* * *
TIGER DEFENDERS such as senior Brian Bash – playing superlative ball for the third consecutive week – senior co-captain and tackle Bob Geiser, junior tackle Bill Csonka, senior end Dari Endwards and sophomore linebacker Tim Gutshall led the defense on another successful charge – holding Arlington to 130 net yards (60 on the ground) – while the Tigers rolled up 328 (306 on the ground).
Arlington's deepest penetrations were to the Massillon 22 in the first quarter – where Danzy applied the stopper – and to the 15 on the last play of the game. The only other soiree was to the 47 in the second half where Dari Edwards stood firm.
Arlington found out what many a Tiger foe has. If old Obie sniffs a victory, look out!
Sophomore Greg Cook pounced on the ball, which dropped out of Arlington senior halfback Craig King's hands on the second half kick runback at the Golden Bears' 32. Eight plays later, Hannon shot through the middle on second down from the draw, running 17 yards to the two.
Edwards cut over left tackle on the next play for six points with 8:36 left. Hannon took a pitch and skirted right end for two more.
* * *
BRIAN BASH gave the Tigers' the ball on the Arlington 25 in the fourth stanza when he batted a Phil Fulton pass and grabbed it out of the air.
One play later Hannon took off again – this time around right end – and raced 13 yards to the Arlington 12. Edwards then slanted off right tackle with 9:28 left, but Don Muhlbach's kick was partially blocked.
Through all the rejoicing Commings pointed out that for the third straight week the Tigers had left an opponent off the hook.
"We made improvements though and that's what it's all about," he said. "I feel we beat a good team and that makes the victory all the sweeter."
The Tigers started off as if they were going to blow Arlington out of the stadium. Hannon ran the kickoff back 12 yards and junior fullback Charles Danzy took a pitch, raced around left end for 32 yards to the Bruins' 37.
Hannon raced 17 yards to the 26, but Terry Edwards – wide open – dropped a fourth down pass from the 17. Hannon figured on runs of 11, 9 and 18 yards, which carried his team to the Arlington 36 on third down early in the second stanza and had a 26-yarder to the Bears' 30 nullified by an offside call.
* * *
HE RACED 12 yards to the 24 for a first down, but the Tigers clipped and ended on their 49 – forced to punt – and for the second time in three weeks found themselves faced with a scoreless first half. They have yet to score in the welcome canto.
The ball was in Arlington territory most of the third quarter, but a Hannon 11-yard run was for naught as a fourth-down pass was incomplete from the 24. "Tombo" gave the Obieman one more chance in the goodbye quarter as he rolled 50 yards to the Arlington 33, but Terry Edwards was inches short on fourth down from the 25.
MASSILLON – 14
Ends – Bash, D. Edwards, Bodiford, McCauley.
Tackles – Geiser, Green, Csonka, Lee.
Guards – Mayles, Guiffre, Ahlstrom.
Center – Cocklin.
Quarterback – Westover.
Halfbacks – Hannon, T. Edwards.
Fullbacks – Charles Danzy, A. Wood.
Middle guards – Balizet, G. Wood.
Linebacks – T. Gutshall.
Defensive halfbacks – Jackson, Dan Gutshall, Muhlback, Mayor, Christie, Swann, Pfeiffer, DiLoreto.
ARLINGTON – 0
Ends – Vercelli, Craine, Hazelbaker, Woods, J. Cornwell, Burkholder, Trotier, Doyle, Webb.
Tackles – Bonesteel, Hopkins, Drumond, Rossel, Hill, Boggs.
Guards – Walter, Marsalka, Hutchings, Gladnon, Lestock, Crites, Corna, Murphey.
Centers – Arthur, Applegate.
Quarterbacks – Fulton, Taylor.
Halfbacks – Hoag, Lankamer, Dawson, King, Warner.
Fullbacks – B. Cornwell, Schmidt, Larmee.
MASSILLON 0 0 8 6 14
ARLINGTON 0 0 0 0 0
SCORING SUMMARY
M – T. Edwards, 2 run (Hannon run);
M – T. Edwards, 12 run (kick blocked).
OFFICIALS
Referee – Dale Helmick.
Umpire – Donn Bunbar.
Head Linesman – John Shelton.
Field Judge – Paul Wyman.
THE GRID STICK
M A
First downs, rushing 14 4
First downs, passing 1 2
First downs, penalties 0 0
Total first downs 15 6
Yards gained, rushing 325 85
Yards lost, rushing 19 25
Net yards gained, rushing 306 60
Net yards gained, passing 22 70
Total yards gained 328 130
Passes completed 2-11 5-12
Passes intercepted by 1 0
Yardage on passes intercepted 0 0
Times kicked off 3 1
Kickoff avg. (yds.) 3-47 1-42
Kickoff returns (yds.) 13 39
Punt average (yds.) 4-30.2 3-37.1
Punt returns (yds.) 28 20
Had punts blocked 0 0
Fumbles (lost) 0(0) 1(1)
Yards penalized 9-75 2-13
Massillon Mauls Arlington
Massillon's mighty Tigers with Tom Hannon picking up 212 yards in 23 carries handed defensive minded Upper Arlington its first defeat in the four year old Golden Bear Stadium, 14-0 Friday night before a standing room only throng of 11,500 fans.
Massillon displaying explosive offensive power used two big Golden Bear mistakes to crack the heralded Arlington defense.
AFTER A scoreless first half in which both teams threatened, the Tigers started to move when Greg Wood recovered Arlington's fumbled third quarter kickoff on the Golden Bear 33.
Four plays later, faced with a key fourth-and-two, Massillon quarterback Kevin Westover snaked over the middle for two and a big first down on the Arlington 23.
HANNON KEPT it alive as he sped 19 yards up the middle on the draw play to the Arlington one before Terry Edwards slanted left tackle for the first six points given up by the Golden Bears this year. Hannon cut inside tackle for the two points and Massillon led 7-0.
Early in the final period Brian Bash picked off Phil Fulton's tipped pass for an interception on the Arlington 25.
After Westover's pass misfired, Hannon sliced right end for 12 and Terry Edwards cut back over right tackle for 13 and a big 14-0 Tiger lead with 9:25 left in the game.
Massillon marched 72 yards in 10 plays in the closing minutes, but the Golden Bears defense held and Arlington gave it one last shot.
With less than a minute left, Fulton hit Craig King for 21 on the swing pass, found him open again for four and then connected for 34 yards to the Tigers 23.
DROPPED FOR a two yard loss trying to pass, Fulton connected for 11 on the last play of the game to the Massillon 14 for Arlington's deepest penetration of the game. Massillon coach Robert Commings was very pleased with his Tigers' first-ever victory over Arlington, 'I'm very happy…it's always a nice feeling when you beat a good, strong football team and Upper Arlington is a strong, well-coached team that never quits. No question, our defense won if for us."
ARLINGTON'S COACH Pete Corey had nothing but praise for the Tigers, "Massillon is a great team, they execute as well as any football team I have ever seen. That Tom Hannon is one of the best runners we have ever faced, he can seem to be running at top speed and then shift into high gear…he's a fine one."
Massillon totaled 15 first downs with 307 yards rushing and hit on two of 12 passes for 23 yards. Arlington picked up eight first downs, 46 yards rushing and added 84 yards on seven pass completions in 12 attempts.
Massillon 0 0 8 6 14
Upper Arlington 0 0 0 0 0
MASSILLON SCORING:
TDs – T. Edwards, 2 (3, 13 runs),
PATs – Hannon (run).