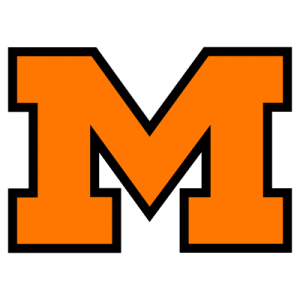 'Tiger Pride': Oh, how sweet it is!
By CHUCK HESS, JR.
Independent Sports Editor
You don't hear much from senior first-year tackle Manny Turley, but this time he said a mouthful!
"We played the second half on 'Tiger Pride!'" he said, as he and his fellow gridders boarded buses for the return trip to Massillon Saturday night
* * *
COACH BOB Commings had a different description, "Courageous," for his charges' play in their comeback 22-3 All-American conference victory before a near capacity crowd of 14,500 at newly remodeled Niles Riverside stadium.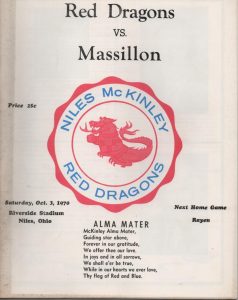 The Tigers, (4-0) share first place in the AAC with Canton McKinley after handing Niles its first loss in four outings.
Commings added, "We got over a big hurdle! It was a great team effort!"
It all amounts to the same thing. The Tigers appear to be back in business, playing tough in the clutch – a trademark of Washington high teams down through the years, but not consistently there during the last few seasons.
Another echo of the past was the Tigers' taking advantage of Niles' second half mistakes to score.
"When you give the ball to a good team, you'll lose," Niles Coach Bob Shaw commented.
* * *
THESE ARE the marks of a state champion. These are the things which will put the Orangemen back in the Ohio throne room after a five-yard absence. But the Tigers must continue to play this way for the remaining six games which start Friday when Toledo Whitmer begins a three-game home stand.
The WHSers had some real adversity as All-Ohio hopeful Mike Mauger banged an ankle with about six minutes left in the first period and didn't return until about the 7:05 mark of the second stanza. Even then the senior tailback's running was not right and didn't look good until trainer Mike Internicola removed tape from Mauger's ankle at halftime and replaced it with elastic bandage. The tape had been putting pressure on Mike's ankle.
For awhile, Niles had "The Mailman's" special deliveries pretty well stopped, but when the Tigers resorted to their pitchout game instead of their off tackle maneuvers, in the fourth quarter, things got back to normal. Mauger had a slight limp after the contest.
"Mike came back and played on shear guts," Commings said. Mauger picked up 138 net yards in 18 carries. However, the AAC's leading rusher and scorer crossed the goal line only once.
Senior quarterback Dennis Franklin scored two touchdowns and had another called back. Senior wingback Larry Harper, playing in his first contest since fracturing a collarbone a week before the opener, caught a Franklin pass for another.
* * *
FRANKLIN PICKED up valuable yardage on the bootleg play which Commings said "helped bail us out." His 37 yards in 11 carries, added to Co-Captain and senior fullback Tom Cardinal's 48 in 14 helped keep the WHS attack going at critical times.
But the Tigers were in trouble in the first half due to a tailback shortage. Fourth-string junior Rick Weise was inserted for Mauger.
The No. 2 man, junior Larry McLenndon, was not in uniform because of disciplinary problem. Junior Hank Nussbaumer, just back after a knee injury suffered the second day of practice, could be used only defensively.
The scope of the Tigers' second half bounce back can be seen by the fact that they picked up 168 total net yards after the intermission, compared to 80 before and added 13 first downs to three.
Meanwhile, the Massillon "Attack Pack" held the Red Dragons to 23 net yards in the second half compared to 109 during the first 24 minutes. Niles managed only six net rushing yards in the last half, compared to 66 and two first downs to six in the first half.
* * *
"WE JUST made mistakes that will kill you," Shaw said. "Our offense has been inconsistent all season. We felt Mauger's off tackle runs were the play we had to take away to have a chance, but he came back and ran well. They hurt us around the ends."
The Tigers made some mistakes, too, losing three TD opportunities in the first period. Mauger broke off a 45-yard run on pitchout on the third play with safety Jim Stringer's tackle saving a TD, but a holding penalty and a pass interception by safety John James on succeeding plays stopped the threat.
The Orangemen ran out of downs on Niles' 16-yrd line just after Mauger was injured.
End Bob Stephan recovered tailback Jim Stringer's fumble on the Niles 13, but James intercepted another pass on the one after a clipping penalty had nullified Franklin's bootleg TD. It was James' fifth steal of the season, Saturday night's two coming on overthrows.
As the second period was coming to an end, Niles drove 63 yards, had a player line up offside on a second down TD run and guard Jerry Masciangelo kicked a 25-yard field goal, the first ever that anyone can remember in a Dragon game. Four seconds remained.
Fullback Joe Lucariello fumbled the second half kickoff. Pete Jasinski, who played his first game as middle guard well as a sub for McLenndon, recovered for the Tigers on the Dragon 30. Massillon scored in seven plays with Franklin sneaking over from the one on third down with 8:25 left. Mauger blasted off right tackle for two more points.
* * *
A 64-YARD drive after "The Attack Pack" held on the WHS 36 early in the fourth quarter netted the Tigers' second TD after 11 plays. Mauger carried the mail six times behind sharp blocking by "The Iron Curtain," as the Orangemen got the benefit of a personal foul call.
Franklin sneaked over from the two on second down with 6:28 remaining. "The Menace" was short on the conversion run.
"The Attack Pack" held again – on the Niles' 48. Eight plays later, following a 30-yard run by Mauger, Franklin found Harper on the one from the 12 on first down and "The Scooter's" great second effort brought the pigskin home with 28 seconds remaining. Junior split end Willie Spencer made a great catch in the middle of the end zone light up the final points.
MASSILLON – 22
Ends – S. Luke, Spencer, Stephan, Perry.
Tackles – Strobel, Ridgley, Weirich, Heat.
Guards – Kulik, Jasinski, Sims, J. Nussbaumer, Groff.
Center – Studer.
Quarterbacks – Franklin.
Halfbacks – Harper, Mauger, B. Luke, Weise, H. Nussbaumer, Sullivan, Wonsick, Thompson.
Fullbacks – Cardinal, Fletcher.
NILES – 3
Ends – Cranston, Lewis, Williams, Collings, Glowacky.
Tackles – Sipusic, Shehy, DeMast, Boyle.
Guards – DeChristofaro, Mahoney, Cajcco, Masciangelo.
Centers – Schuller, Augusta, Wilson.
Quarterbacks – Ciminero, Andrews.
Halfbacks – Stringer, James, Ciletti, Simeone.
Fullbacks – Mones, Lucariello,
MASSILLON 0 0 8 14 22
NILES 0 3 0 0 3
SCORING
N – Masciangelo (25-yard field goal);
M – Franklin, 1 run (Mauger run);
M – Franklin, 2 run (run failed);
M – Harper, 11-yard pass-run from Franklin (pass Franklin to Spencer).
THE GRIDSTICK
M N
First downs – rushing 14 5
First downs – passing 1 2
First downs – penalties 1 1
Total first downs 16 8
Yards gained rushing 253 99
Yards lost rushing 16 27
Net yards gained rushing 237 72
Net yards gained passing 13 60
Total yards gained 240 132
Passes completed 1-7 5-15
Passes intercepted by 0 2
Yardage on passes intercepted 0 5
Kickoff average (yards) 4-49.3 3-35.0
Kickoff returns (yards) 25 91
Punt average (yards) 4-38.0 5-38.0
Punt returns (yards) 18 19
Had punts blocked 0 0
Lost fumbled ball 0-2 2-2
Yards penalized 6-70 5-45
Touchdowns – rushing 2 0
Touchdowns – passing 1 0
Touchdowns by interception 0 0
Total number of plays (unreadable)
OFFICIALS
Referee – James Keffer.
Umpire – Bob Bodner.
Linesman – Fred Vicarel.
Field Judge – Larry Glass.
Tigers lose No. 1 ranking
to Bears
By the Associated Press
A familiar name crept back into the first place spot in the Class AAA standings in this week's Associated Press high school football poll.
The Golden Bears of Upper Arlington, in second position since the first poll of the year, moved ahead of Massillon by ten points – 192-182 – to claim the top spot.
UPPER ARLINGTON 4-0-0 sailed past Portsmouth 27-0 Friday night, while Massillon
4-0-0 topped Niles McKinley 22-3 Saturday.
CLASS AAA
School W. L. T. Pts.
1. Upper Arlington 4 0 0 192
2. Massillon 4 0 0 182
3. Canton McKinley 4 0 0 150
4. Sandusky 4 0 0 134
5. Columbus Eastmoor 4 0 0 95
6. Lancaster 3 0 1 68
7. Niles McKinley 3 1 0 44
8. Akron Garfield 4 0 0 40
9. Cincinnati Moeller 3 1 0 39
10. Cincinnati St. Xavier 3 1 0 37
Other Schools receiving 10 or more votes: Warren Western Reserve; Marion Harding; Delaware Hayes; Findlay; Elyria; Beavercreek; Sidney; Lima Shawnee; Canton Central; Walsh; Cuyahoga Falls; Hamilton Baden'; Cleveland Shaw; Wintersville.