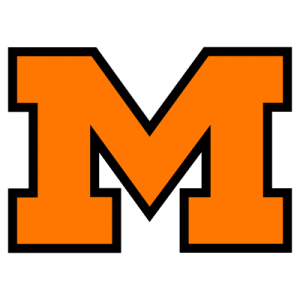 Tigers win 41-0 despite 12 penalties
By CHUCK HESS, JR.
Independent Sports Editor
It seemed like referee Jack McLain walked miles Friday night at Tiger stadium.
Surviving 12 penalties totaling 120 yards, Ohio's No. 2-ranked Massillon Tigers shut out Toledo Whitmer 41-0 before 11,036 to extend their win skein to five as the first half of the season ended. Whitmer, vastly improved since 1969, has won three of five games.
* * *
RULES INFRACTIONS – a problem all season – halted drives on the Whitmer 13 and
34-yard lines, nearly aborted two others, prevented gaining possession on a punt, cost one conversion and caused extra effort to get another.
"Paul Brown said, 'Good teams have penalties'", Tiger Coach Bob Commings reminded. "Ours have to be brought under control. They hurt us tonight. It was like stealing votes."
Commings thought his charges performed well.
"Under the circumstances, we did as good a job as possible," he commented. "We came off a big win, have a big game next week (Steubenville). We beat Whitmer 60-0 last year and they were well prepared this time."
While the offense had its troubles, the "Attack Pack" showed well again, limiting Whitmer to 51 yards on the ground – only one in the second half. Pass coverage was more than adequate as the Panthers completed but two of 10 attempts and had two pilfered.
* * *
"THEY'RE A good club," Whitmer Coach Norm Decker commented, "but we weren't so awed at the mighty Tigers this time. There was a lot of good hitting. This is the type of football we like to play. We'd like to come back again. I think we matured tonight."
Decker explained he had two plans of attack. One was to shut off the passing game which killed the Panthers here in 1969 and the other to stunt on defense because the Tigers had trouble picking up blocks against Niles' defense last week, in a game which Decker scouted.
"We thought we could cut off their passing game," Decker commented, "so we put in some new defenses, switched around a bit and even played an extra back at times."
It wasn't so much the Whitmer pass defense that accounted for only six of 16 Tiger completions. Quarterback Denny Franklin was throwing long. Commings felt tossing into the wind hurt.
The Tigers received the opening kickoff and drove 72 yards in 11 plays for a score with 8:12 left. Tailback Mike Mauger crossed into pay dirt on an off tackle slant from seven yards out on first down. He swept end on a pitchout to the opposite side for the conversion.
* * *
A 27-YARD reverse jaunt by wingback Larry Harper set up the score after a procedure penalty had put the Tigers back to the Whitmer 34.
Jerry Freels ran the kickoff back 37 yards to the Tiger 48, but Whitmer lost the ball by inches on fourth down at the 39 – the furthest the Panthers got all night. The WHSers drove to the Whitmer 20, but Freels hauled in a pass on the five, ran back to the 15 and a face mask infraction pushed the ball to the 30.
End Don Perry jarred quarterback Randy Curson three plays later and cornerman Bernard Sullivan intercepted on the Whitmer 48. A 29-yard, Franklin to Harper pass-run was wasted as an illegal use of the hands call sent the Tigers back to the Whitmer 29 from the 13 and they were forced to punt.
Whitmer punted back and the Orange and Black survived clipping and procedure penalties to score their second TD. Franklin hit Harper on a down-and-out pattern on third down from the nine with 25 seconds remaining in the half.
Franklin's conversion pass to split end Willie Spencer was good. However, there was a clip. Then tailback Larry McLenndon, returning after a one-week disciplinary suspension, was brought down short of the goal line.
* * *
FRANKLIN'S 19-YARD end run after the clipping call and Mauger's 22-yarder helped set up the score.
Massillon scored again with 7:53 left in the third quarter after a Whitmer punt and
seven-play, 51-yard drive. Fullback and Co-Captain Tom Cardinal's 23 running yards aided the cause.
Mauger went off tackle from three yards out on second down for his second six-pointer. Franklin's conversion run was nullified by a procedure penalty so Mauger booted a point.
On the ensuing kickoff, end Mike McGuire banged a Whitmer safetyman who was trying to pick up an errant pigskin. Tqackle Glen Weirich gave the Tigers possession on the 10. Franklin ran the end for the TD with 7:24 remaining. He also successfully ran the conversion but a procedure penalty intervened. Franklin then tried to hit Sullivan but failed.
After a clipping call had stymied the Tigers at their 49, wasting Sullivan's 14-yard romp to the Whitmer 34 on the inside reverse, the Orangemen were forced to punt. A personal foul call put Whitmer on its eight. Harper ran back Steve Thomas' punt eight yards and the WHSers were set for a 30-yard, six-play playoff jaunt.
* * *
PERRY'S 12-YARD blast set up the score and on third down from the nine, Franklin hit Harper just inside the marker pylon with 10:24 left in the goodbye canto. Perry sprung McLenndon in for the conversion on an end sweep from a pitchout for two more markers.
Late in the period, cornerback Art Thompson knocked a pass into the air, grabbed it at the Whitmer 40 and raced for an apparent score but Massillon's Harvey Hodgson, Jr., the head linesman had inadvertently blown his whistle, killing the ball where the run had started.
However, the Tigers came back in seven plays for their final score with McLenndon going over tackle on first down from the two;Quarterback Scott Dingler failed to find McGuire for the conversion. There were 58 seconds left.
THE GRIDSTICK
M W
First downs – rushing 21 2
First downs – passing 4 0
First downs – penalties 1 3
Total first downs 26 5
Yards gained rushing 320 72
Yards lost rushing 9 21
Net yards gained rushing 311 51
Yet yards gained passing 71 18
Total yards gained 382 69
Passes completed 6-16 2-2
Passes intercepted by 2 1
Yardage on passes intercepted 2 10
Kickoff average (yards) 7-46.0 1-34.0
Kickoff returns (yards) 3 92
Punt average (yards) 2-34.0 5-31.6
Lost fumbled ball 0-2 1-3
Punt returns (yards) 17 0
Penalties 12 4
Yards penalized 120 32
Touchdowns – rushing 4 0
Touchdowns – passing 2 0
Total number of plays 73 41