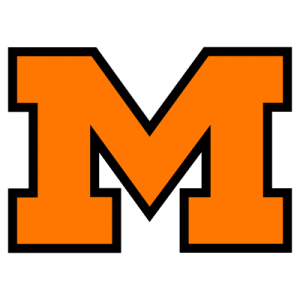 Tigers Out gain Warren But Lose 17-6
By CHUCK HESS, JR.
Independent Sports Editor
Where, oh where, has that Tiger luck gone? Like the little dog in the song, its whereabouts are a mystery but its absence has been much more costly.
For 2 years under Earle Bruce, the Washington high eleven could do nothing wrong. But with Bob Seaman at the helm, the Bengals haven't gotten a break all season.
* * *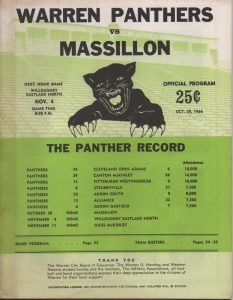 WITH A LITTLE bit of luck the Obiemen might have had their fourth win Friday night instead of their fourth straight defeat. The score was 17-6 at Mollenkopf field, in Warren before a crowd of 15,000 in a battle between fired-up teams.
Not since 1932 had Massillon lost 4 straight when in Paul Brown's first year, the Orange and Black fought to a scoreless finish in the fifth game and lost the next 4, including one to Warren. They have never lost 5 straight.
With top-ranked Steubenville (8-0) coming in next week, the Tigers are close to setting another wrong way record. The Bengals (3-1-1) are in danger of having their worst season since 1931 when Elmer McGrew's crew won 2, lost 6 and tied 2.
Great defensive work won the game for Warren, stopping 2 Tiger drives, picking up 2 costly Bengal fumbles and making 3 timely pass interceptions.
"The irony of it all," said Warren Coach Bill Shunkwiler, "was that we were so badly injured on defense that we had to use a different type tonight. Maybe Massillon was not used to a 4-5 and maybe I just keyed us up."
* * *
SEAMAN said, "Our boys did a heck of a good job. I'm proud of them. But we gave the ball to Warren in good field position." He added, "If McDew's (Mark) knee hadn't touched the ground on that punt return, it might have been all over. And Dale Gallion had an unfortunate injury just when the clock was going to run out. Warren had no more time outs and wouldn't have gotten another play off."
The Tigers won the battle of statistics but couldn't light up the scoreboard enough. Warren had had this happen to them several times previously this season.
The Tigers moved 72 yards in 12 plays with Foster and McDew doing the bulk of the carrying but Foster just missed at the 8 on fourth down. He had runs of 12 and 14 yards and McDew of 9 and 10 during the drive.
McDew bobbled the following punt on the Tigers' 42, picked it up and raced all the way down the eastside line but in picking up the pigskin his knee had touched.
Dennis Wright recovered a Massillon fumble 2 plays later and Warren had a score in 5 more after a 32-yard push. Allen Anderson and Tom Perry took turns in gobbling up real estate at about 3 yards per clip.
Perry went over left tackle from the 10 on their third down with 6:27 left in the second quarter. Tony Capers, who did some fine linebacking, kicked twice, the second time from the 14 after an offside penalty, to give Warren a 7-0 lead.
Capers missed a 44-yard field goal later in the period after Dale Hall had intercepted Will Foster's pass with the pressure on.
Warren came back after a punt was grounded on the Panthers' 43 to drive for a score in 4 plays with 4 seconds left. A big play was Allen Anderson's 40-yard off tackle run to the Massillon 17.
ON FIRST and 6 from the 6, with 7 seconds remaining, Gallion suffered a rib injury making a tackle and the clock had to be stopped. Perry scored again on the next play over right tackle. Capers' boot made it 14-0.
Russ Fenton recovered an on side kick for Massillon on the Warren 38 during the third period kickoff. In 11 plays the Tigers got their only score of the night. Foster, McDew and "Tailspin Tommy" James took turns running the ball.
Quarterback Craig Maurer got key fourth and one yardage on the 15, via a sweep, to keep the drive going. He scored on a keeper left on third and 4 from the 7 with 7:15 left, injuring himself slightly when he ran into a sideline post. Maurer's option flip to McDew going right failed to pick up the 2 extra points.
Later in the period, the teams took turns intercepting passes. Foster pilfering for the Tigers and Tony Brady for the Panthers. Foster's steal started Massillon on a 33-yard, 10-play drive to Warren's 27 where Maurer was snowed under by Dennis Yendrick; playing with a broken thumb, on fourth and five.
McDew almost got away for a 55-yard TD on the drive. He did most of the running at this juncture although Ron Mulhbach, a defensive "monster" back, did his first ball carrying of his career here as well.
* * *
YENDRICK recovered a Massillon fumble on the Tigers' 23 midway in the fourth quarter. With fourth and 12 on the 25, Capers booted a 41-yard field goal from a slight left angle to finish the scoring at 5:14.
On the next series, Dale Hall intercepted another Tiger aerial to end it all.
Warren, which got its revenge for a last-second loss here in 1965, now has a 5-3 record with the standings in the All-American High School football league unchanged.
MASSILLON – 6
Ends – Snyder, Moyer, Liggett, Sterling, Griffin, Gallion, Smith.
Tackles – Houser, Campbell, Neago, Ricker, Sherrett.
Guards – Russell, Porrini, Hauenstein, Beiter, White, Ertle.
Centers – Senften, Kraft, Skelton.
Quarterbacks – Maurer, Henderson, Malinowski.
Halfbacks – James, Simon, McDew, Fenton, Lawrence,
Hannon, Muhlbach, McFadden.
Fullback – Foster.
Punter – Krenzer.
WARREN – 17
Ends – Brewster, Wright, Tracey, Daily, Speicher, Carroll,
James, Natale.
Tackles – Capers, Yendrick, Kearney, Blank, Peterson,
Henrey, Russell.
Guards – Schumacher, Gray, Herdman, Jenyk, Campbell,
Sierra, Mokodean, Stredney, Parker.
Centes – Toda, Stroup.
Quarterbacks – Robison, Williams, Hall.
Halfbacks – Thomas, Anderson, Perry, Benson, Brady, Elliott,
Turner, Stewart.
Fullbacks – Sericola, Wright.
Massillon 0 0 6 0 6
Warren 0 14 0 3 17
Touchdowns:
Massillon – Maurer (7-yard run).
Warren – Perry 2 (3 and one-yard runs); Capers (41-yard field goal).
Extra points: Warren – Capers 2 (kicks).
OFFICIALS
Referee – Paul Hoskins.
Umpire – Clyde Moore.
Head Linesman – Chuck Lorenze.
Field Judge – Andy Piewacki.
Attendance: 15,000
THE GRIDSTICK
Massillon Opp.
First downs – rushing 11 8
First downs – passing 2 0
First downs – penalties 0 0
Total first downs 13 8
Yards gained rushing 197 181
Yards lost rushing 24 23
Net yards gained rushing 173 158
Net yards gained passing 41 6
Total yards gained 214 164
Passes attempted 11 2
Passes completed 3 1
Passes intercepted by 1 3
Yardage on passes intercepted 15 12
Times kicked off 2 4
Kickoff average (yards) 36.0 50.5
Kickoff returns (yards) 34 24
Times punted 1 4
Punt average (yards) 35.0 43.0
Punt return (yards) 8 8
Had punts blocked 0 0
Fumbles 2 2
Lost fumbled ball 2 1
Penalties 3 3
Yards penalized 25 15
Touchdowns rushing 1 2
Touchdowns passing 0 0
Touchdowns by interception 0 0
Miscellaneous 0 0
Field goals 0 1
Total number of plays 60 50