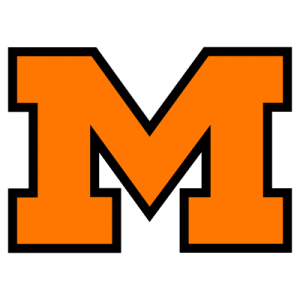 Season's Largest Crowd Sees Big Red Fall
Seaman Alters Defense To Half Fast Backs
By CHUCK HESS, JR.
Independent Sports Editor
It was one of the greatest defensive efforts in Tiger football history. But few – if any of the 17,404 Tiger stadium onlookers Friday night – largest crowd of the season – were aware of the full story.
The tale of Washington high's 12-0 victory over the top-rated and undefeated Steubenville Big Red started last Sunday following a movie grading session. Bengal Coach Bob Seaman, aware of the tremendous running game of the Big Red, told his coaches that a change in defenses would be necessary.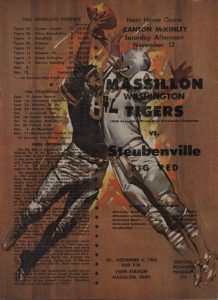 Seaman, trying to avert the Tigers' worst season in 35 years, altered his alignment from an Oklahoma 5-3 "Monster" to an Eagle 5-2-1 "Monster" middle. It gave the Bengals added rushing power and the single "monster" back the chance to jam up the off tackle plays on which Steubenville had been so effective all year.
Tiger team pursuit was terrific, led by tackle Allen Neago and, for a second straight week, by end Russ Fenton. Will Foster and Ron Muhlbach alternated extremely well at the "monster" slot until Muhlbach became exhausted from a week-long bout with the flu.
* * *
SO EFFECTIVE was the Bengals' defensive play that Steubenville never got out of its own territory – except on a blocked punt recovery in the first quarter and after the Bengals had the contest won and went into a prevent defense during the last minute of play.
Steubenville was held to 11 yards rushing, losing 35; added to a passing total of 28 for 39 yards. The Big Red had only 3 first downs – 2 of them by penalty, the only earned first down coming in the last period.
Meanwhile Steubenville was doing some pretty fine defensive work of its own led by
All-Ohio end Dwight Sims and tackle Jim Corsier. Massillon ended with 165 net yards rushing, 11 passing and 176 total with 9 first downs, but got nowhere except on its scoring drives in the first and last quarter, both times capitalizing on breaks the Tigers manufactured.
Neago recovered a fumble for the Obiemen after a hard tackle on the Steubenville 38 during the latter part of the first quarter. Five plays later Massillon had its first touchdown as "Tailspin Tommy" James went over left tackle on first and 10 from the 13.
His pass catch from quarterback Craig Maurer – the only Tiger completion of the night – plus an 8-yard run took the ball to the 27 for a first down. Two plays later McDew was the second man through right guard for an 8-yard jaunt to set up the score.
* * *
AFTER JAMES' score with 2 minutes remaining in the initial frame, Maurer failed on a roll out to the right on the conversion try.
Ron Ertle almost blocked a Big Red fourth quarter punt in the end zone after a combination of tough Tiger defense and penalties had put the Steubbers fourth and 44 on their 8. The punt rolled dead on the Steubenville 30.
Ten plays later Massillon had the clincher as Maurer sneaked over the middle on fourth down with the ball inches from pay dirt, the clock showing 52 seconds left in the contest. James dropped Maurer's attempted conversion pass.
Foster had run the ball 4 times in the drive, picking up 10 yards. James had shot over left tackle for 10 yards for a first down on the 3.
Tiger man-mountain tackle Mike Sherrett recovered a fumble on the Steubenville 24 in the second period but the Bengals couldn't capitalize. Sims blocked a Jim Krenzer punt in the first quarter with Crozier recovering on the Bengals 27, Sims tried a 46-yard field goal 4 plays later but was off to the left and out of the end zone.
* * *
OUTSIDE of those 2 instances the game was one of 2 teams punting to each other.
"It was the sweetest victory of my coaching career," Seaman said. "It was one heck of a defensive effort. It was the same kind of game we've played all along but we just made too many mistakes before. I said all along this was a good team but Lady Luck hadn't shown on us. She didn't really frown on us tonight but she didn't smile either."
He added, "Steubenville has a great team and that Palmer (Mike) is as good a back as I've seen."
Bryan mused, "They deserved the win. We were out-coached and out-played. We were not able to handle their new defense, having worked against their other one all week. They hit us well. We never got out of our own territory."
The power at Tiger stadium was out for one hour before the game when a transformer blew. Start of the contest was delayed for 30 minutes but both coaches felt their opponents did not gain any great advantage by the delay.
* * *
MASSILLON evened its slate at 4-4-1 and kept intact its record of never having lost 5 straight.
By handing Steubenville its first loss in 8 games – all of the Big Red's other contests being at home – Massillon scrambled the state title ratings. Upper Arlington, a 21-6 victor over the Tigers 2 weeks back, might have the inside track if it can beat Columbus Watterson next week.
STEUBENVILLE – 0
Ends – Sims, Spahn, Bruzzese.
Tackles – Crosier, Bass.
Guards – Monroe, Hershey, Cocumelli.
Center – Sarap.
Quarterbacks – Vaccaro, Corsi, Burke.
Halfbacks – Palmer, Booth, Osby, Kerr.
Fullbacks – Horston, Titus.
MASSILLON – 12
Ends – Moyer, Snyder, Smith, Sterling, Gallion, Griffin, Liggett.
Tackles – Houser, Campbell, Ricker, Neago.
Guards – Porrini, Russell, Ertle, Beiter, Hauenstein, White, Whitfield.
Centers – Senften, Kraft, Skelton.
Quarterbacks – Maurer, Young, Henderson, Malinowski.
Halfbacks – James, Simon, McDew, Fenton, McFadden, Muhlbach, Staples, Hannon.
Fullback – Foster.
Massillon 6 0 0 6 12
Touchdowns:
Massillon – James (13-yard run); Maurer (one-yard run).
OFFICIALS
Referee – Howard Wirtz.
Umpire – Russ Kemper.
Head Linesman – Bill Makepeace.
Field Judge – Jack McLain.
Attendance: 17,404
THE GRIDSTICK
Massillon Opp.
First downs – rushing 8 1
First downs – passing 1 0
First downs – penalties 0 2
Total first downs 9 23
Yards gained rushing 175 46
Yards lost rushing 10 35
Net yards gained rushing 165 11
Net yards gained passing 11 28
Total yards gained 176 39
Passes attempted 7 8
Passes completed 1 4
Passes intercepted by 1 0
Yardage on passes intercepted 15 0
Times kicked off 3 1
Kickoff average (yards) 37.6 60.0
Kickoff returns (yards) 0 44
Times punted 8 8
Punt average (yards) 24.9 30.0
Punt return (yards) 26 16
Had punts blocked 1 0
Fumbles 0 3
Lost fumbled ball 0 2
Penalties 8 7
Yards penalized 90 47
Touchdowns rushing 2 0
Touchdowns passing 0 0
Touchdowns by interception 0 0
Miscellaneous 0 0
Total number of plays 68 45