Massillon runs past Warren Harding for second win
Chris Easterling – The Independent
Sep 08, 2017 10:11 PM
WARREN Massillon and Warren Harding have engaged in more than their share of shootouts over the last two or three seasons. While the faces may have changed, that trend didn't change on Friday night as they renewed acquaintances at Mollenkopf Stadium.
There were no Austin Jasinskis or Lynn Bowdens on the field. However, players such as Jamir Thomas and Kayron Adams were, both of whom had a hand in what ultimately became a 31-21 Massillon win on "Throwback Night" in Warren.
"First off, (Warren's) a good football team with some good running backs," said Massillon coach Nate Moore, whose team is 2-1 heading into Week 4's home game with Ursuline. "We had a hard time tackling those guys, plain and simple. You just swing harder. You just swing hard and keep playing hard."
The biggest hammer the Tigers were able to swing was Thomas, who rushed for 148 yards and a score – which gave Massillon a 14-7 first-quarter lead – on 27 carries. He helped Massillon rush for 209 yards on 45 carries as a team, with Zion Phifer adding 61 yards on 14 carries.
Those rushing numbers helped the Tigers offset a Warren offense which gained 276 yards of its own on the ground in the game.
Of those, 202 yards and all three touchdowns came from Kayron Adams. However, 66 yards came on the Raiders' lone second-half score, a third-quarter touchdown that cut it to 28-21 with 3:50 remaining in the quarter.
"We were vastly improved from Week 1," said Warren coach Steve Arnold, whose team – which was paying tribute to the old Warren G. Harding Panther teams – falls to 0-2. "We threw the ball better. We're going to be able to run the ball all year; I don't think that's going to be an issue."
For Massillon, it was a case of never having to play from behind. That meant from the opening seconds of the game.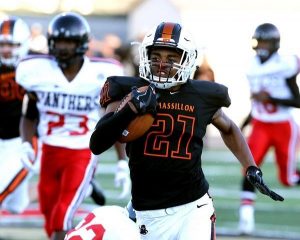 Anthony Ballard drew up the perfect start to the game for Massillon. Ballard took the opening kickoff at his own 16, found a crease in the blocking and raced virtually untouched to the end zone for a touchdown just 12 seconds into the game.
"We wanted to kick the ball down the numbers and we kicked the ball down the middle," Arnold said. "That's not what we practiced all week. So, consequently, you kick it down the middle on a shift, we have an overload on one side."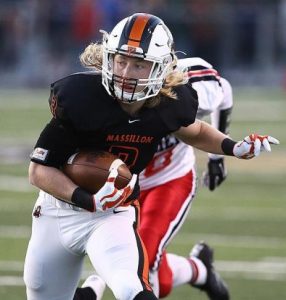 Almost like a starter's gun at a track meet, Ballard's kickoff signaled the start of an early shootout between the two long-time rivals. Four consecutive combined possessions between the teams would result in four combined touchdowns, the last of which was a 15-yard pass from Aidan Longwell to Austin Kutscher with 7:46 remaining in the first half to give Massillon a 21-14 lead.
The two would also hook up for a 37-yard touchdown pass in the third quarter which made it 28-14 Tigers. Longwell finished 8-of-11 for 120 yards, while Kutscher had four catches for 82 yards.
Adams had both first-half touchdowns for Warren: a 7-yard run to tie it at 7-7 and a 15-yard run to even things up at 14-14. The last came with 8:52 remaining in the half.
Adams added a 66-yard touchdown run one play after the second Longwell-to-Kutscher touchdown pass, cutting the Massillon lead to 28-21. Warren would get inside the Tiger 20 only once more after that, while Massillon would tack on a 21-yard Klay Moll field goal with 6:03 remaining.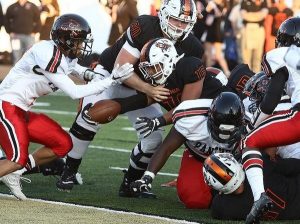 Massillon had a hand in both Raider first-half scoring drives thanks to what has been an early-season issue: penalties. The Tigers had back-to-back flags on the first – a late hit and a pass interference – to move the ball from their own 33 to the 9.
The second drive was aided by a iffy pass-interference call in the end zone on a 50-50 ball on fourth-and-12 from the Massillon 30. The next play, Adams scored his second touchdown of the night.
The Tigers were flagged eight times for 83 yards in the game. That includes six flags for 69 yards in the first half.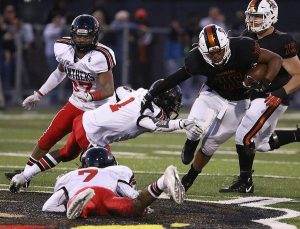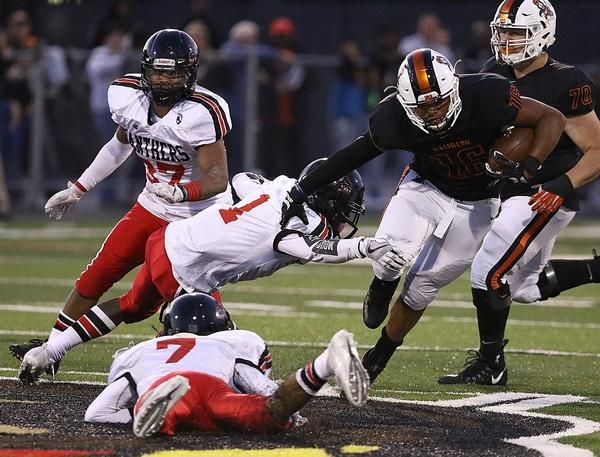 "We have to get back to the drawing board and watch the film and get things corrected," said Moore, whose team has been flagged 39 times in three games. "It's a continuous process of getting better every week. That's just part of it."
One other early-season trend helped Massillon come up with the game's first defensive stop. Dyson Berry intercepted a pass in the end zone on third-and-31 for Warren with 3:28 remaining in the half. It was the third pick in as many games for Berry.
GAME STATS