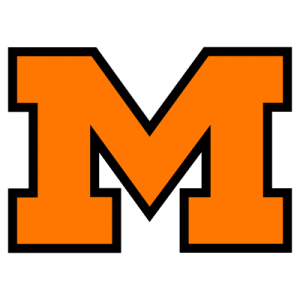 MUDDY FIELD
AIDS AKRON IN SCORING VICTORY SATURDAY
Heavy Akron Central Team
Defeats Massillon High 6 to 0
on Field of Mud and Water
Local Team Greatly Outweighed,
Outplays Its Opponents Throughout
Most of the Contest
Akron Central, Saturday afternoon, in the Wooster Avenue stadium, Akron, handed Massillon high its first defeat of the season by the score of 6 to 0.
The entire game was played in a steady downpour. The field soon became a quagmire and the mud several inches deep. It was the rain rather than Akron Central that spelled defeat for the orange and black. Had Old Sol continued to shine as he did earlier in the day, it is more than likely the locals would have handed Akron Central a decisive beating for even in the mud and mire it outplayed its opponent throughout the greater part of the game.
Massillon kicked off to Akron, who brought the ball to the 15-yard line by steady line plunging. The orange and black took a brace and held Akron for downs. Stultz immediately kicked out of danger. Akron's backs now started to ram the line and by steady plunging brought the ball up to within a foot of Massillon's goal line from where Carderilli bucked it over. Goal was missed. Akron's score had been made five minutes after play started.
The orange and black fought desperately to keep Akron from scoring but all that the Summit county boys had to do was to stamp their feet in the mud, lunge at the Massillon line and the impact would push the light team back several yards. It was unable to get a foothold in the mud.
After this Massillon fought the rubber city team to a standstill. Akron several times carried the ball to the shadow of the orange and black goal posts but each time the local boys held and Akron was forced to give up the oval.
Massillon's only chance to score came in the third quarter, when Akron fumbled the ball. Harold scooped it up and had a clear field but he slipped and was downed. Had the field been dry and solid the local boys would have scampered away to a touchdown.
The orange and black showed up well in the mud. The defensive playing of Houriet, Theis and Hollinger stood out prominently.
Following the line up and summary
M.H.S. – 0 Pos. A.C.H.S. – 6
Harold le Spaulding
Theis lt Flowers (c)
Snyder, E. Stultz lg Wright
Spuhler c Youtz
Graybil, Graze rg Benedict
Stultz rt Shaw
Houriet re Harter
Hollinger qb Jenkins
H. Smith, Zorger lhb Carderhill
Eckstein fb Rook
R. Smith (c) rhb Hillibush
Score by quarters:
Akron 6 0 0 0 6
Massillon 0 0 0 0 0
Touchdowns:
Akron Central – Carderilli 1.
Referee – Owens (Akron).
Umpires – Kester (Massillon).
Rudy (Massillon).
Head Linesman – Smith.
Time of periods – 12 and 15 minutes.