Tiger defense comes To the rescue
Massillon wins mistake filled 17-14 verdict over Mansfield
By MIKE KEATING
Independent Sports Writer
The Massillon Tigers beat the Mansfield Tygers at their own game Friday night.
Bolstered by a superb defensive effort, the Tigers edged the Tygers 17‑14 before an announced crowd 11,276 at Arlin Field.
"Our defense played four good quarters of football, "said Massillon linebacker Tony Graves. "They were a good team."
Massillon didn't secure its fifth victory against one loss until cornerback Brian Hill picked off a Mansfield pass intended for wide receiver Jeff Montgomery near the Tigers ‑ 40‑yard line with 22.4 seconds left in regulation.
"We work hard on defense," said Massillon head coach Rick Shepas. "The. kids are starting to understand the scheme and they're doing a better job of executing it.
"Mansfield has a well balanced offense. To hold them to 14 points is a credit to our defense."
With tackle Dan Speicher controling the middle, Graves and fellow linebackers Brock Hymes and Andy Alleman filling the gap, and 190‑pound defensive back Markeys Scott hitting with the ferocity of a player 60 pounds heavier, the Massillon defense limited Mansfield to only 46 rushing yards on 25 attempts.
"We knew we had to stop the run and we knew we had to play four quarters of defense," Graves said. "We did both."
In the second half, the Tigers also established a running game that helped keep their defense off the field.
After being held to a paltry two rushing yards in 11 carries the first half, Shepas switched from a one‑back formation to a two‑back set. Robert Oliver, the starter, was joined by Ricky Johnson in the backfield. The tandem combined to rush for 128 yards on 22 carries during the final two quarters.
Mansfield played a lot of nickel defense on us, so we decided to go with the two backs," Shepas said. "Both 'of those backs ran hard."
Johnson a 6‑foot, 211‑pound junior, scored Massillon's lone second‑half touchdown on a 2‑yard sweep to the right at the 3:29 mark of the third quarter. That touchdown capped a nine‑play, 81‑yard drive that was aided by a costly pass interference penalty against. Mansfield.
With Massillon facing a third‑and‑14 from its 15, the Tigers fired a quick out. Mansfield was flagged for pass interference, giving Massillon an automatic first down at the 30.
Justin Zwick and wideout Devon Jordan teamed up for 16 yards, moving the ball to the 50.
Then it was back to the running game. Johnson picked up nine yards off right tackle. Oliver took a handoff from Zwick and raced 25 yards to the 16.
With Mansfield focusing on the run, Zwick hit tight end A.J. Collins on a crossing pattern for 14 yards. One play later, Johnson scored.
While the Massillon defense played a strong game, the special teams struggled. The Tigers missed a short field goal, fumbled away a punt, had a punt blocked and allowed a long kickoff return following Johnson's touchdown.
Marcus Davis took the ensuing kickoff at the Mansfield 10, cut to the right and found a hole at the 20. He motored down the right side and was hauled down at the Massillon 39.
Mansfield needed eight plays to score. The big play of the drive was a 29-yard pass play from Georg Andress to wide receiver Dane Greer, who made a leaping catch at the Massillon 1. One play later, Andress sneaked over from left guard. Hollister Histed's conversion kick cut Massillon's lead to 17-14 with :43.8 left in the third quarter.
The Tigers had a chance to tack on an insurance touchdown late in the game, but fumbled the ball out of the end zone for a touchback.
Hill's interception, however, denied Mansfield any hope of a dramatic victory.
Massillon's first touchdown was set up by its defense. Alleman intercepted a pass at the Mansfield 42 and returned the ball six yards before he was brought down.
Operating on a short field, the Tigers put together a six-play, 36-yard drive. Zwick and Jordan teamed up on a curl route for 15 yards, moving the ball to the 20.
Mansfield held Massillon to five yards on two plays before Zwick hooked up with Stephon Ashcraft for nine yards and a first down.
On one of the few successful first-half running plays, Oliver swept the right side and scored. Abdul's extra point made it 7-0 at the 6:35 mark of the first quarter.
The Tigers made it 10-0 when Abdul booted a 54-yard field goal at the 2:59 mark of the first quarter, a kick that cleared the uprights at the west end of the field by five yards.
Massillon then fumbled away a punt at its own 43 late in the first quarter. On Mansfield's first play following the turnover. Andress hit Montgomery on a deep post at the Massillon 10 and the wide receiver broke free for a touchdown.
Mansfield had a chance to tie the game late in the first half. Mike Donaldson, a 6-6, 320-pound tackle, gave the Tygers the ball at the Massillon 45 by blocking a punt. The Tigers tried to quick kick on third down, but the strategy backfired.
After the Tygers were stalled at the Massillon 29, they tried a 46-yard field goal. The attempt sailed wide to the left and the Tigers held a three-point lead, one they also had at the end of game.
MASSILLON 17
MANSFILD 14
MAS MAN
First downs rushing 6 6
First downs passing 13 5
First downs by penalty 2 0
TOTAL first down 21 11
Net yards rushing 124 46
Net yards passing 231 157
TOTAL yards 355 203
Passes attempted 37 29
Passes completed 24 14
Passes intercepted 0 2
Punts 6 4
Punting average 32 25.8
Fumbles/Lost 3/2 0/0
Penalties 7 4
Yards penalized 60 50
MASSILLON 10 0 7 0 17
MANSFIELD 7 0 7 0 14
SCORING
M – Robert Oliver 6 run (Abdul kick)
M ‑ David Abdul 54-yard field goal
Man – Monigomery 43 pass from Andres (Histed kick)
M – Ricky Johnson 2 run (Abdul kick)
Man – Andress 1 run (Histed kick)
INDIVIDUAL STATISTICS
Massillon rushing: Oliver 20-98, Johnson 9-47.
Mansfield rushing: Phillips 7-22, Perdue 7-12.
Massillon passing: Zwick 24-37-231.
Mansfield passing: Andress 14-29-157 1 TD, 2 INT.
Massillon Receiving: Jordan 11-106, Collins 4-52, Williams 4-32, Oliver 1-19.
Mansfield Receiving: Montgomery 6-78, Davis 5-48.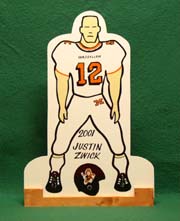 Justin Zwick