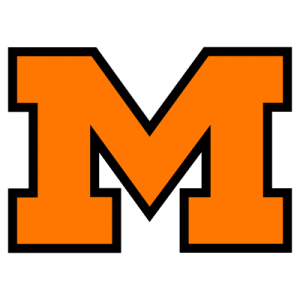 Tigers flatten Fitch
Massillon rallies from 7-0 deficit for 40-point win
By JOE SHAHEEN
Independent Sports Writer
If ever there was a perfect opponent for the Massillon Tigers on the heels of their disappointing loss at St. Ignatius last week, it was the reeling Austintown Fitch Falcons.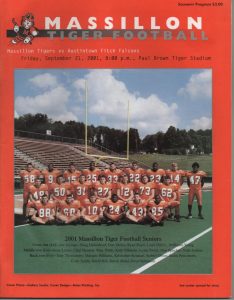 Fitch, a program that gave the Tigers fits during the mid‑ and late‑1980s and early‑90s, put up precious little resistance after an impressive game‑opening drive as Massillon rolled to a 54‑14 victory in front of 8,528 fans at Paul Brown Tiger Stadium, Friday night.
It was a game that saw several impressive individual performances by the Tigers.
– Justin Zwick passed for 314 yards and five touchdowns with an 18‑of‑32 performance.
– Devon Jordan caught nine passes for 149 yards and five touchdowns.
– Robert Oliver rushed for 131 yards and one touchdown on 17 carries.
"We wanted Justin to do the job he is capable of doing as a quarterback and he did that today," said Tiger coach Rick Shepas. "And we just want to continue to improve. We've been in a number of big games the last couple of years and it is going to payoff. Our guys continue to get better all year long and it's going to be a fight every week."
"We knew after last week we had to bounce back and show everyone we weren't bogged down and everything," said Jordan. "Now we have a bigger game next week."
With undefeated Mansfield waiting in the wings for a date with Massillon at Arlin Field next week, the last thing the Tigers needed was a knock‑down, drag‑out contest with Fitch. Early on, however, it appeared they might be in for just that sort of game.
Fitch executed its first possession with a passion and precision that belied its 1‑3 record, taking the opening kickoff and marching 80 yards in 12 plays to take a 7‑0 lead.
The Falcons utilized a no‑huddle offense to keep the Massillon defense on its heels. Fullback Ray Betts, a 5‑foot‑11, 190‑pound senior, was Fitch's go‑to guy, carrying the football on six plays. He picked up only 15 yards in those half dozen totes but picked up three first downs in the process.
Falcon quarterback Steve Burnich was on target early, hitting wideout Ross Watson for 15 yards and a first down to move the ball to the Massillon 36, then finding wideout Miles Williams at the Tiger 28.
The drive appeared to have stalled when the Falcons set up for third‑and‑10 at the 26. But Williams ran a fade route to the left corner of the end zone and outfought the Tiger defensive back to haul in Burnich's high‑arcing pass for the touchdown. Shea Stewart added the extra point at 6:47 of the first quarter.
The Tigers countered by moving from their 31 to the Fitch 32 as Oliver ran for 23 yards and caught a 14‑yard pass from Zwick. After a nine‑yard Zwick‑to‑Joe Jovingo aerial, the drive stalled.
David Abdul salvaged it by connecting on a 49‑yard field goal to make it a 7‑3 game at 4:22 of the first quarter.
Fitch got two first downs on its ensuing possession on two Burnich‑to‑Williams passes but the drive stalled at midfield and the Falcons' punt rolled out of bounds at the Massillon 10.
The Tigers then drove the length of the field, moving 90 yards in 11 plays while eating almost five minutes off the game clock.
Again Oliver was the main man, rushing the football seven times for 42 yards.
Massillon scored when Zwick, after a fine play action fake to Rickey Johnson, hit Jordan in the end zone from five yards out. Abdul's point‑after made it 10‑7 Tigers at 8:04 of the second quarter.
A holding penalty on Massillon gave Fitch its only first down on the Falcons' next possession. The visitors, however, were forced to punt after just three snaps.
The Tigers took over at their 35 and went back to the quick‑strike mode that characterized their offense in the first four weeks of the season.
On third‑and‑eight from the 37, Zwick rolled right and threw a strike to Jordan along the right sideline. The 6‑3, 193‑pound junior wideout hauled in the pass at the Fitch 40, shook off an arm tackle and raced down the boundary untouched into the end zone for the touchdown.
Abdul was true on the conversion kick and Massillon led 17‑7 at 5:28 of the second quarter.
Massillon's final first half score came after Fitch's fourth punt, on a possession that began at the Fitch 48.
Zwick zeroed in on Jovingo for a 16‑yard gain on second down to advance the ball to the Falcon 28.
Three plays later, a Zwick pass went through the hands of A.J. Collins and into the hands of Jovingo for an eight‑yard pick‑up and another first down at the 13‑yard line.
After two incompletions, Jordan broke open over the middle on a slant pattern and Zwick put the football between the 8 and the 2 on his wideout's jersey for the touchdown to make it a 23‑7 contest at halftime.
"Devin Jordan is really proving to be a big‑play receiver," said Shepas. "He has done it all year. He continues to run well with the football after the catch.
"The neat thing about Devon is he is catching the football everywhere. He is catching it in traffic. In the downpour he catches the wet ball above his head which is one of the tougher catches you have to make."
Massillon opened the third quarter with a nine‑play, 77‑yard scoring drive that once again featured Oliver. He opened the possession with a 10‑yard burst over left guard, had two more runs that totaled 31 yards, and capped it with a three‑yard touchdown dive at 9:18 of the period. Abdul's conversion put Massillon up 30‑7.
Fitch, taking advantage of a 51‑yard kickoff return, drove to the Massillon 8 on its initial second‑half possession. But senior tackle Dan Speicher sacked Burnich for a 15‑yard loss on fourth down to get the ball back for the Tigers.
On first down from the Massillon 23, Zwick hit Jovingo with a 15‑yard pass to the 40. Taking advantage of a sensational block by Rickey Johnson, Jovingo went down the sideline to the end zone for a 77‑yard scoring play to make it a 37‑7 contest.
"Rickey Johnson ran 20 yards downfield to make the block," gushed Shepas. "That was the best block of the night and a very unselfish play by Rickey."
The Tigers tacked on 17 more points on an 11‑yard Zwick‑to‑Jordan touchdown pass, a jaw‑dropping 53‑yard field goal by Abdul, and Johnson's 55‑yard scoring jaunt down the left sideline that was made possible by a textbook seal block by Jordan.
"Coaches tell us we all can catch but the thing we have to do is block," Jordan said. "So I just try to show that every game and every practice. It's getting better."
MASSILLON 54
AUSTINTOWN FITCH 14
M F
First downs rushing 9 6
First downs passing 14 7
First downs by penalty 1 3
TOTAL first downs 24 16
Net yards rushing 248 56
Net yards passing 314 188
TOTAL yards 562 244
Passes attempted 33 24
Passes completed 18 12
Passes intercepted 0 2
Punts 1 5
Punting average 30 36
Fumbles/Lost 1/0 4/2
Penalties 13 2
Yards penalized 110 20
MASSILLON 3 20 24 7 54
FITCH 7 0 7 0 14
SCORING
F ‑ Williams 26‑yard pass from Burnich (Stewart kick)
M ‑ Abdul 49‑yard field goal
M ‑ Jordan 5‑yard pass from Zwick (Abdul kick)
M ‑ Jordan 63‑yard pass from Zwick (Abdul kick)
M ‑ Jordan 13‑yard pass from Zwick (Kick failed)
M ‑ Oliver 3‑yard run (Abdul kick)
M ‑ Jovingo 77‑yard pass from Zwick (Abdul kick)
F ‑ Williams 69‑yard pass from Burnich (Stewart kick)
M ‑ Jordan 11 ‑yard pass from Zwick (Abdul kick)
M ‑ Abdul 53‑yard field goal M ‑ Johnson 55‑yard run (Abdul kick)
INDIVIDUAL STATISTICS
Massillon rushing: Oliver 17‑131, Johnson 3‑66, Boyd 7‑34.
Austintown Fitch rushing: Betts 17‑47, Tate 9‑41.
Massillon passing: Zwick 18‑32‑314 5 TDs; HeIscel 0‑1‑0.
Austintown Fitch passing: Burnich 12‑24‑188 2 TDs, 2 INTs.
Massillon receiving: Jordan 9‑149, Jovingo 4‑109, Oliver 3‑41.
Austintown Fitch receiving: Williams 5‑123, Betts 2‑11.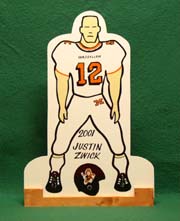 Justin Zwick