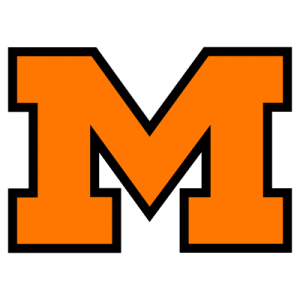 Tigers survive a shootout with St. Ed
Abdul's clutch 36‑yard field goal gives Massillon a 28‑27 victory
By MIKE KEATING
Independent Sports Writer
Maintaining their poise with the outcome on the line, the Massillon Tigers executed the two‑minute offense to perfection, putting themselves in position to win a football game.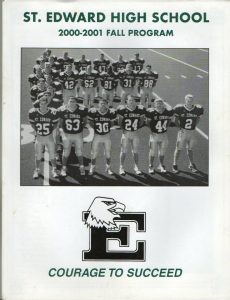 And junior kicker David Abdul delivered a 36‑yard field goal with 12 seconds remaining, lifting the Tigers to a 28‑27 victory over Lakewood St. Edward before 6,000 at Lakewood Stadium, Friday night.
"We told him he would get opportunities to kick a lot of field goals and he has done a great job for us," said Massillon head coach Rick Shepas.
Abdul booted the game winning field goal after Massillon had called time out to set up the kick, followed by back‑to‑back St. Edward time‑outs to ice the kicker.
"I didn't mind the wait," smiled Abdul. "Those two (St. Edward time‑outs) kind of relaxed me."
Abdul, a 5‑foot‑9, 174‑pound junior, booted the ball from the left hashmark. The kick cleared the uprights by 15 yards.
"Everything was perfect," Abdul said. "The snap by (sophomore) James Helschel was perfect. Marquis Williams is a great holder and he got the ball down quickly."
Williams, a 5‑ 11, 168‑pound junior, gave Helschel plenty of credit. "He isn't our regular snapper," Williams said. "He did a great job in a pressure situation of making a good snap."
Massillon, which improved to 7‑2 heading into next Saturday's rivalry against McKinley, got the ball back on its own 16‑yard line and trailing 27‑25 with 2:00 left.
Following a five‑yard penalty, the Tigers came up with a big play that set the stage for Abdul's game‑winning field goal.
Quarterback Justin Zwick rolled right and was pressured by two St. Edward defenders. Throwing on the run, Zwick found a wideopen Montale Watkins on the right side around the Massillon 45. Watkins, a 5‑11, 180‑pound senior, raced upfield before he was hauled down at the St. Edward 37.
"The cornerback pushed me to the inside, then released," Watkins said. "The safety never came over, so I just sat there.
"It seemed like the ball took forever to get there, but I just made sure I caught it" before I did anything else."
The pass play covered 52 yards. There was 1:39 remaining.
Zwick hit running back Perry James over the middle for 12 yards, but St. Edward linebacker Dan Tyler sacked Zwick for a nine‑yard loss, pushing the ball back to the Massillon 34.
James, who rushed for 110 yards in the first half, then got the call on a draw play. He ripped off 15 yards to the 19. Shepas promptly called his final time‑out.
"We have confidence in our offense, no matter how much time is left," Zwick said.
And Abdul delievered.
St. Edward trailed at halftime, but moved ahead 20‑18 at the 3:42 mark of the third quarter.
Running back Raishaun Stover, a 5‑9, 162‑pound junior, found daylight on an isolation play to the left, running 40 yards for a touchdown. Quarterback Troy Smith added the two‑point conversion on a running play, putting the Eagles ahead.
On St. Edward's next possession, Smith hit Tyler for a 45‑yard gain on a seam route, moving the ball to the Massillon 34.
On the first play of the fourth quarter, St. Edward was faced with a fourth‑and‑one from the Massillon 25. Smith optioned left for three yards, picking up the first down.
Three plays later, Smith optioned right and pitched the ball to Stover. The running back angled toward the end zone and scored, capping a nine‑play, 82‑yard drive. Brian Pierce added the conversion kick to give the Eagles a 27‑18 lead with 10:22 to play.
Undaunted, the Tigers kept their composure and battled back.
"This was a good win because we had to come from behind against a good football team," Shepas said. "It also helps to have players who can make big plays."
St. Edward scored on its first possession of the game, with Smith engineering a six‑play, 61‑yard drive.
Two big plays keyed the drive. Smith hit wide out Michael Bowman for 30 yards on a post pattern that moved the ball to the Massillon 21‑yard line. Two plays later, Smith ran a quarterback draw for 19 yards and a touchdown. The extra‑point kick was wide, but St. Edward led 6‑0 at the 8:39 mark of the first quarter.
The Eagles missed a golden opportunity to expand their lead in the first quarter after the Tigers failed to get off a punt from their own 20‑yard line.
Starting 20 yards away from paydirt, St. Edward failed to pick up a first down. A 29-­yard field goal attempt sailed wide to the right and the Tigers were still only six points down.
Capitalizing on the defensive stand, Mas­sillon made the first of several big offen­sive plays on its second possession. James motored 30 yards to midfield on a draw play. Following a St. Edward offside penal­ty, James picked up nine more yards on a stretch play to the left.
The march bogged down, so Abdul was summoned for a field‑goal try, His attempt from 52 yards out barely cleared the up­right, but the Tigers were on the scoreboard, trailing 6‑3 at the 4:05 mark of the first quarter.
After Massillon failed to pick up a first down when a running play was stopped four yards short of a first down on fourth‑and-six from the St. Edward 43, the Eagles padded their lead.
Stover took a handoff, found a gigantic running lane to his left, and outran the Massillon secondary for a 57‑yard touchdown run. The try for the two‑point conversion on a running play failed, but St. Edward opened up a 12‑3 lead with 8:45 left until halftime.
Wasting little time on each snap, the Tigers managed to take lead before in­termission, scoring on each of their next two possessions.
After the Stover touchdown, Jesse Robin­son's 22‑yard kickoff return combined with a personal foul penalty called against St Edward gave Massillon the ball at the St. Edward 45.
Wasting little time off the clock, Zwick completed passes of 10 yards to Watkins and 14 yards to Williams, moving the ball to the St. Edward 19.
James then took over, picking up six yards on a draw play, 10 more yards on a sweep to the right, and one more yard on an­other sweep to the right. With St. Edward concentrating on James, King got the ball on a counter play, and rumbled untouched into the end zone. Abdul's extra‑point made it 12‑10 with 6:02 left in the first half.
St. Edward mounted another drive. Sophomore quarterback Shaun Carney teamed with Tyler for a 68‑yard pass play that moved the ball to the Massillon 10. However, the Tigers stiffened defensively. A fourth down pass to Bowman in the end zone was battled away by cornerback Matt Shem and the Tigers regained possession on their seven with 3:24 remaining in the first half.
Massillon quickly moved 93 yards in nine plays, the last four through the air. Zwick and Robinson hooked up on a 42‑yard pass play that moved the ball to the St. Edward 28.
Zwick came back with a six‑yard completion to James in the right flat, then hit Robinson for 15 more yards, setting up a seven‑yard touchdown strike to tight end Jeremiah Drobney. Zwick hit a wide‑open Robinson in the middle of the end zone, giv­ing the Tigers an 18‑12 lead with 33 seconds left until halftime.
And setting up a wild second half.
MASSILLON 28
ST. EDWARD 27
M S
First downs rushing 9 11
First downs passing 9 8
First downs by penalty 1 1
TOTAL first downs 19 20
Net yards rushing 194 256
Net yards passing 263 278
TOTAL yards 457 534
Passes attempted 30 17
Passes completed 17 11
Passes intercepted 0 1
Punts 2 2
Punting average 47.0 40.0
Fumbles/Lost 3/2 0/0
Penalties 6 9
Yards penalized 74 99
MASSILLON 3 15 0 10 28
ST. EDWARD 6 6 8 7 27
SCORING
SE ‑ Smith 19 run (kick failed)
M ‑ FG Abdul 52
SE ‑ Stover 57 run (run failed)
M ‑ King 2 run (Abdul kick)
M ‑ Drobney 7 pass from Zwick (Robinson pass from Zwick)
SE ‑ Stover 40 run (Smith run)
SE ‑Stover 9 run (Pierce kick)
M ‑ Watkins 20 pass from King (Abdul kick)
M ‑ FG Abdul 36
INDIVIDUAL STATISTICS
Massillon rushing: James 21‑143, Zwick 3‑61.
St. Edwards rushing: Stover 21‑167 Smith 11‑72.
Massillon passing: Zwick 16‑29 243 yards, 1 INT; King 1‑1 20 yards 1 INT
St. Edwards passing: Smith 5‑9 123 yards, 1 INT; Carney 6‑8 155 yards.
Massillon receiving: Robinson 5‑95, James 4‑22, Watkins 3‑83; Drobney 3‑51
St. Edwards receiving: Tyler 4‑148, Bowman 2‑56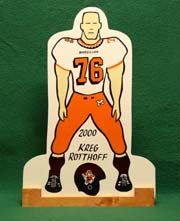 Kreg Rotthoff