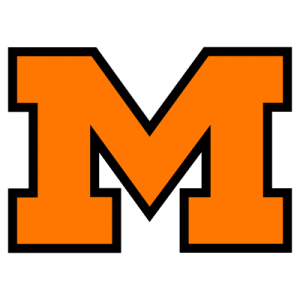 Blanked!
Massillon shuts out Garfield; Iggy's next
By JOE SHAHEEN
Independent Sports Editor
St. Ignatius Week officially began at 10:43 p.m. Friday.
That's when the Massillon Tigers saw the final second click off the scoreboard clock at the south end of Paul Brown Tiger Stadium, closing a 59‑0 victory over the Garfield Rams in front of 9,475 high school football fans.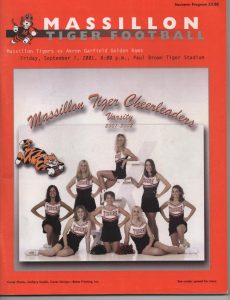 Head coach Rick Shepas ‑ standing on the block 'M' at midfield ‑ gathered his players and coaching staff around him after the game and explained the facts of life with regard to the next opponent on the Tigers' schedule, the vaunted St. Ignatius Wildcats, a team Massillon has never tamed.
"We're going to have a chance to go up and scout them," said Shepas. "They're a good football team. They've always been. Our program is improving and we're going to find out where our program is at next week."
The Tigers did a commendable job of focusing on the here and now in dispatching Garfield, a foe Shepas described as "dangerous" early in the week as his squad began preparations for the Golden Rams.
The Massillon defense pitched its first shutout of the 2001 campaign, a fact that was not lost on senior outside linebacker Andy Alleman.
"We're pretty happy but we need to improve quite a bit for next week," Alleman said. "We had a lot of mistakes. We just made some nice plays here and there and that's how we got the shutout.
"We're pretty excited for the (St. Ignatius) game. It's going to be a big game. But we can't have nearly as many mistakes as we did tonight or we could get beat."
The closest Garfield came to scoring on the Massillon defense was when the Golden Rams penetrated to the Massillon 22‑yard line, and missed a 39‑yard field goal in the second quarter.
Shepas admitted his charges were shooting for the shutout.
"(A shutout) is what we wanted going into the game," Shepas said. "We were looking for that. The kids have been working hard defensively."
The Tigers had their way with Garfield almost from the beginning, scoring on their first four possessions of the evening, none of which took more than two minutes off the game clock.
On its first possession, Massillon ‑ beginning at its own 26 after a Garfield punt ‑ moved 74 yards in six plays.
Two Robert Oliver running plays netted 23 yards to get things started.
After Justin Zwick hooked up with Devin Jordan for 18 yards and Massillon's third first down in as many snaps, Oliver swept around left end for nine yards to set up a third‑and‑one from the Rams' 25.
Zwick, lining up in the shotgun, rolled to his left and found Jordan wide open at the 10. The 6‑foot‑3, 185‑pound junior jogged untouched into the end zone for the touchdown. David Abdul's conversion kick was true and Massillon led 7‑0 at 8:03 of the first quarter.
Garfield could do nothing on its ensuing possession and punted after three snaps, with the ball rolling dead at the 50‑yard line.
Massillon's second scoring drive began when David Hill took a screen pass from Zwick and picked up eight yards on first down.
Two plays later Zwick rolled left and completed a pass to Joe Jovingo for 18 yards to the Garfield 15.
From there, Oliver picked up eight yards around left end on first down to the Garfield 7. Then Zwick rolled right and fired a bullet to an uncovered Stephon Ashcraft in the end zone. Abdul's point after was good and Massillon's lead with 14‑0 at 3:55 of the first quarter.
On its third possession of the evening, Garfield picked up its third first down of the game but was forced to punt three plays later when Justin Princehorn sniffed out a reverse and brought down Austin Clopton for a two‑yard gain on third‑and‑10.
A high snap was bobbled by the Garfield punter, who finally fell on the football, giving Massillon possession on downs at the Golden Rams' 33.
Four plays later, Abdul nailed a 28‑yard field goal and the Tigers were up 17‑0 early in the second quarter.
The Massillon defense surrendered a couple of first downs on Garfield's ensuing possession, but an option play on third‑and‑six lost 10 yards and the Rams were forced to punt.
A clipping penalty on the Tigers negated a spectacular 60‑yard punt return to the end zone by Michael White, but the yellow flag only prolonged the inevitable.
Beginning at their own 24, Massillon went to the ground game. Oliver gained 16 yards up the middle. Rickey Johnson carried for 12 more, then Oliver found seven yards around left end.
On second‑and‑3 from the Garfield 41, Zwick zeroed in on Jordan running a deep out pattern for 27 yards.
Johnson scored on the very next play, skirting right end from 15 yards out. Abdul's right foot made it 24‑0 Massillon at 7:29 of the first half.
Amazingly, Massillon's first four possessions of the game resulted in three touchdowns and a field goal as the Tigers generated 240 yards of total offense in the first half.
"That seems to be the way its going," Shepas said of his team's quick‑strike ability. "We've got a good front.
"We're getting a good mix of run and pass right now. Zwick is effective calling the plays. Our running backs ‑ if they don't put the football on the ground ‑ are pretty effective."
Zwick established a Massillon Tiger career passing record for most attempts (422) and completions (232) with his 16‑of‑23 performance.
Nine of those completions were to Jordan, who seems to have taken over as No. 12's favorite receiver.
"There's a lot of receivers you have to deal with when we come out and throw the football," Shepas said. "We've been spreading the ball around.
"Devin seems to be a go‑to guy but remember we thought he was the guy who was going to replace Drobney in the understanding of the defensive coverage."
Garfield coach Bill McGee certainly was impressed.
"We knew they were good," McGee said. "They were more of everything than we thought. On offense they really have the whole shot.
"They're just real good. This and the 1991 team (coached by Lee Owens) for them are the two best teams I've seen them have in the past 20 years or so."
The Tigers second half scoring was more of the same. A one‑yard Zwick to Jordan toss culminated a seven‑play, 81‑yard drive at 9:14 of the third quarter.
Then Zwick found pay dirt himself on a keeper around right end from three yards out at 1:24 of the third.
Garfield sophomore Norman Taylor was injured on the play and was carted off the field.
McGee indicated Taylor's injury did not appear serious, but added he will be hospitalized for tests.
Junior linebacker Tony Graves tallied for the Massillon defense, scooping up a Garfield fumble and rumbling 49 yards for a touchdown at 10:33 of the fourth quarter.
Oliver, who rushed for a game‑high 130 yards in just ten carries, got into the scoring column on a 28‑yard jaunt with 7:49 to play, and Terrance Roddy closed the scoring on a 56‑yard burst with 2:22 to play.
MASSILLON 59
AKRON GARFIELD 0
M G
First downs rushing 14 9
First downs passing 10 2
First downs by penalty 0 4
TOTAL first downs 24 15
Net yards rushing 279 157
Net yards passing 233 87
TOTAL yards 512 244
Passes attempted 23 12
Passes completed 16 6
Passes intercepted 0 1
Punts 1 1
Punting average 27.0 28.0
Fumbles/Lost 2/1 5/1
Penalties 8 4
Yards penalized 70 39
MASSILLON 14 10 14 21 59
GARFIELD 0 0 0 0 0
SCORING
M ‑ Jordan 25 pass from Zwick (Abdul kick)
M ‑ Ashcraft 7 pass from Zwick (Abdul kick)
M ‑ FG Abdul 28
M ‑ Johnson 15 run (Abdul kick)
M ‑ Jordan 1 pass from Zwick (Abdul kick)
M ‑ Zwick 3 run (Abdul kick)
M ‑ Graves 49 fumble return (Abdul kick)
M ‑ Oliver 28 run (Abdul kick)
M ‑ Roddy 56 run (Abdul kick)
INDIVIDUAL STATISTICS
Massillon rushing: Oliver 10‑130, Roddy 2‑60, Johnson 7‑52, Boyd 3‑25.
Garfield rushing: Clopton 19‑67, Norman 12‑31.
Massillon passing: Zwick 16‑23‑233 3 TDs.
Garfield passing: Donatelli 6‑12‑84 1 INT.
Massillon receiving: Jordan 9‑156 2 TDs, Williams 2‑20.
Garfield receiving: Clopton 3‑42, Russall 3-42.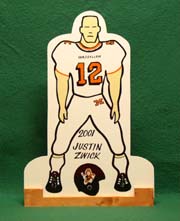 Justin Zwick