Massillon, Perry on a collision course
Tiger running attack and defense spark 27-7 victory over Mansfield
By JOE SHAHEEN
Independent Sports Editor
The Mansfield Tygers had an invitation for Massillon offense and the Tigers accepted, utilizing the running game more than at any time previously this season to post a 27‑7 victory in front of 9,422 fans at Paul Brown Tiger Stadium, Friday night.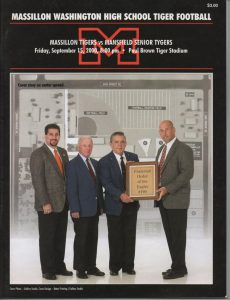 Massillon rushed the football for 182 net yards and got a key interception in the early stages of the second half from senior cornerback Matt Shem that led directly to a back‑breaking touchdown, in remaining undefeated in four starts this fall.
"Mansfield wanted us to run the football," observed Tiger coach Rick Shepas moments after the game ended. "They came out and played a nickel alignment with three down linemen and four linebackers and four deep.
"They played clock management offense just to keep the ball out of our hands. Then they tried to force us to run the football. They knew we were going to score some points but they wanted to stop the big points.
"If that's what they're going to give us, that's what we're going to take."
Perry James was the focal point of the Massillon attack against the Tygers, who were 3‑0 and ranked No.9 in Ohio coming into the game. The 6‑foot, 211‑pound senior toted the football 26 times for 180 yards, including a long run of 37 and a touchdown in the early stages of the second half.
That score came after Shem picked off a Mansfield pass at the Tyger 42‑yard line and ran it back to the 2. Two plays later James went off right tackle for the score. A Justin Zwick to James aerial added two points and Massillon was up 21‑7 with 9:33 left in the third quarter.
It was just what the doctor ordered after an unevenly played first half that saw Massillon turn the ball over twice in the second quarter and take a tenuous 13‑7 lead into the locker room.
For Shem, it was his fourth interception in two games.
"The ball pretty much just stuck to my hands," Shem explained in the Tiger locker room. "I didn't see it until the last moment."
Despite generating four takeaways for the Tiger defense in the last two games, Shem was not completely satisfied with his game.
"There were a couple of opportunities I missed today ‑ a couple of picks I should've had but I'm feeling pretty good right now," he said. "We're playing really good right now. I'm really excited about our defense."
Shepas was a bit more effusive about Shem's key interception and return.
"That was awesome," the third year Tiger mentor exclaimed. "Matt Shem had three last week for great returns, then he gets that one for a great return and we were able to get a quick score on the board just at the right time.
"Our defensive effort against Buchtel was very good but this one was great because we gave up no points on the defensive side of the ball. It was an outstanding job by defensive coordinator Chris DiLoreto."
After sniffing out a fake punt by Mansfield, Massillon put the game away with a 10‑play, 61‑yard drive, culminated by a 5‑yard Zwick to Jeremiah Drobney touchdown toss. The Tiger quarterback, facing third‑and‑goal from the 5, rolled left and lofted a perfectly thrown lob pass to his tight end in the back of the end zone to make it 27‑7 with 2:01 left in the third period.
While Zwick and Drobney collaborated on the TD, it was James who made the drive, carrying the ball or catching a pass on eight of the ten plays in the game‑clinching march.
"I give all the credit to my line and the wide receivers," James said. "They did a good job blocking.
"I had a good week of practice and that's part of the reason I got the ball so much tonight."
The Tigers took a six‑point lead into the halftime locker room but it very easily could've been a 14‑13 Mansfield advantage.
With less than two minutes remaining in the first half, the Tigers faced a second‑and‑18 play from their own 11 following an offensive pass interference penalty.
Looking for the screen pass to beat the Mansfield blitz, the Tigers threw into coverage.
The ball bounced into and out of the hands of Tyger linebacker Maurice Bradley, who had nothing but green between himself and the end zone. Had Bradley caught the ball cleanly, he would've been gone for a touchdown.
Instead, the Tigers retained possession and punted the ball away one play later, preserving their six‑point cushion at the break.
The teams exchanged punts on their initial possessions of the game but Massillon got all the better of the field position, taking over at the Mansfield 43 after the Tygers were unable to move.
Zwick found James with a swing pass for seven yards. Then, with Mansfield in a blitz, James got the handoff and slashed for 13 more to the Tyger 22.
After a holding penalty pushed Massillon back to the 37, Zwick looked long. With the rush in his face, the junior lofted a high arching ball into the end zone where Jesse Robinson patiently waited for the sphere to come back to earth. It did and Robinson cradled the ball in his arms for the touchdown.
David Abdul drilled the point after kick and Massillon was up 7‑0 at 5:34 of the first quarter.
The Tiger defense forced Mansfield into its second straight three‑and‑out possession and the Tyger punt went out of bounds at their own 45.
Zwick found Robinson in the right flat for six yards on first down. Then James picked his way for five more and a first down. Two Mansfield encroachment penalties resulted in another first down at the 23.
Drobney caught his first pass of the game on a curl pattern that picked up 13 yards to the Mansfield 10. James got it down to the 3 on a draw play, and two plays later Zwick rolled right and hit fullback Terrance King for the touchdown.
The PAT failed and it was 13‑0 Massillon at 1:39 of the first quarter.
After an exchange of punts, Mansfield took over at its 10 and marched to the Massillon 35 on six running plays. The Tiger defense stiffened and the Tygers punted but the hosts failed to field the ball cleanly, losing ground to the Massillon 9.
After a Tiger first down, a holding call pushed the ball back to the 10‑yard line. Two plays later, Mansfield's Tarek Berry picked off an overthrown pass and returned it 27 yards for a touchdown. Holister Histed hit the point after kick and it was a 13‑7 game with 2:49 in the half.
That would be as close as Mansfield would get, thanks to an interception the Tygers didn't get and one that Massillon did get.
MASSILLON 27
MANSFIELD SR. 7
MS MN
First downs rushing 7 5
First downs passing 8 0
First downs by penalty 1 1
TOTAL first downs 16 6
Net yards rushing 182 155
Net yards passing 132 0
TOTAL yards 314 155
Passes attempted 27 12
Passes completed 17 2
Passes intercepted 2 1
Punts 5 7
Punting average 29.2 29.6
Fumbles/Lost 2/1 1/0
Penalties 7 8
Yards penalized 65 40
MASSILLON 13 0 14 0 27
MANSFIELD 0 7 0 0 7
SCORING
Mas ‑ Zwick 36 pass to Robinson (Abdul kick)
Mas ‑ Zwick 4 pass to King (Kick failed)
Man ‑Berry 27‑yard interception return (Histed kick)
Mas ‑ James 1 run (Zwick pass to King)
Mas ‑ Zwick 5 pass to Drobney (Kick failed)
INDIVIDUAL STATISTICS
Massillon rushing: James 26‑180, King 1‑3, Hill 1‑1.
Mansfield rushing: Taylor 11‑63, Bradley 13-53, Stanford 3‑39.
Massillon passing: Zwick 17‑27‑132 3 TDs, 2 INTs.
Mansfield passing: Andress 2‑12‑0 1 INT.
Massillon receiving: James 5‑25, Robinson 3‑48, Jordan 3‑16, Drobney 2‑18, Watkins 1‑8, Corsale 1‑8, Williams 1‑5, King 1‑4.
Mansfield receiving: Basilone 1‑7.