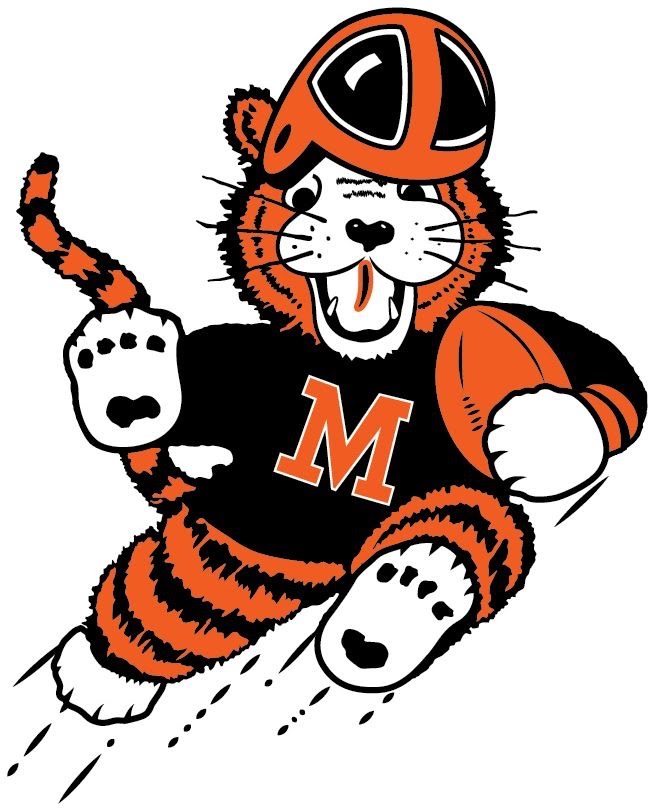 Massillon Defense Dominates in Victory over No. 1 Delaware Team
If anyone thought the Tigers would suffer a letdown following last week's big win over Lakewood St. Edward, they were entirely mistaken.  That, after Massillon completely dismantled previously unbeaten Middletown, Delaware, 41-7, using a big-play offense and a relentless defense.
Middletown is rated Number 1 in Delaware in several publications, with the game against them sandwiched between two other Number Ones, last week's St. Edward of Ohio and next week's St. John's College of Washington D.C.  Massillon is currently rated in the Top 25 nationally and Number 1 in its Division 2 computer region.
How was this game scheduled?  Middletown so enjoyed their experience in coming to Tigertown last year that they requested an opportunity to return for a second visit.  Of course, Massillon was more than obliging in welcoming them back.
The strength of the Cavalier offense resides with their skill position players; i.e., quarterback, running back and wide receivers.  As such, Massillon Head Coach Nate Moore speculated that, given the strength of the Tiger run defense, they might put the ball in the air up to fifty times.  Last year Middletown attempted to throw the ball 44 times out of 58 plays, while managing to get off 35 and completing 20 for 303 yards and three touchdowns.  To counter that this time around, the Tigers employed a constant blitz to pressure the quarterback into errant throws and perhaps achieve a few sacks.  And it worked for nearly the entire game.  Quarterback Austin Troyer was pressured on every attempt and five times found himself on his backside behind the line.  Two sacks were recorded by linebacker Dorian Pringle and one each by linebacker Shon Robinson, linebacker Cody Fair and lineman Mike Wright, for a loss of 51 yards.  Troyer ended up completing only 11 of 33 passes for 117 yards, with Matthew Priestly catching six for 81 yards.  Middletown's Matthew Kolbjornsen did complete a 55-yarder, but it was off a fake punt.
In the run game, the Cavaliers never got off the block.  Three different running backs carried the ball and they collectively gained just 12 yards on 19 carries, netting an overall rushing total of negative 39 yards when the sack yardage is factored in.  For the second year in a row then, the run game was held to less than zero yards.  In total, the offense was held to 133 yards at 2.4 yards per play.  And it converted just 2 of 14 third down attempts.
Meanwhile, Massillon came out throwing, behind junior quarterback Jalen Slaughter, who played the entire game at that position.  He had an extremely productive evening, completing 15 of 29 passes for 293 yards and three touchdowns.  And he was never sacked.  On the receiving end was junior Jacques Carter, who caught eight balls for 142 yards (17.8 ave.) and a touchdown and Emy Louis Jr. who snagged three for 81 yards (27.0 ave.) and a score.  Braylyn Toles also caught a touchdown pass.  Middletown did try to blitz at times, but Slaughter was always able to step through the rush and get the pass off.
The run game, however, was sluggish at times, perhaps owing to the aggressiveness of the Middletown defense.  But it got stronger as the game went on.  Ja'Meir Gamble led all ball carriers with 77 yards on 13 attempts (5.9 ave.).  Pringle, Peyton Mitchell and Wright also combined for 79 yards.
Overall, Massillon rolled up 449 yards of offense, an average of 7.5 yards per play.  They also converted 7 of 11 third down attempts and 1 of 2 fourth down attempts, while punting only twice.
The Cavaliers received the opening kickoff and after three plays they were forced to punt.  Slaughter immediately went back to pass and found Toles streaking down the middle of the field, three yards in front of the defender.  Slaughter dropped the ball perfectly into Toles' hands around 20 yard line and he did the rest, finishing off a 53-yard touchdown.
Middletown responded by completing their one long pass, advancing the ball to the Massillon 35.  But they gave it up on downs at the 34.  The Tiger offense then went back to work.  On third and ten from the Cavalier 48, Slaughter dropped the ball on a jailbreak screen to Carter, who ran through nearly the entire defense to the right sideline, broke a tackle, turned the corner and was gone down the sideline, for a 48-yard touchdown.
Massillon scored twice in the second quarter to take a commanding 28-0 lead.  The first was when Pringle carried it in from the one, capping a 2-play 13-yard drive, set up by a 6-yard punt from the end zone.  The second came when Slaughter connected with Louis on a 21-yard pass at the end of a 7-play, 66-yard drive.
Middletown then got on the board right at the end of the first half.  Following the aforementioned 55-yard pass during the fake punt.  Troyer then passed 23 yards to Priestley on skinny post for the score.
Pringle tallied two more touchdowns in the second half, both on runs of one yard, when the offense was aligned in the "jumbo", 2-back package.  A seventh tally was negated when Ronnell Davis intercepted an underthrown fade pass in the end zone.  With Vinny Keller not available for this game, freshman Mateo Herrera came in and converted all five of his PAT attempts.  Both he and freshman Gregory Corsale shared the kickoff duties.
Next week Massillon (6-0) will host St. John's College High School (2-1) from Washington, D.C.