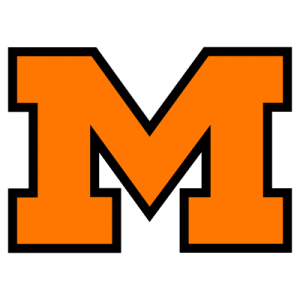 2022 Booster Club Report – Week 15 – Post-Akron Hoban
Massillon lost to Akron Hoban (14-1) in the state semifinals, 41-20.  Hoban advances to the state finals to face Toledo Central Catholic (14-1).
"It's really tough," Head Coach Nate Moore said about the loss.  "What it came down to was our inability to gain first downs."  The Tigers were successful on first downs 67% of the time, against a season average of 81%.  Most of that difficulty was on account of Hoban blitzing the entire front-7 on every play, which closed off all the running lanes and put tremendous pressure on the quarterback.  The Knights traditionally blitz a lot, but once they were up by 14 points, this became a steady diet.
"I thought our defense played well," said Moore.  "But they were on the field a long time against an offensive team like that.  We have phenomenal kids and they played their hearts out for Massillon.  I'm proud of our kids.  It's tough to end the season like that.  It's tough to process that."
The guest players were senior running back Willtrell Hartson, junior defensive lineman Chase Bond and junior offensive lineman Evan Sirgo.  The players said that Hoban played more physically, were better disciplined and just wanted it more.  They felt that they needed to win the line of scrimmage as a group and didn't do that.
Player stats:
Running back Willtrell Hartson: 19 carries for 66 yards and 1 touchdown.  Also caught a touchdown pass.
Quarterback Jalen Slaughter: 15 of 32 for 200 yards and 1 touchdown.
Wide receiver Braylyn Toles: 10 receptions for 125 yards.
Wide receiver Kyler Wiggins: 3 receptions for 43 yards.
Safety De'Airre Pringle: 11.5 tackle points (9-5)
Inside linebacker Dorian Pringle: 5.0 tackle points (4-2); 1.5 tackles-for-loss
Inside linebacker Cody Fair: 5.0 tackle points (4-2); fumble recovery
Massillon closes out the season with a record of 12-2 (61-9 over the past eight years).  Although the Tigers fell short of their ultimate goal of winning a state championship, they were not without many accomplishments.  Here's a summary:
Playoffs: Massillon played in its 6th consecutive regional finals game, defeating Uniontown Lake 24-6;  it was the Tigers' 15th regional championship (5th in the last 6 years), which is third highest mark in the state among D1 and D2 schools, behind Cincinnati Moeller and Cleveland St. Ignatius; the Tigers lost in the Division 2 state semifinals 41-20 to Akron Hoban, the eventual state champion.
Youth: Massillon fielded one of its youngest teams ever with just four seniors starting on offense and three on defense; in addition, six starters were sophomores.
McKinley: The Bulldogs were defeated for the seventh consecutive time; The Tigers have now won 11 wins of the last 12 games.
Lakewood St. Edward: Quarterback Jalen Slaughter connected with Braylyn Toles on a 24-yard touchdown pass with 11 seconds remaining in the game to pull out an upset victory over St. Edward, 31-28; it was St. Ed's only regular season loss; the Eagles, ranked in the Top 50 nationally and No. 1 in Ohio at the time, went on to play for the Division 1 state championship.
Austintown Fitch: Massillon handed Fitch their only loss of the regular season, 49-28.
Middletown, Delaware: The Tigers defeated the No. 1 team in Delaware, 42-24.
Strength of Schedule: Tiger opponents compiled a record of 115 wins against 56 losses, a winning percentage of 67.4%; excluding Massillon games, the winning percentage was 72.9%; of the seven Ohio teams on the schedule, six qualified for the playoffs and each won at least one game, except for GlenOak, which lost to McKinley.
Federal League: The Tigers finished 4-0 against Federal League teams, including wins over co-champions McKinley and Lake, GlenOak and Perry.
Player Records: Running back Willtrell Hartson set or tied several records, including those for single season yards rushing (Travis McGuire, 1991), single season total touchdowns (Edwin Hill, 1922), single season total points (Edwin Hill, 1922) and career rushing yards per game (broke own record); linebacker Dorian Pringle set a new single-season record for tackles-for-loss (Caiden Woulard, 2019) and tackles-for-loss yards (Stefan Laury, 2011); the defense set new records for tackles-for-loss (2005) and tackles-for-loss yards (2021).
Winning streak: Following a season-opening loss to Moeller, Massillon racked up 12 victories in a row.
Grades: The football team ended the first grading period with a 3.55 GPA; Moore believes that a high GPA reflects maximum effort in the classroom and translates into high performance on the football field.
All-time wins: Head Coach Nate won his 81st game, against Canal Winchester, overtaking Paul Brown in this category.  Brown posted a record of 80-8-2.  Moore's record currently stands at 83-22.
On January 4 the players will regroup and begin preparations for the 2023 season.  Owing to the youth of the 2022 squad, the Tigers will return quite a few starters including:
1 quarterback
1 fullback
1 tight end
2 wide receivers (with 3 regular replacements)
3 offensive linemen
2 defensive linemen (with 2 regular replacements)
All 4 linebackers (with 1 regular replacement)
1 cornerback (with 1 regular replacement)
1 safety
2 kickers / 1 punter
3 kickoff returners / 2 punt returners
In addition, the running back position is well-stocked for replacing Hartson.
Moore continues to finalize the schedule for next year and will hold a press conference sometime in December to formally announce it.  Confirmed though is a football classic in Week 1 at PBTS with Massillon facing an out-of-state team on Friday, with three other Ohio teams playing out-of-state opponents on Saturday.  Other opponents expected to return to the schedule include Canton GlenOak (H), Mansfield (H), Austintown Fitch (A), Warren Harding (H) and Canton McKinley (A).
The football banquet will be held on December 15th at St. George's Church.  Doors will open at 5:30 and dinner will be served at 6:00 pm.  Awards will follow.  The cost is $30.00.  Tickets can be obtained from Bill Brown at O'Reilly's Auto Parts from 8:30 am to 4:00 pm and at the Washington High School Ticket Office. Tickets go on sale to player parents on November 29th.  Tickets for the general public will be available starting Monday, December 5th.
Go  Tigers!