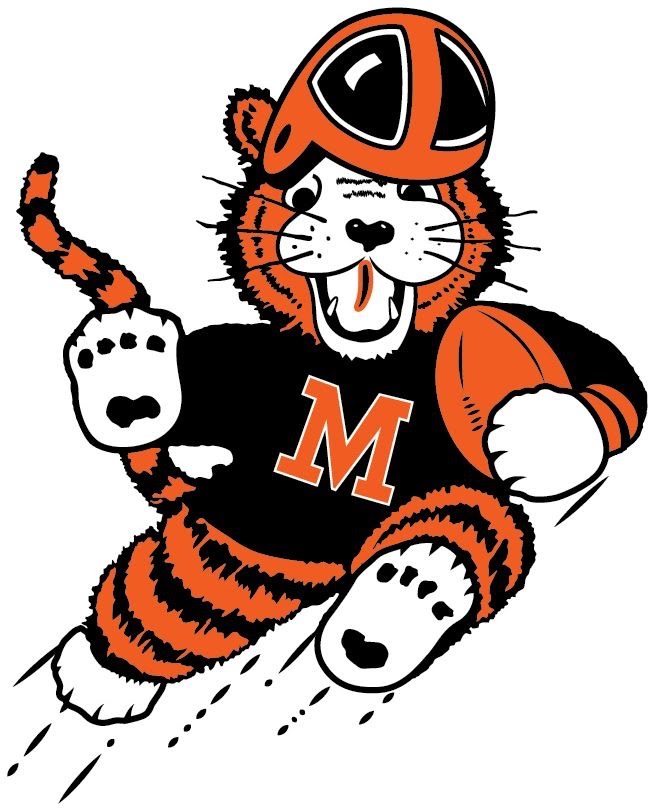 These Football Records Have With Stood for Many Years
Records are made to be broken.  So goes the cliche goes.  And most are as time moves along.  Take the Olympics, for example.  Not a Games goes on without several records, be-it swimming or track or some other event, going by the wayside.  But some records may never change.  Such is the case for Massillon's 1922 football squad.
It was a team that finished the season 10-0 under the leadership of Head Coach Dave Stewart.  They outscored their opponents 379-28, with six shutouts, a feat unheard of in that era.  And they were recognized at state champions.
But the 1922 team also had a prolific running back by the name of Edwin "Dutch" Hill, who only played one year for Massillon, after transferring from Pennsylvania, where he had exhausted his eligibility.   Playing for the Tigers, his prowess on the gridiron had an immediate impact.  In the course of ten games, Dutch Hill scored 33 rushing touchdowns and returned a fumble for another to total 204 points, a Massillon single-season scoring record that stands today.  The 204 points was also perhaps the highest total in the country that year.
Hill scored at least one touchdown in every game, including four against both Alliance and Warren, and eight against Akron North in a 94-0 victory in which he set a single-game scoring record of 48 points.  Regarding his performance against North, one sports reporter wrote, "The big fullback gained from five to 10 yards with six or eight Akron players hanging onto him, trying desperately to down him. Other times he bowled the entire Akron team over like a ball knocks over pins on a bowling alley and then would dash away for a touchdown leaving a trail of fallen Akron warriors in his wake."  Dutch also scored three of the four touchdowns in a 24-0 victory over Canton McKinley.
Against Cleveland Shaw, a 7-6 Tiger win, he left the game ill in the first half, jeopardizing a potential undefeated season.  But he returned late in the second half to complete two passes and then run six straight times, scoring a touchdown with 27 seconds left on 4th and goal from the one.  Bill Edwards' drop-kick extra point secured the win.
"He was a big star," said Bud Houghton, former Massillon player and head coach.  "He was just a big burly guy.  Kind of had a swaggering walk.  He normally plowed over everybody."  "He was a powerhouse," said classmate Tom McConnaughy.  "He would take the ball and plow through the other team, knocking them right and left."
You can read the story of Dutch Hill here.
So, his name dots the Tiger football record book and his records have held up now for exactly one hundred years:
Single Game Rushing Touchdowns – 8
Single Game Points – 48
Single Game total Touchdowns – 8
Single Season Rushing Touchdowns – 33
Single Season  Points – 204
Single Season Total Touchdowns – 34
But guess what!  Three of these records are in sight to be broken this year.  That's because current Massillon running back Willtrell Hartson is closing fast, on the heels of his 211-yard, 3 touchdown performance last week against Big Walnut.  For the season, he has now rushed for 29 touchdowns, tallied 31 total touchdowns and scored 190 points, with each of these marks ranked second in their respective all-time list.  He needs four rushing TDs to tie Hill.  He needs 3 total TDs to tie Hill.  And he needs 14 points (2 TDs) to tie Hill.  With the Tigers  positioned to potentially play two or three more games, these records are certainly reachable by Hartson.
Here are some other records that have held up over the long haul:
Passing – Single Season Average Yards per Completion: In 1959 Joe Sparma averaged 23.6 yards per completion.  That year he completed 28 of 85 passes for 660 yards, with half of his completions going for touchdowns.  His favorite target was Jim Wood, who averaged 31.1 yards per reception, also a No. 1 record.
Receiving – Single Game Touchdowns: In 1934 Wendell Lohr caught five touchdown passes against Barberton in a 90-0 victory.  I guess with only 41 players on the roster there wasn't much of a second string to replace Lohr.
Total Offense – Single Season Total Offense: In 1949 Irvin "Ace" Crable averaged 11.3 yards every time he touched the ball.  Crable also gained 1,129 yards that year.
Special Teams – Longest Punt: In 1929 Art McConnel unloaded an 81-yard punt against Warren Harding in a 13-9 loss.
Returns – Longest Fumble Return: In 1924, Bill Price returned a fumble 99 yards for a touchdown against Alliance in a 77-0 victory.  It happened so quickly that Price was fifty yards downfield before anyone knew he had the ball.
Defense – Single Game Total Tackles: And who can forget Chuck Vliet's miracle performance in the 1950 warren game, when he recorded an unbelievable 42 tackles.  You can read the story here.