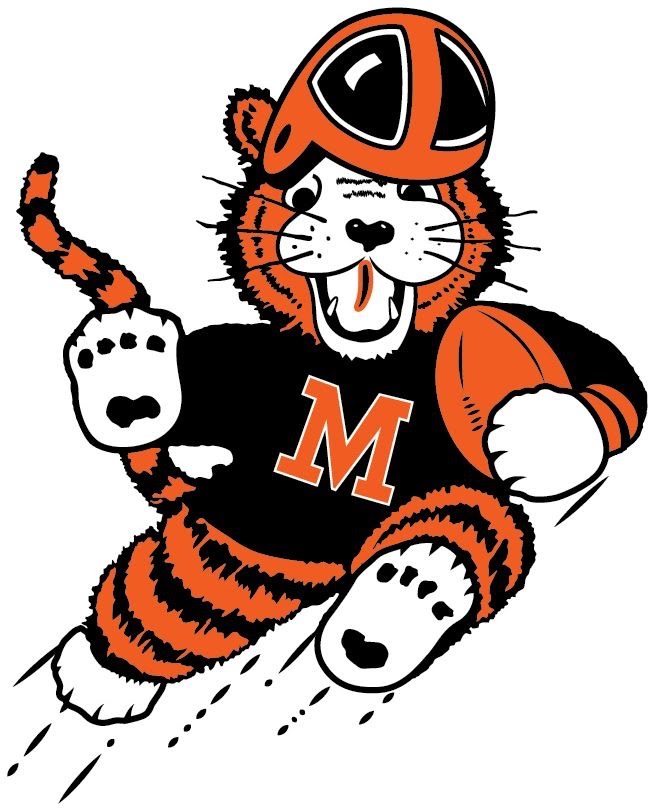 The Massillontigers.com website maintains over 2,500 player and team game records.  The data comprises 270 categories, such as rushing, passing and receiving, and lists the Top 10 record holders in each category.  For the last several months I have been reviewing past history to verify the accuracy of these entries.  Some of the more obvious ones are Jamir Thomas and Aidan Longwell as the all-time career rushers and passers.  Then there are remote ones, like Chauncey Watson having the longest touchdown run of 99 yards against Akron Garfield 1991 and Art McConnel with the longest punt of 81 yards vs. Warren in 1925.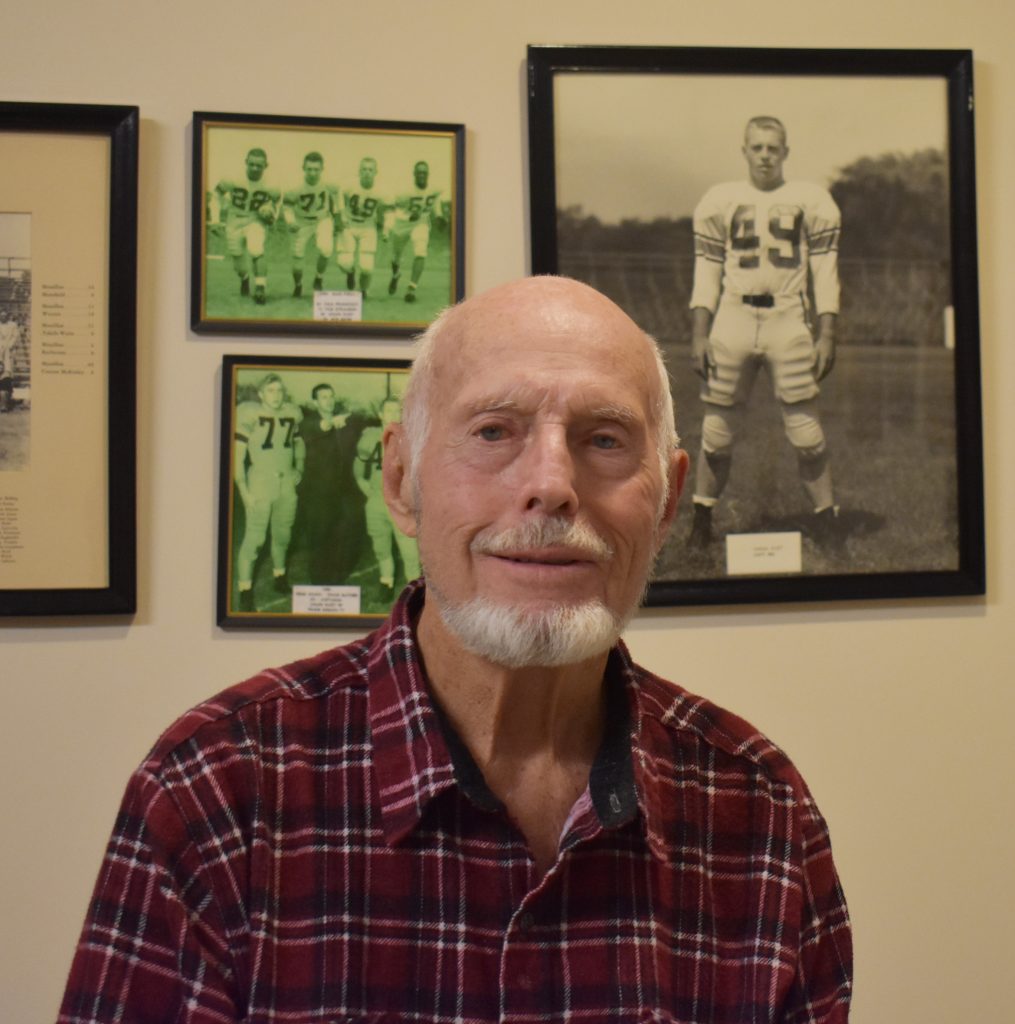 But there is one record that always bothered me: Chuck Vliet's 42 tackles in the 1950 game against Warren Harding.  How could this be?  Is that even possible?  The No. 2 player on the list, Cooper Ivan, has just 14 tackle points.  Fortunately, the aging Chuck is still with us to tell the story.  And it's a good one.  I had a chance recently to sit down with Chuck and talk about that record, but first a little background.
Chuck played football in 1949-51 under the legendary coach Chuck Mather.  During his 6-year tenure, Mather racked up an inconceivable 57 wins in 60 games.  In all six years his teams were honored as the best in the Ohio and three times named national champs.
"I thought he was a great coach," Vliet said about Mather.  "One thing I liked about Chuck Mather and his whole staff, they never yelled or cussed at us.  They would walk up to us with a calm voice and look at us straight in the eye.  They might put their hand on your shoulder and say, 'What is your assignment on this play?  What are you supposed to do?'  He always told us, 'You play the game the way you practice.'  If someone made a nice block and they had their head and shoulders on the wrong side, they were told about it.  We were all graded.  Our position coaches were the ones that graded in that position."
It was during the 1950 season (Mather's 4th) that Vliet, a 5'-8", 160 lb. junior running back / linebacker set the record.  It was one of those years when Massillon was undefeated and both state and national champions.  And they outscored the opposition 407-37.   Along the way they defeated No. 8 Canton McKinley 33-0 and No. 9 Steubenville 35-12.
Game 7, held on October 17, 1950, was against Warren Harding, who entered the fray with a 5-1 record, having lost earlier to the Bulldogs 19-7.  Massillon led 7-0 at the half and pulled away after the band show to win 23-6.  Harding's only score came on a 72-yard pass, but overall was held to just 87 total rushing yards in 46 attempts.
This is where Chuck Vliet, who proudly wore No. 49, enters the story by setting a record for the most tackles in a single game.  The amazing part is that out of 58 plays Warren ran that night, 12 were passes and Chuck did not tackle any of the three players who caught a pass.  In addition, Harding lost a fumble, which means that, if you do the math, Vliet made 42 tackles out of 45 opportunities, which was simply amazing.
Here's how Chuck told the story:
"At the beginning of this game against Warren in 1950 on our field we practiced a solid week for their passing offense.  Back in our time we didn't run into many teams that threw a lot and we had to gear up for that particular game.  So the whole week our defense was all pass.  It was pass here, pass there.  We had to learn what they were doing, read the quarterback, and so on.
"So we came out that night onto the field.  Did our exercises.  Came off the field.  We're in the locker room.  I'm standing there.  Mather came over.  He says, 'Vliet.  We're going to change the defense tonight.'  I said, 'What, coach?'  He said, 'We're changing the defense.'  I said, 'What for?'  He said that we found out that their quarterback on Wednesday twisted his ankle quite bad and cannot play in this game.  So they brought a second quarterback in which cannot throw, so that Warren will be running all night.  He says, 'So what we're going to do on defense, we're going to make a 7–man front and we're going to have you as a roving linebacker.'  I thought that time I got a big old goose bump all over me because I didn't know what he was talking about.  And I was going to be the only linebacker.  He said, 'You will be my roving linebacker.'  I said, 'Roving linebacker?'  He said, 'Yes.  You have to cover from sideline to sideline.'  Again, that hit me real hard.  I said, 'Coach.  What about Joe Gleason and Ray Lane?  They're both seniors.'  He said,' I want you!'  Well, I was scared.  I really was.
"So he got us together, and this was about ten minutes before we were ready to go back onto the field, and on our defensive front, at right guard, he said, 'We're going to put those two on double duty.'  And (Jerry) Krisher let out a little bit of noise.  He didn't like that.  And, anyhow, he took Ray Lane and put him over defensive guard on the right side he took Joe Gleason, the outside linebacker, and put him on the left side.  They put Krisher in (Jack) Strobel's place and (Jim) Richenbach over the nose man.  And he said, 'This is what we call our 7-1-2-1."  What we now know as a diamond defense.  We never practiced that beforehand.  We never practiced that the whole time I was there.  And we never used that defense again.
"He told each one of the defensive people up front, 'keep the lineman off of Vliet.  Hit them and hold them up at the line and let him (Vliet) do his job.'  And I called them My Magnificent Seven because I didn't have anyone coming out hitting me and I had free range from one side of the field to the other side.  And I did not know at the end of the game or that week or thereafter how many tackles I made in that game until I read that piece in the paper (the following year in an article presenting Vliet and Frank Gibson as the captains of the 1951 team).
"It was a defense that nobody played against us.  He threw this at them because they knew our regular defense.  And they were always set up to block a regular defense.  And this threw them off balance.  And then telling our defensive line people, 'Keep the offensive players off of Vliet.'  And that worked.  And they did a job.  I'm not kidding you.  I used to think sometimes that he was psychic.  He just seemed to know how to do everything and sprung that on us.  But we had the type of people, whatever they were told to do, they could do it.  That's the type of people we had."
It's a record that's sure to never be broken.  Lee Nussbaum, a member of that 1950 team, said later, "If I could tackle as well as Chuck Vliet, I'd have been first string at Ohio State in 1954."  The mark is documented on the Ohio High School Athletic Association website under "Individual Miscellaneous Feats."
So, if you see an SUV going down the road with a license plate that reads "CV 49", give a wave to former Tiger great Chuck Vliet, a Massillon Tiger forever.