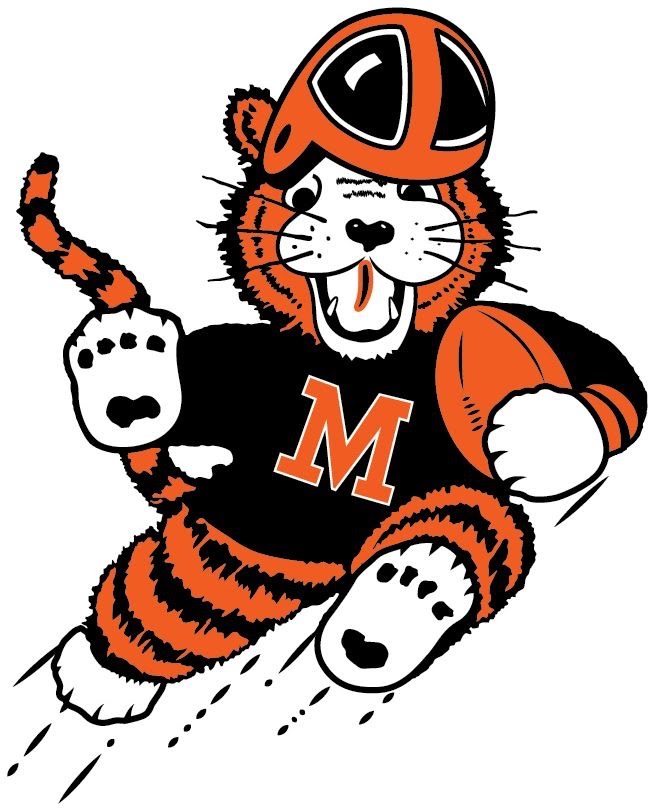 Tigers Gut It Out Against Big Walnut, Move to Regional Finals
In typical playoff game action, both Massillon and Big Walnut competed like it was their last game of the season.  Thus,  it was certainly one of the most physical games these teams have been in the entire year.  It also had big-play moments, both on the ground and in the air.  And the scoring pace was typical of two good teams going at it in this late stage.  But in the end, Massillon just had too many weapons.
The biggest weapon of all was Willtrell Hartson, who rushed 29 times for 211 yards and scored three touchdowns.  It was the 12th consecutive game in which he put up at least 100 yards.  With a season total of 1,801 yards, he now needs just 175 to break Travis McGuire's 1991 season mark of 1,976 yards.
There have been a few games this year when the Tigers started slowly and then finished strong.  This one can be added to that list.  That's because Nate Severs, the Golden Eagles stellar running back, returned the opening kickoff 92 yards for a touchdown.  When Massillon got the ball back, they went immediately to the air with a deep pass to Ardell Banks, who had characteristically beaten his defender well down the field.  Quarterback Jalen Slaughter also had the wind to his back.  But his foot slipped on the throw causing the ball to fall short and into the hands of Big Walnut's Teddy Dancer.  The Eagles then drove to the Massillon four yard line, where they were stopped, but settled for a 20-yard field goal.  At this point, the Tigers were down 9-0 and all one could think of was last year's Green game.
It was time to settle down and play football.  And that they did, proving that this is not last year's team.  After an exchange of punts, the Tigers scored four unanswered touchdowns on their next five possessions to take a commanding 28-9 lead eight minutes into the third quarter.  During that run, Big Walnut received a steady dose of Hartson, who ended up rushing for over 100 yards in each half.  And when Massillon was faced with short yardage, in came 220 lb. Dorian Pringle, who plowed up the middle for several physical, successful runs.  The Eagles even went to five down linemen win a single linebacker to stop the pounding, but it still wasn't enough to contain the devastating ground attack.
Score No. 1: 6-play, 55-yard drive; 1-yard TD run by Hartson.  The drive was entirely on the ground.
Score No. 2: 5-play, 50-yard drive; 39-yard pass from Slaughter to Braylyn Toles.  On 1st and 10 from the Big Walnut 39, Slaughter dropped back to pass, stepped up into the pocket and delivered a strike to a wide open Toles, who gathered the ball at the 20 and raced untouched into the end zone.  It came off a classic receiver crossing pattern, during which the safety covered the wrong receiver.  Slaughter recognized the miscue and pounced immediately.  Such is the growth of this sophomore quarterback.  Head Coach Nate Moore remarked earlier this year that the Tigers have scored a lot of touchdowns during his time at Massillon using this play.
Score No. 3: 16-play, 99-yard drive; 4-yard TD run by Hartson.  With a 4th and 15 from the Massillon 35, Big Walnut elected to punt and dropped a beauty at the one yard line .  That set up the longest touchdown drive in Tiger history: 99 yards.  It took four minutes and 18 seconds and culminated in Hartson's run to the left on an outside zone play.  It came on a 4th and 2 situation, with 17 seconds left in the half.  During the drive, Hartson carried the ball ten times for 54 yards and Pringle added three carries for 22 yards.  In addition, Slaughter hit both of his passes: 11 yards to Toles and 6 yards to Banks.
Score No. 4: 1-play, 74-yard drive; 74-yard TD run by Hartson.  Sooner or later that 5-man defensive front was going to cost Big Walnut.  And it did this time in a big way.  Hartson simply sliipped a tackle on the left side of the line and he was off the the races, his speed to end zone being too much for the Eagle secondary.
The rest of the night was a matter of keeping Big Walnut at bay with aggressive defensive line play.  The Eagles just couldn't get any rythym going and each time they tried one of their classic screen passes a defender was right there to stop the receiver for little or no gain.  Other than Severs getting his one rushing touchdown, that was pretty much it, except for their final TD at the end of the game against the backups.  Meanwhile, Massillon did not hold back offensively and Slaughter tossed a neat looking pass to Banks in the corner of the end zone for a 17-yard score midway through the fourth.  Another went to Toles a couple minutes later for a 40-yard score on a play similar to his first TD.
The Tigers finished the night with 254 yards rushing (6.2 yards per att.) and 130 yards passing (8 of 14) for a total of 384 yards.  Big Walnut made a good account of themselves with 263 total yards, 131 on the ground (4.4 per att.) and 132 in the air (17 of 31).  Severs finished with 19 carries for 85 yards (4.5 per att.), including his 40-yard touchdown run.  But penalties were an issue for both teams.  Massillon was hit 14 times for 132 yards and the Eagles, 9 times for 77.  The penalties were mostly the result of effort, while one pass interference call on the Tigers in the end zone saved a touchdown when Big Walnut was running a trick play (double lateral, kick back to the quarterback and long pass).
With the win, Massillon (11-1) advances to next week's regional finals game against 12-1 Uniontown Lake, a 16-7 winner over Westerville South.  Big Walnut bows out at 10-3.
Massillion Tigers football pulls away to beat Big Walnut in physical OHSAA playoff game
Peter Holland Jr., The Repository
MANSFIELD — Slow starts aren't typical of the Massillon football team's dominant run through its last 11 games.
But a tough start is no cause for panic for these Tigers.
After digging themselves an early nine-point hole, the Massillon Tigers regrouped and rolled on Friday night. The Tigers defeated Big Walnut 42-21 at Arlin Field to advance to a regional final for the sixth consecutive season. Awaiting them in the Division II, Region 7 final is a fellow Stark County team, Lake.
Massillon takes an 11-game winning streak into the regional championship. In most of those 11 wins, the Tigers took charge from the outset.
Friday, Big Walnut punched Massillon in the mouth at the start. Nick Severs returned the opening kickoff 92 yards for a touchdown for the Eagles. Following a Massillon interception, the Eagles added three more points to lead 9-0.

The last time the Tigers faced a two-score deficit right away was when they rallied to knock off No. 1-ranked St. Edward back in Week 5. Trailing 9-0 to Big Walnut was a wake-up call they needed and resulted in 28 unanswered points by the Tigers.

"When something like this happens, you have to tell everyone to take a deep breath … forget about it and move on, and just go back to work," senior long snapper-linebacker Angelo Salvino said.

Once Big Walnut (10-3) played physically, so did the Tigers (11-1).

The Tigers hit back with a heavy dose of Willtrell Hartson and Dorian Pringle running the ball. Hartson, who rushed for 100-plus yards in each half, led the Tigers with 214 yards and three touchdowns on 29 carries.  One of his TD runs was a 79-yarder after Maverick Clark made an interception. It was Hartson's 12th straight game this season with more than 100 yards rushing.

Massillon head coach Nate Moore credited his offensive line for getting it done against the Eagles, who "played their tails off."

"They were physical as well, giving us a loaded box, but our offensive line grinded," Moore said. "They did a great job, and our backs ran hard."

It wasn't all Massillon's running game, though. Sophomore quarterback Jalen Slaughter shook off the early interception and threw three touchdowns passes. Two TD passes were to sophomore receiver Braylyn Toles, while senior Ardell Banks caught the other. Slaughter finished 8-of-14 for 130 yards.

What hindered the Tigers were unnecessary penalties. It started with some encroachment penalties by the defensive front in the first quarter and went from there. The Tigers were flagged 14 times for 132 yards.

Trailing 28-9, Severs tried to spark the Eagles, getting loose for a 40-yard touchdown run. Severs later caught a TD pass, as he led Big Walnut with 92 yards rushing and 38 yards receiving, in addition to his kickoff return touchdown.

But the Eagles could not take advantage of other opportunities in the red zone, as Massillon came up with enough big plays on defense.

"Kudos to them. They were really a solid team," Massillon senior defensive lineman Marcus Moore said. "But we didn't execute to our level of football."

Marcus Moore mentioned the assorted penalties. With 12-1 Lake next, he knows the Tigers need to clean that up.

"It's just those little things like that we've got to correct on Monday and just get better," he said. "Coach has been preaching this since January, 'If you play Massillon football, you do what you have to do, everything will fall in your hands.' "