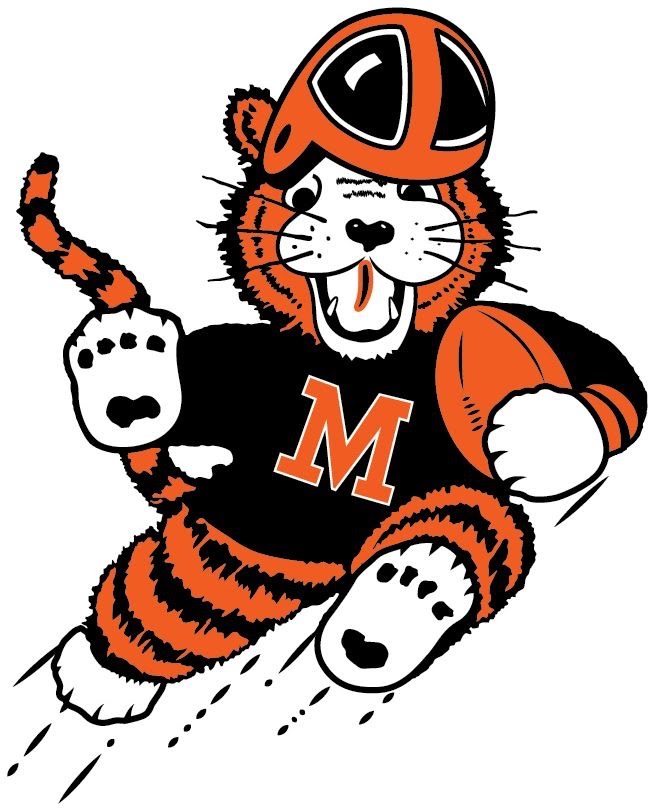 Eight Tigers Named All-Stark County
WHBC recently announced its all-county team and eight Tigers received honors.  The group was selected by vote of the area coaches.
Ardell Banks – Senior wide receiver (6-4, 185).  2-year starter.  35 receptions for 759 yards (21.7  ave.) and 11 touchdowns.  Against Lakewood St. Edward, caught five passes for 164 yards and 2 touchdowns.  Also caught six passes for 132 yards and 2 touchdowns against Warren Harding.  Due to his exceptional talent and speed, spent most of the season fighting through double and triple-teaming.  Has several Division 1 offers, including Kentucky, Pittsburgh and Cincinnati.  Last year, caught 44 passes for 733 yards (16.7 ave.) and 8 touchdowns.
Nolan Davenport – Sophomore tight end (6-6, 230).  1st year starter.  Brings an imposing frame to the game.  Used primarily as a blocker.  Helped his team rush for 2,331 yards (212 per game).  Caught a 34-yard touchdown pass against Warren Harding.  Holds an offer from Pittsburgh.
Willtrell Hartson – Senior running back (5-10, 200).  3rd year starter.  246 attempts (5th all-time) for 1,590 yards (4th all-time).  144.5 yards per game (2nd all-time), 6.5 yards per attempt and 26 touchdowns (3rd all-time).  Eleven consecutive games of 100+ yards (1st all-time). Leading scorer with 170 points (2nd all-time).  In a 49-28 win over Austintown Fitch, rushed 40 times for 274 yards and scored 4 touchdowns in handing the Falcons their only loss of the regular season.  Rushed 28 times for 198 yards and 3 touchdowns against Middletown, the No. 1 team in Delaware, in a 42-24 victory.  Explosive runner who is skilled at following his blockers through the line.  This season, is a more physical runner and blocker and better adept at running to the outside.  Was injured for most of his junior year, when he rushed 141 times for 831 yards and 9 touchdowns, while playing in only 6 games.  As a sophomore, rushed 138 times for 1,111 yards (8.1 ave.) and 13 touchdowns, including 188 yards against Canton McKinley.  On track to become one of Massillon's best runners ever.  Holds offers from Kentucky, Pittsburgh and Cinicinnati.
Marcus Moore – Senior defensive lineman (6-2, 305).  2nd year starter.  One of the top players in what may be one of Massillon's best-ever defensive front-sevens.  Regularly double-teamed by opponents.  Recorded 20.0 tackle points (9-22), including 4 tackles-for-loss and 2 quarterback sacks.  The defense as a group held opposing rushing attacks to 83 yards per game (2.6 ave.).  Committed to the University of Akron.
De'Airre Pringle – Senior defensive back (5-9, 195).  1st year starter.  45.5 tackle points (35-21), 4.5 tackles-for-loss, 3 pass breakups.  Quick to the edge to stop sweeps.  A strong player who won his weight class in last spring's Lift-a-thon.
Dorian Pringle – Junior inside linebacker (5-11, 220).  1st year starter.  52.5 tackle points (38-29), 15.5 tackles-for-loss, 5.5 quarterback sacks.  Extremely active in his position.  Considered a game-breaker.  As a runner, rushed 32 times for 209 yards (6.5 ave.) and 4 touchdowns.  Mostly used on short yardage situations in 2-back sets.  Physical runner and blocker.
Jalen Slaughter – Sophomore quarterback (5-11, 160).  2nd year starter.  Named the team's Most Valuable Player.  Completed 105 of 191 pass (55%) for 1,661 yards and 19 touchdowns.  In a 31-28 upset of the state's No. 1 Lakewood St. Edward, completed 18 of 32 passes for 295 yards and 3 touchdowns, including a 24-yard game-winner with 11 seconds remaining.  Also completed 14 of 19 passes for 248 yards and 4 touchdowns against Warren Harding.  Became a starter in Week 6 of 2021 and led his team that year to the regional finals.  Listed in the records Top 10 that year for pass completion percentage.  Has excellent pocket presence, quick feet, good field vision, game management skills and a long arm for a sophomore.
Evan Sirgo – Junior offensive lineman (6-3, 225).  1st year starter.  Replaced Marcus Moore as a starter early in the season, allowing Moore to focus solely on defense.  Helped his team rush for 2,331 yards (212 per game).  Praised by the Head Coach Nate Moore for his blocking skill.  Plays bigger than his size.
Note: All statistics shown above are current as of the second playoff game.
Congratulations to these Massillon Tigers.
The Tigers have won their last ten games and currently sport a 10-1 record.  They faces Big Walnut this week in the third round of the state playoffs.