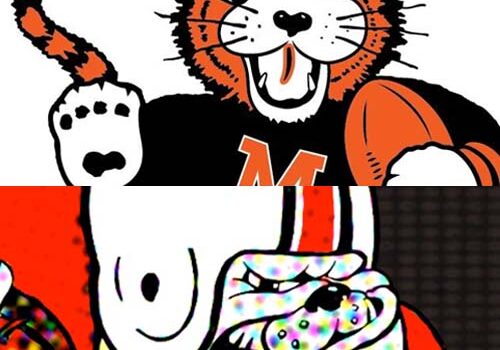 2022 Booster Club Report – Week 9 – Pre-Canton McKinley
Massillon (7-1) had an open date last week.  This week the Tigers will host Canton McKinley (5-4).
7th Grade (3-5):  Their season is finished.
8th Grade (7-0-1): Their season is finished.
9th Grade (5-3): Defeated Avon, 24-12.  Plays Lakewood St. Edward at home on Thursday, October 20, at 6:00 pm.
Junior Varsity (7-1): Defeated RICC Canada Varsity, 35-8.  Their season is finished.
The Booster Club Meeting turned into a rousing kickoff to "Beat McKinley Week", with a large crowd in the WHS auditorium.  It started off with recognition of the success achieved by the 8th grade team, which was on hand for the accolades.  This year they finished with a record of 7-0-1.  Combined with their undefeated mark of last year as 7th Graders, this group has been unbeaten over the last two years and will be intact as a group for next season's freshman campaign.
Next up was the 9th Grade team, whose only losses came against Cincinnati Moeller (14-19), Lakewood St. Edward (6-14) and Austintown Fitch (12-14).  They were scheduled to play Canton McKinley this week, but the Bulldogs canceled the game.  Head Coach Nate Moore mused that perhaps they didn't want a repeat of what happened earlier this year in the JV game (a 50-6 beat down).  In actuality, McKinley is short several players due to suspensions related to an incident in the previous week's game against Canton GlenOak.  Nevertheless, it turns out that Lakewood St. Edward's freshman game this week against Akron Hoban was also canceled.  So the Tigers and Eagles will rematch on Thursday at PBTS.
Finally, the varsity seniors were introduced.  Each was asked to recall his best moment from his playing career with the Tigers.
Then Moore previewed the game against McKinley.
The evening wrapped up with musical entertainment provided by the Tiger Swing Band and cheerleaders.
Canton McKinley
The season:
Mentor (5-3): 21-34 L
Austintown Fitch (8-1): 14-38 L
Dublin Coffman (6-3): 26-28 L
Perry (4-5): 28-38 L
Green (4-5): 51-19 W
North Canton (6-3): 42-9 W
Lake (8-1): 36-26 W
Jackson (5-4): 40-23 W
GlenOak (3-6): 40-7 W
Both Massillon and McKinley have faced Fitch and GlenOak.  The Tigers beat Fitch 49-28 and beat GlenOak 35-7.  McKinley lost to Fitch 14-38, but then beat GlenOak last week 40-7.
The Bulldog offense is similar to Massillon in scheme.  They are heavy into the run gap and utilize the run-pass option.  They will occasionally take shots over the top.  The biggest threat is senior wide receiver Cynceir McNeal (6′-4″, 200).  This year he has caught 31 passes for 572 yards and 8 touchdowns.  At quarterback is junior Keaton Rode (6′-0″, 175).  He has completed 76 of 152 passes (50%) for 1,143 yards and 12 touchdowns, with four interceptions.  He will also run from the scramble off of designed sets.  The featured running back is sophomore Nino Hill (6′-0″, 200 lbs.).  Hill has carried the ball 119 times for 971 yards (8.2/attempt) and scored 16 touchdowns.  He is also the leading scorer with 98 points.
Defensively, they have switched from a 4-3 front to a 3-4.  But there may be some growing pains with this as opposing teams have shown a run-pass ratio of 75%, much greater than the 60-65% normally seen with today's spread offenses.  The strength of the defense is the line, with a pair of seniors leading the way: Al'Vonte Ivory (6′-3″, 280) and Garrett McCole (6′-3, 250).  The remainder of the defense is considered good, but not exceptional.
McKinley is a senior-dominated team with nine on offense and six on defense.  The offensive line averages 6′-2″, 264.  The wide receivers are a tall group, averaging 6′-3″, 190.  The defensive front goes 6′-3″, 248.
"Our biggest concern is ourselves," said Moore.  "The most disciplined team will win this game.  We will enjoy the festivities this week, but our focus is on Saturday.  Our job is to win the game.  I expect (the Tigers) to start fast and take care of business."
Go Tigers!