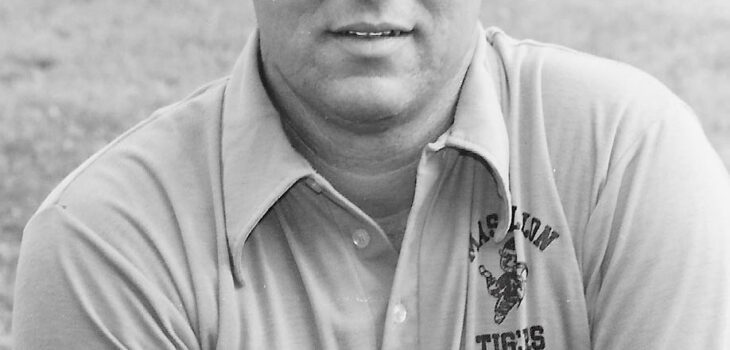 Jim Letcavits – Wall of Champions
Jim Letcavits, like most Wall of Champions inductees, distinguished himself as both an outstanding player and as a coach of young men.  But what sets him apart from other inductees is that he always maintained his roots in Massillon and returned to his hometown right after wrapping up his professional playing career.  There he became an assistant coach for the Tigers, a position he held for 27 years.  In 1998, he was inducted into the Massillon Wall of Champions.
Letcavits was born in Massillon on December 1, 1935, and joined the Massillon Tiger football team as a sophomore in 1951.  There he played offensive end, defensive end and punter under Head Coach Chuck Mather.  He also shared in the successes of those years, with his teams compiling a record of 29-1 and capturing three state and two national championships.
As a senior, Letcavits caught four touchdown passes from his split end position, including a 44-yarder against Canton McKinley in a 48-7 rout.  Although he didn't carry a large frame for football, he excelled, nonetheless.  "He only weighed 160 pounds, but he was a very competitive player," said Dave Putts, Letcavits' position coach at Massillon.  "He used his speed and was a very good receiver." (1)
As an award for his outstanding performance, he was named 1st Team All-Ohio offensive end.  The 3-sport letter-winner was also the Most Valuable Player in the Ohio North-South All-Star Football Game, which was played the following summer.
After high school Letcavits accepted a football scholarship to play for the University of Kansas, under new Head Coach Chuck Mather, who had departed Massillon following the 1953 season.  There he played tight end, while completing a Bachelor of Science Degree in Physical Education.  "Jim was such a great player for me all through high school and college," Mather said.  "He seldom made mistakes.  He was a football coach's dream." (1) As such, he was named All-Big Eight in 1956 and 1957.
1957 University of Kansas Football Team
The next stop was professional football.  But he needed to choose between the NFL and the Canadian Football League, ultimately selecting the Edmonton Eskimos, where he played five seasons as a tight end and punter.  "I thought I had a better chance to play if I went to Canada." Letcavits said.  "I really wasn't that big.  It was something new, and I made some great friends up there." (1)  Four times his team won second place.
With his playing career coming to an end, Letcavits returned to the local area in 1964 and was hired by Jackson as an assistant coach.  But in 1969 he was lured away by new Massillon Head Coach Bob Commings.  "When he came home during the offseason, he always was a substitute teacher," Nancy (Jim's wife) said.  "When Bob Commings came here, he interviewed, and Bob Commings hired him on the spot." (1) And the following year he became part of Massillon's last state championship team.
Commings left after five seasons, but Letcavits stayed on and ended up coaching in Tigertown for 27 years, until 1995, while serving under six different head coaches.  During that time, the Tigers compiled a record of 221-64-5, including nine playoff appearances during a time of limited team qualifications.  In 1980 and 1982 Massillon reached the state championship game.
Letcavits was also the head track and field coach during that span.  His best years came in 1983, when his team placed third in the state, and 1984, when they placed fifth.
1983: Jim Bushe 2nd in the 300 low hurdles and 3rdin the 110 high hurdles, Craig Johnson 5th in the 100 dash and Charles Calhoun 1st in the shot put.
1984: Craig Johnson 1st in 100- and 200-yard dashes and Chris Spielman 4th in the shot put.
He also served as Athletic Director in 1985 during the transition from Mike Currence to John Moronto.  Meanwhile, his primary high school assignment was Coordinator for the Occupational Work Experience Lab.
Outside of Massillon he was president of the Stark County Coaches Association for two years and was later inducted into the Stark County High School Football Hall of Fame.
Letcavits was married to Nancy, and they were the parents of four children.  Unfortunately, he was diagnosed with Alzheimer's in 2004 and died in Massillon on February 3, 2015, at the age of 77.  Today, his memory is honored by "Team Tiger," a group of Massillon residents that participate in the annual Alzheimer's Memory Walk.
(Mike Popovich, Canton Repository)